How Richard Get Improvement after Stem Cell for COPD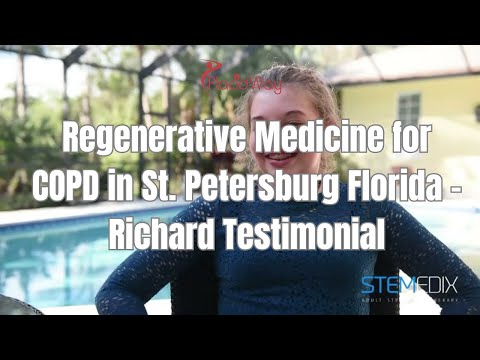 Alternative Therapy for COPD Gives Better Quality of Life
Category:
Stem Cell Therapy
Procedure:
Chronic Diseases
Source:
Stem Cell for COPD in St Petersburg Florida by Stemedix
Check Video about patient review Richard who has obtained Stem Cell for COPD in St Petersburg Florida at Stemedix. Get free quotes now at PlacidWay. Richard had COPD and was struggling with his breathing. A friend told him about stem cell therapy and he decided to give it a try. He was amazed at the improvement he felt after just a few treatments. His breathing was easier and he had more energy. He was even able to go for walks and enjoy life again.
A stem cell is an essential cell in the human body that can grow into other types of cells. For COPD, a stem cell is defined as a "parent" cell from which all other types of cells originate. This important cell plays a vital role in repairing and regenerating tissue in the body. The stem cell is a "blank slate" cell that has the ability to turn into any other type of cell in the human body. This makes stem cells a key player in the regenerative medicine field.
Here are several benefits of having Alternative Therapy for COPD in St Petersburg, Florida by Stemedix:
If you're interested in exploring Stem Cell Treatment for COPD, contact us now. At Stemedix,we're dedicated to helping our patients find the best possible treatment options. Our Professional Team at PlacidWay would be happy to discuss stem cell therapy with you and answer any questions you may have.

Stem Cell for COPD in Florida – Richard Review
Keywords: Stem Cell for COPD, Alternative Therapy for COPD