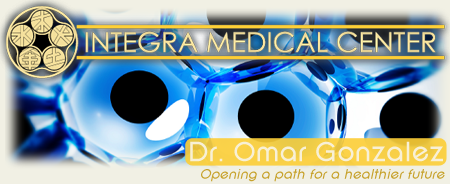 For years, Dr. Omar Gonzalez and the Integra Medical Center has provided individuals seeking alternative placental stem cell therapy for conditions such as Parkinson's, Multiple Sclerosis, Diabetes , Arthritis, Heart, Lung and Liver diseases and a very specialized protocol for treating Eye diseases such as Retinitis Pigmentosa (RP), with the relief and compassion they are looking for in Mexico.
Dr. Omar Gonzalez is a specialist in Placental Stem Cell Therapy. His therapy offers a multidisciplinary approach to the treatment of chronic conditions. With over two decades of experience in treating chronic medical conditions, Dr. Gonzalez has treated thousands of patients with his specialized placental stem cell therapy approach. Dr. Gonzalez has perfected his stem cell therapy and his placental stem cell therapy through his own research efforts as well as utilizing research methodologies from around the globe.
About Integra Medical Center
Integra Medical Center is located in Nuevo Progreso in the state of Tamaulipas, Mexico. It is easily accessible to individuals coming from the United States seeking therapies and stem cell treatments that are not currently available in the U.S. Dr. Gonzalez provides hope for individuals who have tried traditional approaches to conditions, and refused coverage or alternative treatment options by the mainstream health care elsewhere.
Integra Medical Center utilizes placenta stem cell therapy, a type of stem cell therapy that utilizes the afterbirth in the treatment of degenerative diseases including but not limited to:
Alzheimer
Chronic Fatigue Syndrome
COPD
Diabetes
Heart Disease
Multiple Sclerosis
Muscular Dystrophy
Parkinson
Retinitis Pigmentosa (RP) and other degenerative eye diseases
Integra Medical Center is close to the US/Mexican border and is nearby numerous vacation destination locations within the Rio Grande Valley, and within walking distance of Progreso Texas International Bridge. Integra Medical Center is in a beautiful and convenient location for medical travelers, with a bilingual staff that will help arrange local transportation and accommodation for their international patients.
Dr. Gonzalez utilizes a holistic, whole-body approach when it comes to health and wellness as well as preventive care and maintenance in treating individuals. While he is up to date on the most modern medical breakthroughs and technologies including his stem cell research, he also utilizes aspects of traditional Chinese medicine and other alternative approaches to health and wellness including stress management. He not only wants to treat the illness, but determine the cause of illness and disease through study of a person's diet, emotional state, and exercise levels.
For more information about the Integra Medical Center and Dr. Omar Gonzalez, visit PlacidWay.com