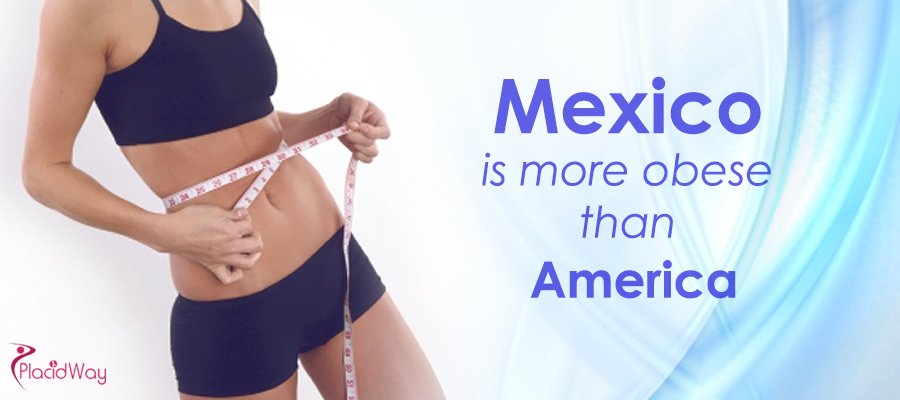 Mexico Is The Most Obese Country In The New World
An old Mexican proverb says "Barriga llena, corazon contento" which translates as: "A full tummy means a happy heart". Nobody can argue with that... to a point - Mexico has surpassed the US in levels of adult obesity. Obesity in Mexico is a relatively new problem, having been widespread since the 1980s with the introduction of processed food into much of the Mexican food market.
Mexico is more obese than America
A 1999 survey found 24% of Mexican women were obese and an additional 35% were overweight; 55% of men were either obese or overweight. By 2010, seven out of ten Mexicans were overweight with a third clinically obese. Mexico ranks the most obese country in the world in adult obesity (as of 2013), and first for childhood obesity with about 4.5 million children diagnosed as such.
Overall, 32.8 percent of Mexican adults are considered obese, compared to 31.8 percent of adults in the United States. Nearly 70,000 deaths in Mexico each year are caused by weight-related diabetes, and more than 400,000 new cases of diabetes are diagnosed annually.
Experts believe the rise in Mexico's obesity rates has to do with the growing gap between the country's classes, as 50 % of the population currently lives below the poverty line. Mexican food is traditionally high in calories, and healthy diets are becoming less affordable, prompting people with low incomes to consume junk foods. Anti-poverty programs often end up putting cash into rural families' hands that is simply spent on fried snacks and sodas rather than nutritious foods.
As part of its campaign against obesity, Mexico also restricted television advertising for high-calorie food and soft drinks. 40% of such commercials disappeared from TV, in favor of products which "meet nutritional standards".
As an additional measure, from 2015, manufacturers will be made to label the sugar, fat and saturated fat content on their food and drink products. The UK, Norway and Quebec province in Canada, all have bans on advertising junk food in children's television.
Weight-related diabetes claims the most Mexican lives each year, with nearly one of every six Mexican adults suffering from the disease. Mexicans are also the world's heaviest consumers of sugary drinks, at 163 litres per year, and their diet is rich in fried food.
Health experts estimate the nation's weight problems will cost the public health care system $11,7 bn by 2017.
Top 10 obese countries:
Mexico (32.8%)

United States (31.8%)

New Zealand (26.5%)

Chile (25.1%)

Australia (24.6%)

Canada (24.2%)

United Kingdom (23%)

Ireland (23%)

Luxembourg (22.1%)

Finland (20.2%)
Source: OECD Health Data / Obesity rates in adults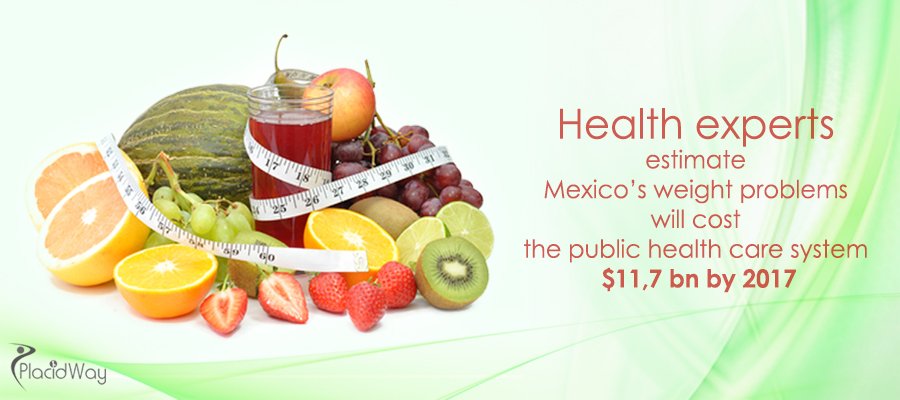 Obesity Clinics in Mexico
Obesity has severe implications for a person's health, including cholesterol, blood pressure, heart disease, type 2 diabetes, stroke and heart attacks.
One of the benefits of weight loss surgery is the reduction or total remission in type 2 diabetes. Roughly 85% of people with diabetes are type 2 and of these, 90% are obese or overweight.
The rise in popularity of bariatric, or weight loss, surgery, has led many people to research this option. The risk of death is less than 1%, and while about 10% experience complications, that is the norm for any type of gastrointestinal surgery.
Also, weight loss surgery demands that you make major changes in your lifestyle. Patients who undergo the surgery must dramatically change the way they eat and exercise or they will gain the weight back.
There are clinics in Mexico ready to meet all your needs and help you in your weight loss process:
Bypass Gastrico Merida, in Merida, Mexico, offers a wide range of obesity and diabetes using cutting-edge technology. The health professionals here are known to treat patients from all over the world at affordable packages
Dr. Ricardo Garcia Audelo, in Mexicali, one of the most renowned professionals in the medical business. Dr. Ricardo Garcia Audelo has dedicated his time and effort to upgrade his knowledge, experience, training, and research in the field of gastroenterology and laparoscopic surgery.
Obesity Surgical Center, in Tijuana, Mexico, Obesity Surgical Center is a modern obesity surgery clinic headed by Dr. Jorge Reyes Mendiola and committed to offering patients safe and highly successful bariatric procedures, as well as an excellent environment for post-operatory recovery.
Family Hospital, in Mexicali, has been created with the commitment to provide its users a comprehensive hospital attached to a culture of quality and excellence in service and patient treatment. 
Obesity Free, in Monterrey, Nuevo Leon, will do everything possible to offer you the top quality of care during the entire process of the life-changing decision you are about to make.
Live a long, happy life
Medical tourism is the best option for those who want fast access to affordable and high quality bariatric surgery. Traveling to another country for medical care has proved to be more advantageous than having surgery in the home country. Many countries have invested so much in the development of healthcare infrastructure, that it is hard to make a difference in quality between highly industrialized countries such as the US or Canada, and emerging markets such as India, Thailand, Mexico or South Korea.
Traveling abroad for medical care can be a pleasant and beneficial experience, as long as the patient does thorough research when choosing a certain country, clinic or surgeon. The key to finding a good provider in Mexico is to be diligent and cautious when researching, and reputable medical providers such as PlacidWay are able to help you throughout the process.
For more information about Bariatric Surgery in Mexico click the button below: