Dental Tourism Market Worldwide
About PlacidWay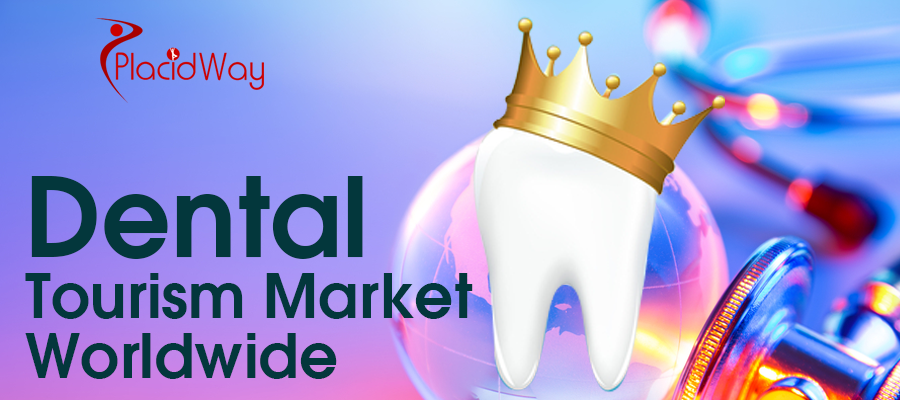 Dental Tourism Market Worldwide
Dental Tourism Market Worldwide on a speed Growth as Americans, Canadians, and Western Europeans enjoy increasing access to dental services in developing countries.
Colorado, 13th October 2016: The dental treatment including the implant market has never been this good! The dental tourism market across the world has been rising stupendously and is expected to be worth billions of Dollars by 2021. There was a time when high-quality dental care was available in selective countries but now there are no geographical boundaries.
Dental care and treatment is being made available across the world right from Mexico in Latin America to Turkey in Europe, and Thailand in Asia. Today, more than ever before, Americans, Canadians and Western Europeans have increasing access to the dental tourism market worldwide.
Transnational medical travel or medical tourism, heterogeneous phenomenon gained popularity almost a decade back with the key strategy being affordable or cost-effective care with superior quality for patients from across the world. Dental tourism, which is a subset of medical tourism, primarily deals with individuals who seek high quality dental care outside their local healthcare systems and this is more often than not, coupled with a vacation.
The reason why more and more Americans or Europeans are seeking cross-country dental care is because of the steep costs in their home country, lack of health insurance as well as dental benefits. Today, dental tourism is emerging as an important sector of the growing health tourism industry. "When you bring in some extra elements into an "all inclusive" travel package like cost of specific dental procedures, laboratory tests, accommodation including hotel room reservations, and of course, a side trip to a tourist spot, then it doesn't remain a simple medical visit. Obviously, the travel itineraries is something that most patients or individuals look forward to and that's what makes the dental tourism market so lucrative" said Pramod Goel, CEO, Placidway.
One of the well-known dental tourism destinations is Mexico especially because of its proximity to the United States. Turkey is becoming popular for catering to Europeans along with Poland, Croatia, and Czech Rep while Mexico and Costa Rica caters to Americans and Canadians. Turkey and Ukraine are favorite destinations for people from the Middle East while Thailand, India, and South Korea are popular with Asians and Australians.
Yes, in one word, people are traveling across continents for dental treatments and this is boosting not the overall tourism and trade but also the economy of countries offering dental services. Although, dental tourists may travel for a variety of reasons, but their primary choice is usually motivated by price considerations. Hence, the first and the most important factor is "cost".
Dental implants in the USA can cost anywhere from $5,000 to $10,000 while a full set of upper and lower implants supported dentures can vary from $25,000 to $95,000. In Mexico, complete dentures of composite teeth costs below $2,000 while in Croatia, the costs are 50-70% less than the UK dental prices. The 'All-on-4' dental implant procedure costs in Australia vary from $20,000 to $30,000 while in Thailand, it costs is between $10,000 and $15,000. Costs is a huge factor that is drawing the Westerners to destinations down south or east based on just the cost.
These second key factor is that most of the countries offering dental tourism have always been attracting tourists because of their geographical diversity, attractive beaches, heritage sites, wildlife sanctuary, art and artifacts, and deep rooted culture. As a result, it becomes more of a "medical holiday" for individuals rather than a dental appointment.
A third key factor for popularity of dental tourism abroad is that there are no "waiting periods." Take an appointment, fly down, get the treatment, enjoy your holiday, and be home! It is as simple as that!
At the end of the day, both patient and dental clinics enjoy a win-win situation. Patients not only get to visit an exotic location but are able to benefit from high-end dental services at lower costs. Low-cost treatment and High-quality care are the buzzwords driving the dental tourism market worldwide and with implementation of international standards in dentistry, there are several countries that might well become the most sought after destinations for dental treatment in the near future.
About PlacidWay
PlacidWay based in Centennial, CO is a worldwide market leader in medical tourism, and provides patients with the informational resources required to evaluate their global treatment options. PlacidWay connects global patients to state of the art healthcare facilities worldwide, from Asia to Latin American to Europe and beyond.
If the information here is not enough for you to take a decision, or you want to ask us a question, or maybe you need assistance, let us know by using the button below.
Related Experiences:
Get Quality All on 8 Dental Implants in Cancun - Mexico
All on 6 Dental Implants in Cancun - Low-Cost Implants in Mexico
Your Complete Guide to All on 4 Dental Implants in Cancun Mexico
Dental Implants in Cancun, Mexico
Dental Implants in Cabo San Lucas
Choose All on 4 Dental Implants in Los Algodones, Mexico
2016-10-14 / Updated on: 2022-03-25