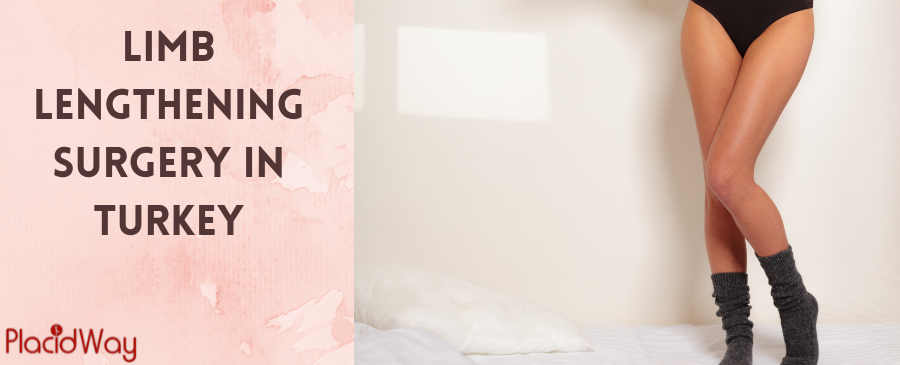 If you suffer from short stature due to birth deformities or an accident, there's a chance of healing. Limb lengthening is a surgery that corrects leg length. Today, we'll guide you to learning about limb lengthening surgery in Turkey as a cost-effective and permanent growth solution!
Why Choose Limb Lengthening Surgery in Turkey?
This section will explain why Limb lengthening surgery in Turkey is a good choice. Turkish specialists use advanced surgery methods to correct deformities in the lower limbs of patients.
The quality of surgery and low cost are just two of numerous decisive factors to visit Turkey for limb lengthening. Let's look at the advantages you'll experience in Turkey:
Reasonable price of Limb Lengthening Surgery 

Qualified Specialists in Limb Lengthening Surgery 

Hospital accommodation for high patient safety 

State-of-the-art Medical services for patient satisfaction 

Sight-seeing arrangement tours in Turkish famous tourist spots
The Cost of Limb Lengthening Surgery in Turkey
Limb Lengthening Surgery is expensive because of its complexity and the surgical instruments required. However, Turkey is considered one of the cheapest countries in the world for Limb Lengthening.
In the following table, you'll see a cost comparison between Turkey, the US, and the UK.
Cost Comparison Table – Turkey, America, Canada, and the UK
Limb Lengthening cost in Turkey is $35,000 to $45,000, which is very reasonable compared to high costs in America.
Best Orthopedic Clinics in Turkey
We provide you with the details of the best orthopedic clinics in Turkey where surgeons perform limb lengthening to foreign patients.
Top five reasons why the following orthopedic clinics are among the best:
Cutting edge technology (Robotic surgery, O-Arm visualization in spine surgery, stem cell, and microsurgery) 

Highly trained and experienced orthopedists and physician specialists  

Bilingual medical staff that assists 24/7 to patient needs 

World-class clinic working by JCI standard 

Providing all-inclusive medical treatment to international patients.
Best Orthopedic Surgeons in Turkey
Best Orthopedic Surgeons in Turkey continuously attend national and international courses to further their experience.
Other credentials which set the best orthopedic surgeons apart from the rest are:
Board-Certified Orthopedic Surgeons 

Highly Trained in Western Countries 

Speak English Fluently 

Offer post-operative care and follow-up 

More than 10+ years of experience
| | | |
| --- | --- | --- |
| Prof. Ismet Yalkin Camurcu, MD | | Orthopedics and Traumatology   |
Limb Lengthening Surgery– Overview
Orthopedics perform Limb lengthening surgery to correct leg length. The surgery is achieved using the body's capacity to regenerate new bone and ligaments surrounding it.
Take a look at the table below that presents an overview of Limb Lengthening surgery.
Osteotomy - Orthopedic surgeon cuts the bone to be lengthened. 

Distraction phase - The leg bone that was cut will gradually be pulled apart by the fixation devices. 

Consolidation or Healing phase - During this phase, the new bone formation begins to harden and heal completely.       

Height proportion 

Balanced gait and walk 

Psychological impact 

Physical impact 

Walk every one to two hours during the day to stay active and prevent blood clots. 

Attend all of your regularly scheduled physical therapy sessions. 

Eat a healthy diet and manage a healthy weight. 

Stay hydrated. 

Maintain a positive attitude and learn how to cope with stress. 

Frequent visits to your healthcare provider to adjust the lengthening device. 

Take supplements like vitamin D3 to increase bone strength.
You and your doctor will discuss this and more if you decide to undergo surgery. The next section explains who is eligible for Limb Lengthening.
Who is the Right Candidate for Limb Lengthening Surgery?
Limb lengthening surgery can be done safely and effectively in children and adults. However, certain conditions qualify you as the right candidate for limb lengthening, such as:
Children whose bones are still growing and have abnormalities in their growth plate; 

People of short stature or with trauma that resulted in a shortened limb; 

If you have skeletal dysplasia or other bone disorders with the difference in leg lengths between the right and left sides; 

You are mentally prepared to spend several weeks or months undergoing distraction to lengthen your leg and allow new bones to grow.
Before making any conclusions, discuss with your doctor to ensure this is the proper procedure.
Medical Tourism in Turkey
There's no doubt why Turkey has become one of the leading countries for medical tourism. Besides world-class clinics and experienced doctors, people visit Turkey for its attractive tourist locations.
How to Reach in Turkey?
Turkey is easily reachable for its geographic location. If you come to Turkey from distant countries, like America or Canada, we provide you the brief information about the flights.
Flight Information to Turkey Table 
| | | |
| --- | --- | --- |
| | | |
| New York, John F. Kennedy International Airport  | | |
| Los Angeles International Airport  | | |
| | | |
| Toronto-Pearson-Int'l-Airport, Canada  | | |
| Vancouver-International-Airport, Canada  | | |
*The information presented in the table above includes flight travel to Istanbul Airport (IATA: IST).
Documents Required to Enter Turkey
Let's see what documents you need to bring with yourself when coming to Turkey:
A valid visa 

An original passport valid for at least six months from the return date of travel 

Medical treatment invitation letter from the Republic of Turkey 

A document showing a negative COVID-19 test result (no older than 72 hours from departure) 

Vaccination certificate showing the last dose was given at least 14 days before arrival 

Form for Entry to Turkey filled in within the last 72 hours before travel.
FAQs About Limb Lengthening Surgery in Turkey
Q. Is it safe to have Limb Lengthening Surgery in Turkey? 
Limb Lengthening in Turkey is a safe and effective procedure. Doctors improve their skills abroad and provide a high surgery success rate.
Turkey is also safe as a country, but we suggest that you take general precautions such as:
Maintain personal hygiene. 

Drink bottled water because tap water is not safe. 

Pay more attention to your surroundings when you are at any tourist site.
Q. How long do I Have to stay in the Hospital for Limb Lengthening Surgery in Turkey? 
You'll have to stay up to 7 days in the hospital for Leg lengthening in Turkey. During this period, a surgeon will follow your recovery and healing process.
Q. How long does it take to recover after Limb Lengthening Surgery in Turkey? 
It takes about 8 to 12 weeks to recover fully after the Limb lengthening procedure. The recovery time depends on the patient's age, the complexity of the surgery, and overall patient health.
Physical therapy plays a crucial role throughout recovery. It keeps the patient's joints flexible and maintains muscle strength.
Q. How much does Limb Lengthening cost in Turkey Compared to the USA? 
Limb Lengthening costs between $35,000 and $45,000 in Turkey, up to 70% less than in the USA.
You'd pay up to $200,000 in America for the same quality of surgery that you will get in Turkey.
Q. Is it painful to have Limb Lengthening Surgery? 
Each procedure has its painful process, so does Limb Lengthening. However, you will be under anesthesia during the surgery, so you'll not feel anything.
After the surgery, a doctor will give you painkillers if pain occurs.
Q. When can I expect Limb Lengthening to start? 
Limb lengthening will start between a few days to a week after the surgery. This period between the surgery and the beginning of leg lengthening is called the latency period.
Q. How much Height can I Gain with Limb Lengthening? 
It is possible to gain 7-10 cm in leg bones with Limb Lengthening in Turkey. You will have to consult with your doctor regarding the desired height you plan to reach.
Conclusion
Limb Lengthening Surgery can increase your desired height and build your confidence. However, you must carefully choose a clinic and qualified orthopedic surgeon to have safe and effective surgery in Turkey. 
PlacidWay team will help you during this process. Contact us for more information about Limb Lengthening surgery in Turkey and get your free quote today!