Unparalleled Cosmetic Quality and Care in Guadalajara/ Puerto Vallarta Mexico
Centro Plastica, Top Plastic Surgery Mexico, Best Aesthetic Surgery, Top Reconstructive Surgery Mexico, Advanced Blepharoplasty, Cheap Face Lift Mexico, Best Nose Surgery, Affordable Ear Surgery in Mexico, Top Breast Implants, Affordable Tummy Tuck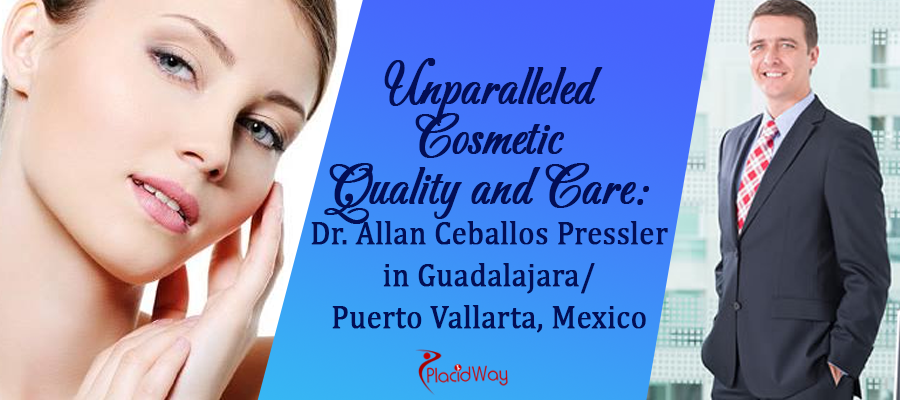 Unparalleled Cosmetic Quality and Care: Dr. Allan Ceballos Pressler in Guadalajara/Puerto Vallarta, Mexico
Centro Plastica Clinic is an aesthetic and reconstructive surgery clinic offering cosmetic procedures both in Guadalajara and Puerto Vallarta Mexico. Headed by Dr. Allan Ceballos Pressler, the clinic prides itself with the professional and caring atmosphere you'll get that will make you feel confident with your cosmetic surgery experience.
Dr. Allan Ceballos Pressler is a certified member of the elite International Society For Aesthetic and Plastic Surgery , the Mexican Association of Plastic, Aesthetic and Reconstructive Surgery and the Iberolatinoamerican Association of Plastic Surgery to name a few. His passion to continuously learn is seen on his constant participation in national and international actualization congresses, courses and meetings relative to Plastic and Reconstructive Surgery.
It was a pleasure and a privilege to be given a chance to do an interview with the soft-spoken and humble Dr. Ceballos amidst his busy schedule. Here's the interview we did and how it made us appreciate doctors like him who truly put his patients safety at first and make sure he makes the whole surgery experience unforgettable.
Centro Plastica Clinic has been in the healthcare industry for 9 solid years. What do you consider your top treatments and what made them such?
We currently perform 90% of aesthetic procedures and 10% of reconstructive surgery. Our top procedures are body contouring surgeries including mommy makeover, face lift and eyelid surgery and body contouring for the massive weight loss patients. They have been popular because of the positive feedbacks which came from our patients and the quality of the procedures we do, we always go for quality surgery for our patients to make sure they achieve the results that they want.
What is your clinic's concept or approach in assisting patients who are interested to know about your treatment?
We usually do a telephone consultation with all patients once they have submitted their request and photographs, this gives patients the opportunity to ask all the questions and concerns regarding their surgery and their journey to Guadalajara/ Puerto Vallarta. It also serves as a way for us to explain the different options and make an accurate treatment proposal for all patients. If patients prefer, we are also able to do video conferences so they can have an actual look at the surgeon and vice versa, we do this without any cost because we want to make sure they get the guidance they need to make an informed decision on their desired surgery.
What additional services are you able to provide and which of them are included/ excluded on the treatment?
We provide with a FULL COST quote for every patients in which we include:
- All hospital fees for their surgeries.
- All medical fees including surgeon, anesthesiologist, assistant surgeon and nurse staff.
- All necessary materials (implants, garments, etc).
- All consultations before and after the surgery.
- All transportations between airport, hospital, and recovery house/hotel.
- We offer the option of recovery houses with all meals included so patients don't have to stay at hotels with no supervision.
We do not include:
- Airfare
- Recovery house/ hotel for the postoperative
- Preoperative lab work (we recommend each patient to do it in their hometown along with a preoperative evaluation from their Primary care)
How do you believe your center should be perceived domestically and internationally?
As a center that has the following priorities:
Provide SAFETY for patients as NUMBER ONE priority.
Perform surgeries in a fully equipped hospital (not clinic or outpatient facility). One of the 3 largest hospitals in Guadalajara.
Provide with accurate treatment plans and execute surgeries with international above standard expectations and compliance.
As an excellent option, top notch center with affordable, competitive prices.
Medical Tourism has been rapidly growing and evolving. How does your center adapts to this?
We have been working in Medical Tourism for 9 years in Guadalajara and Puerto Vallarta, we have been throughout the whole evolution and growth of medical tourism and being part and having the whole experience itself has molded us to become better and better at what we do. We provide with all the needed commodities and services for all international patients with English speaking staff and we make sure that as we go, we learn from the needs of our patients and improve upon them.
Being part of the Medical Tourism industry, what are the challenges and risks that your clinic sees?
As long as the high standard of safety and care for patients are met, the only challenge I see is to be able to keep up with the increase of medical tourism travelers. The amount of patients has grown exponentially in the past years so as a private clinic, we will need to find the time to be able to attend to both our local and our foreign patients.
Taking these challenges into consideration, what do you believe needs to be improved to overcome these?
We see logistics as something that we need to continuously improve on to be able to handle the growing numbers of patients and increasing the capacity of our recovery houses to accommodate the needs of our patients. As I've said, as long as we continue to maintain the high quality of our surgeries, we would just need to optimize the processes within to ensure our patients will be happy.
What is unique about your center compared to other clinics?
We are fully compromised with care for patients and committed to ensure their satisfaction be it local or foreign. We keep a follow-up program once they are back home that allows direct contact between the surgeon and the rest of the staff to provide full coverage of the patients recovery once they are back at their hometown.
We are currently offering non invasive body contouring procedures like Coolsculpting which is a non invasive treatment for elimination of fat deposits and does Laser assisted liposuction as well.
What do you recommend a patient should do or take note of when opting to travel for healthcare to your facility?
We highly advise for them to follow all the recommendations we will provide to them for their preoperative and postoperative care. Our goal and our top priority has been and will always be their safety, we take that very seriously and we provide patients with full lists of recommendations and suggestions for their care and preparation for surgery.
We would like to ask, What do you feel is the overall value that patients will enjoy should they decide to do their treatment with your clinic?
Medical tourism is not an easy step for patients and is completely understandable. Patients are traveling to a foreign country in which they have probably never been, so they don't know what to expect, it works similar to a blind date, you expect good things but also concerned about things not going the way you planned it. This is why we do telephone consultations, we want them to gain confidence on their surgery plans by talking to us and knowing what type of care we will provide, I believe this is important to make the patients feel that you are with them at the on start of planning and that you wish to understand their needs. After their surgeries, my patients would say that their experience were beyond their expectations and that is what we consider our reward and driver, it's what keeps us moving forward and improving each day.
I would like to believe that I am an advocate of great care for my patients and that I make sure they enjoy their decision of traveling for medical tourism, I want them to realize that their experience was gratifying because they obtained what they were looking for with top of the world care and attention and for half or even one third of the cost of some other countries.
Mexico through the years is known to be an easy, convenient and cost affordable destination for medical tourists with direct flights to take and English speaking people to sorround yourself with. Guadalajara with its rich history and culture would appeal to those who prefer a quiet and laidback destination for their medical travel while Puerto Vallarta on the other hand is a resort town that offers the most beautiful beaches with breath taking sunsets. If one is to choose where to go, you may find it hard as these two destinations in spite their difference have 1 thing in common: warm friendly people whom you would be happy to spend your trip with and enjoy the experience above and beyond the treatment you came for.
Would you like to know more about Centro Plastica and have a free consultation with Dr. Allan Ceballos Pressler himself?
Do contact us and we will be happy to assist!
2018-03-27 / Updated on: 2021-01-08