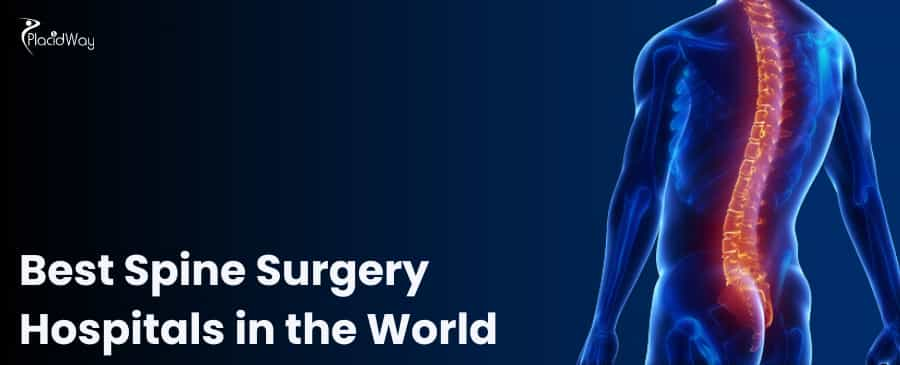 In the delicate tapestry of life, our spine is the irreplaceable thread, an elegant cord of complexity, strength, and resilience that holds us together. It is the pillar around which our lives revolve, the silent supporter of our every movement, a lifeline that bridges our brain to our body. Yet, it can sometimes falter under the weight of life's circumstances, sending us on a vulnerable journey filled with fear, pain, and hope. The best spine surgery hospitals in the world are like lighthouses in these tempestuous seas, their brilliant beacons of cutting-edge medical technology, pioneering expertise, and unparalleled patient care shining bright. They are not merely institutions, but sanctuaries of healing, where each room reverberates with stories of lives reclaimed and hope restored. Dive with us into an exploration of these global bastions of hope and recovery, where miracles are not an exception, but the standard.
10 Best Spine Surgery Hospitals in the World
Hospitals

Countries

BHT CLINIC Istanbul 

Turkey

Polyclinic Markov

Croatia

Family Hospital

Mexico

Turan Turan Group

Turkey

Dra Linette Gomez Hospital

Mexico

Arathana Hospital

India

Costamed

Mexico

Academic Hospital

Turkey

Dr. Max Greig Hospital

Mexico

Capitol Hospital

India
1.  BHT Clinic
Amid the enchanting echoes of Istanbul's rich history, BHT Clinic emerges as a lighthouse of reassurance for patients seeking solace from spinal afflictions. The center excels in minimally invasive spine surgery techniques, offering endoscopic spinal procedures, and spinal decompression procedures that minimize trauma and expedite recovery. Each procedure is deftly conducted in the warm embrace of their state-of-the-art facilities, providing patients with a sanctuary of healing amidst their struggle.
BHT Clinic has etched its name in the annals of spinal treatment for its unwavering dedication to each patient's unique journey. Their personalized approach means that every patient is seen as an individual rather than a case, with treatments tailored to suit specific needs. With BHT, you're not just embarking on a healing journey; you're joining a caring family dedicated to seeing you reclaim the vibrancy of life.
2. Polyclinic Markov
Cradled in Croatia's serene landscape, Polyclinic Markov stands as a fortress of hope against spinal disorders. Their offering of specialized treatments spans spinal fusion, microdiscectomy, and complex scoliosis correction procedures. Their use of the pioneering Da Vinci Robotic Surgical System transforms surgical procedures into an art of precision, drastically reducing recovery times and infusing patients with hope of a life beyond pain.
Markov's commitment to their patients is palpable. From the first consultation to post-operative care, each patient is surrounded by a nurturing environment of compassionate care. The clinic's holistic approach ensures that the journey to recovery isn't solitary but shared with a team that treats every victory, no matter how small, as a monumental step towards healing.
3. Family Hospital 
Family Hospital in Mexico, a name synonymous with warmth and care, provides a sanctuary of healing for those battling spinal disorders. Their expertise stretches across a wide spectrum of surgical interventions, including discectomy, laminectomy, spinal fusion, and even advanced procedures such as artificial disc replacement. Every procedure is conducted with meticulous attention to detail, underlining their commitment to patient wellbeing.
At Family Hospital, the journey to recovery is steeped in compassion and understanding. Their strong emphasis on post-operative care and rehabilitation is a testament to their belief in holistic healing. In this haven of healthcare, patients don't just receive treatment; they find a home that supports them through their healing journey, every step of the way.
4. Turan Turan Group
The Turan Turan Group in Turkey is a beacon of excellence in the realm of spinal care. Renowned for its innovative approach, the institution excels in minimally invasive techniques, motion-preserving procedures, and complex reconstructive surgeries. They are trailblazers in using cutting-edge technology, employing the Mazor Robotics system to ensure accuracy and optimal results in spinal surgeries.
The Group's patient-centric approach is heartfelt and resonates deeply with all who enter its doors. The genuine care for each patient's journey and the commitment to their wellbeing is evident from the initial consultation to recovery. At Turan Turan, the promise is not just of superior medical treatment but also of unwavering support and a warm, healing touch.
5. Dra Linette Gomez Hospital
Dra Linette Gomez Hospital in Mexico is a sanctuary of trust and expert care, led by the globally renowned Dr. Linette Gomez. Her skilled hands and wise heart guide a team offering specialized spine surgeries from minimally invasive procedures to complex interventions such as cervical disc replacement, spinal fusion, and scoliosis correction. Their commitment to patient health and care has made this hospital a lighthouse for those navigating the tumultuous seas of spinal disorders.
The hospital embodies the compassionate nature of its namesake, making each patient feel like part of a caring family. From the first consult to the final stages of recovery, each patient's journey is honored with empathy and attentiveness. With Dr. Gomez and her team, patients aren't just treated; they're understood, respected, and cared for deeply.
6. Arathana Hospital
Arathana Hospital in India stands as a testament to the union of traditional wisdom and modern surgical practices in healthcare. Known for their excellent spine care, the hospital offers procedures such as lumbar microdiscectomy, spinal fusion, and minimally invasive spine surgeries. Advanced technology like the O-arm Surgical Imaging System used here ensures precise real-time imaging during surgeries, leading to better patient outcomes.
Arathana nurtures a strong bond of trust and empathy with its patients. With an approach rooted in cultural values of care and compassion, each patient's journey to recovery is seen as a shared responsibility. At Arathana, you don't just receive world-class treatment; you experience heartfelt care that traverses beyond the operating room, ensuring you always feel at home.
7. Costamed
At the forefront of high-quality spine care, Costamed offers a ray of hope for those grappling with spinal disorders. Their range of services includes minimally invasive surgeries, spinal decompression, disc replacement, and complex spinal reconstruction for severe disorders. These state-of-the-art procedures are conducted in an environment that is centered around the patient's comfort and wellbeing.
In the heart of Costamed is a profound respect and care for its patients. The welcoming aura, coupled with their attention to personalized treatment, creates a healing journey that's not just about regaining health, but also about feeling understood and cared for. At Costamed, they not only mend spines, they also heal hearts.
8. Academic Hospital
Academic Hospital in Turkey is a symbol of advancement and specialization in the field of spine surgery. Their variety of procedures includes minimally invasive techniques, robotic-assisted surgery, and complex procedures like spinal deformity correction. They employ the latest in medical technology, translating to effective and safer surgeries, and leading to superior patient outcomes.
The Academic Hospital has at its core, a commitment to not just treating but also caring for their patients. From the first point of contact to recovery, they ensure that patients feel secure and cared for. Here, it isn't just about high-tech machines and surgical suites; it's also about empathy, understanding, and a genuine desire to see every patient live a pain-free life.
9. Dr. Max Greig Hospital
Named after the illustrious Dr. Max Greig, the hospital in Mexico stands tall as a haven of expert spine care. Specializing in various surgeries such as minimally invasive procedures, spinal fusion, and artificial disc replacement, the hospital provides a beacon of hope for those struggling with spinal conditions.
Every patient at Dr. Max Greig Hospital experiences personalized care that goes beyond clinical treatments. From a welcoming environment to detailed consultations and empathetic support during recovery, the hospital ensures that patients are always their priority. Here, healing is not just a procedure; it's a promise of understanding, caring, and supportive companionship.
10. Capitol Hospital
Capitol Hospital is a trusted name in providing cutting-edge spine care. With a range of services including spinal decompression, discectomy, laminectomy, and minimally invasive surgeries, it offers an oasis of hope for those with spinal issues. Their use of advanced techniques like spinal navigation systems ensures precision and safety, leading to better patient outcomes.
At Capitol Hospital, the patient's journey is handled with the utmost care and respect. From consultations to recovery, every step is steeped in empathy and understanding. They ensure that patients are not only recipients of excellent treatment but are also comforted by a team who genuinely cares. Here, you're not just a patient; you're family.
What You Should Know About Spine Surgery Abroad
Spine Surgery refers to any procedure in the lumbar spine, or lower back, between one or more of the L1-S1 levels. The spine is the protective bony casing of the spinal cord, the nerve pathways that connect every part of the body with the brain and this is very important. It is also important for movement because without a spine, a human is rendered motionless. Spine Surgery aims to relieve pains caused by nerve root pinching. Korea has grown to be a known destination for patients wanting to pursue minimally invasive Spine Surgery and to work with highly qualified surgeons with international training and experience.
What is the Cost of Spine Surgery Abroad?
The approximate price of spine surgery Abroad is $17,000 The pricing is a key factor and varies from center to center. The cost of the Spine Surgery usually depends on the technique to be used and the complexity of the procedure needed to be performed upon evaluation of the patient's medical needs.
What Does Spine Surgery Packages Abroad Include?
Spine Surgery Packages Abroad may include the following: consultation, hospital fees, medical tests and the surgeon's fee. Travel and personal expenses are not included in the patient's expenses. Most of the centers include transportation and accommodation while others do not. It is important to carefully review your treatment plan and understand what's included or not included on the cost prior to booking your treatment.
How To Find a Reliable Doctor for Spine Surgery Abroad?
One may find a lot of Doctors for Spine Surgery Abroad and so it is very important to review your options carefully to en up with the most suitable option for you. When making your choice, you have to ensure that the doctor is fully licensed and board certified. He/She should have affiliations with reputable medical organizations. The doctor should be well experienced and specially trained in orthopedic spine surgeries. It is advisable to check the doctors' previous work to learn more about their medical experience and expertise.
Reviews and Testimonials for Spine Surgery Abroad
We recommend that our future patients always check the reviews and patient testimonials for the centers you wish to have your Spine Surgery. These are helpful as it allows you to get first-hand feedback and learn from them. Reviews and Testimonials for Spine Surgery Abroad will encourage you to visit a certain clinic and speak to the doctors. These testimonials go a long way because experience is truly the best teache as they say.
Questions to Ask a Surgeon Before Doing Spine Surgery Abroad 
If you're considering Spine Surgery Abroad, it is best to ask your doctor and prepare questions relative to your procedure.  We suggest that you ask the following:
Are you fully licensed and board certified to perform the surgery?

May I see photos of your patients who have done their surgeries?

May I get patient references to some of your past patients?

What are my options if I am not satisfied with the cosmetic outcome of my procedure?

What are the possible complications and how likely are they?

What would be my itinerary for this procedure?
Spine Surgery helps address back pain and discomfort on people who are suffering from it.It has been reported that this type of surgery yields a success rate of 95% , hence, people are deciding to undergo such to relieve them from the pain and be able to live a much better quality of life. Let PlacidWay help you discover the best choices for Spine Surgery Abroad today by contacting our Customer Support Team by putting you in contact with the best medical centers who will provide customized quotes for you.
If you wish to know more about Spine Surgery Abroad and would like to get a FREE quote from our partner spine surgery clinics, feel free to contact us using the button below!