Spine Surgery in Turkey
Choose Spine Surgery in Turkey at an Affordable Price
Experiencing back pain can significantly impede your ability to engage in regular physical activities with ease. When persistent pain fails to alleviate through non-invasive approaches, the option of spine surgery emerges as a potential solution. Fortunately, opting for Spine Surgery in Turkey not only addresses this concern but also promises a restoration of your physical functionality and overall spinal well-being. Whether your medical professional recommends a specific spine surgery procedure, you can be assured of a high success rate within Turkish hospitals, attributed to an amalgamation of pivotal factors.
The success of spine surgery in Turkish hospitals can be attributed to a multifaceted array of factors that converge to ensure optimal outcomes. The employment of cutting-edge and innovative surgical techniques stands at the forefront, ensuring procedures that are at the forefront of medical advancement. Complemented by the expertise of highly seasoned surgeons and a specialized medical staff, the surgical teams exhibit a remarkable degree of proficiency in their field. Turkish hospitals, equipped with world-class facilities, facilitate an environment conducive to comprehensive patient care.
This encompasses not only the surgical process itself but also extends to encompass post-operative recuperation. The commitment to high-quality medical services further cements Turkey's reputation as a hub for effective and successful spine surgeries. Whether you require a specific clinic, a skilled orthopedic surgeon, or a tailored medical package, this guide is designed to lead you to the optimal choices for your individual needs, ensuring a path to restored spinal health and enhanced physical well-being.
• Clinic: Group Florence Nightingale Hospitals, Turan Turan Health Group, Istanbul Orthopeadia Group, Private Algomed Hospital, Private Koru Ankara Hospital, and Adatip Hospital.
• Location: Turkey
• Procedure: Spine Care/Surgery
• Package Price: starts at $9,000
• Cost in Other Countries: $15,000 - $68,000
• Doctor: Dr. Kayhan Turan and Dr. Ozgur Cicekli
• Top Tourist Attractions: Hagia Sophia, The Blue Mosque, and Topkapi Palace Museum.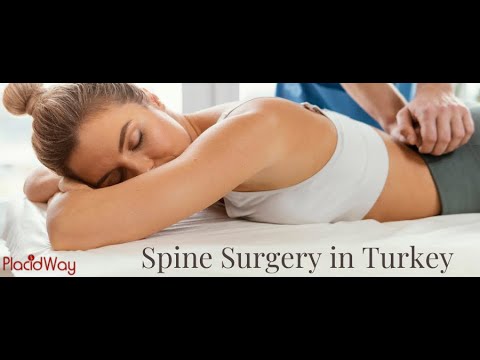 ---
All Inclusive Spine Surgery Packages in Turkey
Embarking on a journey of international healthcare, the clinics in Turkey present a seamless solution through their comprehensive, all-inclusive spine surgery packages. Designed with your convenience in mind as a global patient, these packages encapsulate a range of essential services required during your clinic stay. Among our esteemed top-tier clinics, a particularly noteworthy offering revolves around scoliosis surgery, available at a remarkably affordable rate of $9,000. This package not only encompasses the surgical procedure itself but extends its coverage to include a plethora of essential services. For a detailed breakdown of the package and its comprehensive inclusions, peruse the information presented below, empowering you to make an informed decision about your medical journey.
---
Spine Surgery Prices in Turkey
Navigating the realm of spine surgery prices in Turkey reveals a spectrum of affordability and value. The cost of spine surgery in Turkey is known for its competitive edge without compromising on the quality of medical care. While prices can vary based on the specific procedure and clinic, they consistently stand as an attractive alternative to many other countries. Turkish medical facilities pride themselves on offering world-class surgical interventions, encompassing a range of spinal conditions, at a fraction of the cost found in other parts of the world. From corrective surgeries to intricate spinal treatments, the price range provides an accessible gateway to top-notch healthcare, often accompanied by all-encompassing packages that take care of your medical journey's every facet.
Spine Care/Surgery Centers Cost Comparison in Turkey
| Provider | Procedure | Price |
| --- | --- | --- |
| TURAN TURAN HEALTH GROUP | Spinal Stenosis Operation, Spine Care/Surgery | $9000 |
| ADATIP Hospital | Minimally Invasive Spine Surgery, Spine Care/Surgery | $10000 |
Spine Care/Surgery Cost Comparison in Turkey

| Country | Procedure | Price |
| --- | --- | --- |
| Germany | Vertebroplasty, Spine Care/Surgery | $15705 |
| United Kingdom | Spinal Fusion Surgery, Spine Care/Surgery | $15000 |
| United States | Spinal Fusion Surgery, Spine Care/Surgery | $68000 |
---
Top 6 Orthopedic Surgery Clinics in Turkey
In Turkey, a selection of premier Orthopedic Surgery Clinics stand ready to address an array of spinal conditions that individuals like yourself might encounter. These clinics boast a specialization that centers on delivering effective treatments for various spinal ailments. The medical teams within these establishments possess a wealth of experience, enabling them to execute surgeries with a notable success rate. Beyond the surgical precision, these dedicated professionals play a pivotal role in expediting your recovery process, all within an environment that fosters comfort and well-being. Outlined below are the top 6 recommended orthopedic surgery clinics in Turkey, each distinguished by its unique attributes.
---
Spine Surgery in Turkey Videos
Explore the world of Spine Surgery in Turkey through our enlightening video collection. Immerse yourself in the content below, where we offer an in-depth glimpse into the surgical procedures performed within our highly recommended clinics. These videos serve as a valuable resource to deepen your understanding of the intricacies of spine surgery and the exceptional care provided by our esteemed clinics. Dedicate a few moments to watch these insightful visuals – they are designed to provide you with a richer perspective on what to expect during your medical journey. Your investment in viewing these videos is an investment in your well-being, aiding you in making informed decisions and fostering confidence as you embark on the path to spinal health.
---
Spine Surgery in Turkey Reviews from Real Patients
Gain insights into the transformative experiences of real patients who have undergone Spine Surgery in Turkey through their candid reviews. Their firsthand accounts provide invaluable perspectives on the quality of care, surgical expertise, and the overall journey within our recommended clinics. As you read through their narratives, you'll find authentic stories of individuals who have found relief from back pain and regained their physical abilities, thanks to the exceptional medical care received. These reviews serve as a testament to the professionalism, dedication, and positive outcomes that define the spine surgery landscape in Turkey. By delving into these genuine testimonials, you equip yourself with a wealth of shared experiences that can inform and guide your own medical decisions, adding another layer of confidence to your pursuit of spinal health.
---
Top 6 FAQs about Spine Surgery in Turkey
Embarking on the journey towards spinal health through surgery in Turkey can raise a multitude of questions. To help you navigate this important decision, we've compiled the top 6 frequently asked questions about Spine Surgery in Turkey along with detailed answers:
What types of spine surgeries are offered in Turkey?
Turkey offers a comprehensive range of spine surgeries, including procedures for herniated discs, spinal deformities like scoliosis, spinal fusion, laminectomy, and more. The country's advanced medical facilities provide treatments for a wide spectrum of spinal conditions.
How experienced are the surgeons performing spine surgeries?
Surgeons in Turkey's top clinics are highly experienced and often hold international qualifications and certifications. They are specialists in their field, known for their proficiency in cutting-edge techniques and a track record of successful surgeries.
What is the success rate of spine surgeries in Turkey?
Turkish hospitals boast a high success rate in spine surgeries, attributed to factors such as skilled surgeons, state-of-the-art techniques, and world-class facilities. Success rates vary depending on the procedure and the patient's condition but are generally impressive.
What is the cost of spine surgery in Turkey compared to other countries?
The cost of spine surgery in Turkey is notably more affordable than in many Western countries, without compromising on quality. The competitive prices, coupled with comprehensive package offerings, make Turkey an attractive destination for medical tourists seeking high-quality care.
What is included in the all-inclusive packages for spine surgery?
All-inclusive packages often cover the surgical procedure, hospital stay, pre-operative assessments, post-operative care, accommodation, transportation, and more. These packages are designed to provide a seamless experience for international patients.
What is the process for international patients seeking spine surgery in Turkey?
The process typically involves contacting the chosen clinic, sharing medical history and reports, receiving a personalized treatment plan, traveling to Turkey, undergoing surgery, and recuperating with post-operative care. The clinics' international patient coordinators assist at every step to ensure a smooth journey.
Exploring these frequently asked questions provides a comprehensive foundation for making informed decisions about your spine surgery journey in Turkey. Remember that personalized guidance from medical professionals and clinic representatives is crucial in tailoring the experience to your unique needs and ensuring a successful outcome.
---
Best Orthopedic Surgeons in Turkey
Discovering the finest Orthopedic Surgeons in Turkey, who possess a profound specialization in executing diverse spine surgeries, presents an essential step towards achieving optimal spinal health. These surgeons' exceptional expertise and internationally recognized certifications position them among the elite in their field globally. While identifying the perfect spine surgeon might seem like a daunting task, our assistance ensures a seamless and stress-free decision-making process. Feel confident that with our guidance, you're equipped to navigate this important choice with ease. Reach out to us today to delve into comprehensive details regarding the top-notch surgeons primed to deliver exceptional spine surgery experiences in Turkey.
Dr. Kayhan Turan is a highly trained and experienced orthopedic surgeon at Turan Turan Health Grou...
Ozgur Cicekli is an acclaimed Turkish neurosurgeon specializing in spinal cord injuries. With a dist...
---
Why Choose Spine Surgery in Turkey?
When considering spine surgery, the prospect of undergoing such a significant medical procedure can be accompanied by both anticipation and uncertainty. However, opting for Spine Surgery in Turkey offers a multitude of compelling reasons that can put your mind at ease and pave the way for a successful and transformative medical journey. Here are seven key reasons why choosing Turkey for your spine surgery can be an exceptional decision:
Expertise and Specialization: Turkish clinics are home to highly experienced orthopedic surgeons who specialize in various spine conditions. Their expertise is internationally recognized, ensuring you're in capable hands.
Advanced Techniques: Turkish hospitals adopt cutting-edge surgical techniques and technology, ensuring that your spine surgery is at the forefront of medical innovation.
High Success Rates: With a proven track record of successful spine surgeries, Turkish clinics have earned a reputation for delivering positive outcomes, instilling confidence in patients.
Affordability: The cost of spine surgery in Turkey is notably more budget-friendly compared to many Western countries, without compromising on quality.
All-Inclusive Packages: Tailored all-inclusive packages encompass not only the surgery but also accommodation, transportation, and post-operative care, providing a holistic and convenient experience.
Global Medical Standards: Turkish hospitals adhere to stringent international medical standards, ensuring that your health and safety are prioritized throughout your journey.
Cultural Richness: Beyond medical care, Turkey offers a unique blend of history, culture, and natural beauty, allowing you to experience a transformative journey both inside and outside the clinic.
Intrigued by these compelling reasons? Choosing Spine Surgery in Turkey not only holds the promise of effective medical treatment but also opens doors to a comprehensive, patient-centric experience that combines expertise, affordability, and cultural enrichment.
Explore Top Places in Turkey!
While in Turkey for spine surgery, you will be able to visit top places in this lovely country full of diversity. From delicious food, and sunny beaches, to natural and architectural wonders, Turkey is a unique country that offers something for everyone. You can't resist visiting these places in Turkey:
Aya Sofia Mosque - Architectural Wonder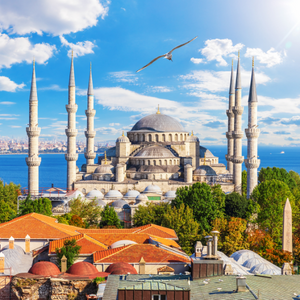 White-sand beach in Antalya - Mediterranean Coast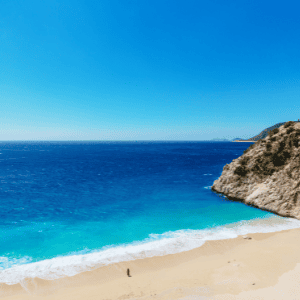 Pamukkale or Cotton Castle - carbonate mineral water pools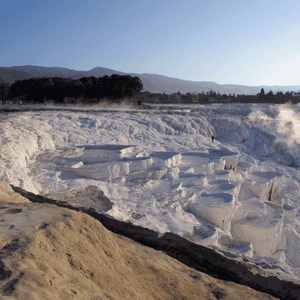 ---
Forget about Back Pain with Spine Surgery in Turkey!
Severe back pain is not something you can ignore. That's why choosing Spine Surgery in Turkey will help you get back to normal faster. Thanks to the experienced medical team and high success rate of the surgery, you will soon feel better and able to move normally. PlacidWay team will be with you along the way and help you prepare for this trip. Contact us for further guidance!
---