Dental Implants in Athens, Greece
Treatment:
Dentistry, Dental Implants
Focus Area:
Dental Implants | Dentures | Implant Restoration Doctors | Mouth Implant Surgeons | Teeth Restoration Hospitals | Athens, Greece
---
Best Services for Dental Implants in Greece
Exclusive Dental Implants in Athens, Greece
 
Dentures over a normal course of time will wear and need to be replaced or relined in order to keep the jaw alignment normal. The alignment will slowly change as the bone and gum ridges recede or shrink due to the extraction of the teeth. Regular dentist examinations are still important for the denture wearer so that the oral tissues can be checked for disease or change.
Replacement of Several Missing Teeth
Partial dentures are used when some natural teeth remain.  A Partial denture not only fills in the spaces created by missing teeth, it prevents other teeth from shifting. There are two main types of partial denture: with reliance attachment and with clasps.
If you lose more than one tooth, these may be replaced by bridges based on implants. It is not necessary-indeed we would say that it is excessive and scientifically-placed implants so many teeth are missing. The bridges on implants are also advantageous compared to the other solutions of the partial restoration nodotitas present.
Why Dental Clinics  in Athens Greece Benefits
The benefits of restoring missing teeth with implants and bridges over the implants are also many. Beyond the aesthetics and functionality of the improved area does not incur any natural teeth. Not grind to be placed on the bridge and much more do not support mobile rehabilitation (masselaki) that incur large uncontrollable forces. Moreover since the implants are placed into the bone in place some missing roots, preserving the bone, and is not absorbed, with all the advantages of maintaining unaltered the dimensions of the alveolar ridge. These advantages associated with both aesthetic and functional and with biological agents that have been reported in detail. In time, the implant-supported restorations (prosthetic restorations on implants) remain aesthetically and functionally satisfactory and with proper maintenance can be maintained without problems for many years. Unlike in the case we have bridges the risk to develop caries or require denervation, etc., in one of the supports of the bridge is increased.
Why Dental Greece and PlacidEurope for Dental Implants?
Specialized staff and the Technologically advanced clinical equipment.

Confidence, balance and a healthy smile.

High Qualified Specialists.

Warm smile, care and attention.

Harmony, beauty and health.

Scientific training and modern equipment.

Smile, life and peace of mind.

Beauty, joy and confidence.

Knowledge, experience and consistency.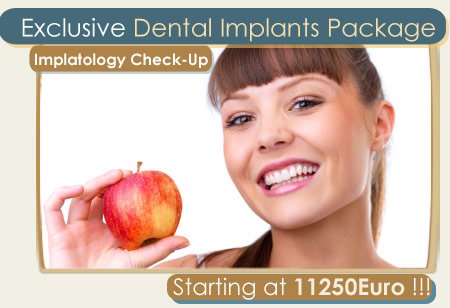 Our Dental Athen Greece Package Includes:
Complete Clinical Examination,

3 Dimensional Xrays For Assessment Of Bone Structure,

Discussion Of Various Treatment Plans,

Half Mouth Implant Placement,

Implant Restoration (7 Dental Implants / 12 Teeth).

We will fill you with satisfaction and self-confidence, while helping you to improve your health in general!!


Related Experiences:
Dental Implants in Juarez
Dental Implant in Aydin, Turkey
Dental Implant in Alanya Turkey
Dental Implants in San Jose, Costa Rica
Dental Implant in Bursa, Turkey
Dental Implants in Bogota Colombia
---
Dentistry Related Packages
Dentistry Related Experiences