Low Cost Package for Dental Implants in Tenerife Spain
Package price starting from:
$1200
Treatment:
Dentistry, Dental Implants
Location:
La Palmita, 2, La Orotava, Tenerife, Spain
Focus Area:
Dental Implants in Tenerife Spain | ICA Instituto de Cirugia Avanzada
---
Get Effective Tooth Replacement in Tenerife Spain at ICA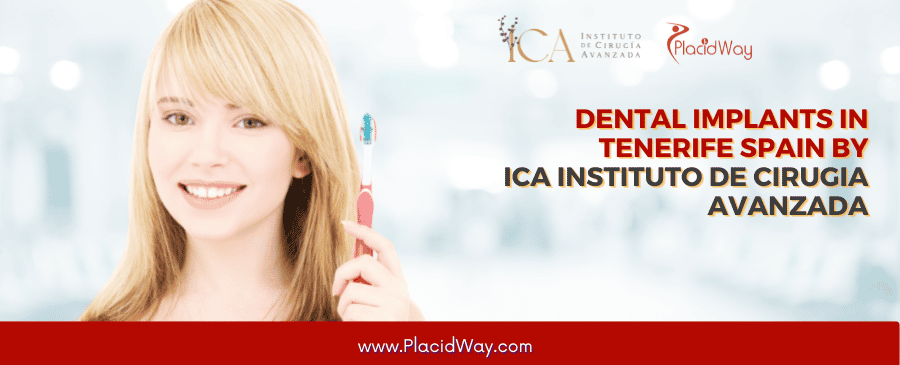 Get low-cost package for Dental Implants in Tenerife Spain by ICA Instituto de Cirugia Avanzada. Book your consultation for Dental Surgery in Spain at PlacidWay! Dental implants can be expensive, but ICA offers an affordable all-inclusive package in Tenerife Spain. This is a great option for anyone looking for the best possible price on implants. Keep reading to know more information about this teeth implant package.
Dental implants have revolutionized the field of dentistry by providing a permanent and sturdy solution for tooth loss. Unlike dentures, dental implants are fixed directly into the jawbone, offering stability, comfort, and a natural appearance. This innovative approach enhances not only your smile but also your overall oral health and quality of life.
What is Dental Implants?
Dental Implants are essentially artificial replacement teeth. They are commonly used to replace missing teeth, or to support dentures. Dental implants are usually made of titanium, and are surgically inserted into the jawbone. If you are considering dental implants, be sure to consult with reliable dentist to see if this procedure is the right choice for you.
You can get Dental Implants in Tenerife Spain by ICA Instituto de Cirugia Avanzada with the price starts from $1,200.
Note: Price can change and vary depends on complexity of procedure and patient condition.

Dental implants are a popular way to replace missing teeth. The procedure involves placing a metal rod in the jawbone beneath the gum line. This rod acts as a support for a new tooth or denture. Here are the complete procedures:
Note: Your doctor will ask you at least 7-10 days before the final procedure. The doctor will prescribe the tests after conducting complete physical checkup.
Payment Options:  Cash, Credit and Debit Cards.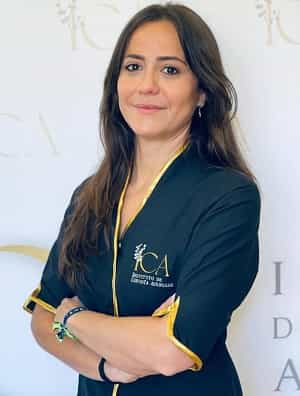 Experiences and Certifications:
Degree in Dentistry in 2010

Doctorate from the Alfonso X el Sabio University of Madrid in 2017

Master's Degree in Oral Implantology and Implant-Supported Prosthesis by the Alfonso X el Sabio University in 2014

Title of Director of X-ray facilities for purposes of medical diagnosis.

Spain is a renowned country for its Mediterranean atmosphere and verifies beaches. Tenerife, Spain?s largest island, offers an ideal climate for those who love the sun. The temperature is warm year-round, making it a popular destination for tourists.
This temperate climate also makes Tenerife an ideal location for Dental Treatments. The healing process is quicker in warm climates, which means that patients can enjoy their new smiles sooner. At our practice, we are proud to offer our patients high-quality dental implants in a beautiful setting.
The Low-Cost Advantage
One of the primary reasons individuals are flocking to Tenerife for dental implants is the cost-effectiveness. Dental procedures in many countries can leave a significant dent in your wallet, but Tenerife offers competitive pricing without compromising on the quality of care.
Expert Dental Professionals
Tenerife boasts a pool of highly skilled dental professionals with extensive experience in implantology. These experts stay updated with the latest advancements in dental technology, ensuring that you receive top-notch treatment.
State-of-the-Art Facilities
Dental clinics in Tenerife are equipped with state-of-the-art facilities, adhering to international standards. From diagnostics to surgery and aftercare, every step of the dental implant procedure is conducted using cutting-edge equipment.
Exploring Tenerife: More Than Just Dental Care
While dental care is the primary reason for your visit, Tenerife offers much more. Explore the island's breathtaking beaches, lush landscapes, and vibrant culture during your stay. It's an opportunity to rejuvenate both your smile and your soul.
Check below for Frequently Asked Questions about Dental Implants in Tenerife Spain:
Dental implants are small titanium posts that are surgically placed into the jawbone in order to hold replacement teeth in place. They are a long-term solution for people who have lost one or more teeth due to injury, disease, or other reasons.
There are many reasons why you might want to consider getting dental implants in Spain.
The cost of dental implants in Spain varies depending on the individual case. However, in general, you can expect to pay significantly less for dental implants in Spain than you would in other countries.
With proper care, dental implants can last a lifetime. However, it is important to keep in mind that they are not immune to wear and tear, and you may need to have them replaced or repaired over time.
As with any surgery, there are always some risks associated with getting dental implants. However, these risks are typically very low and can be effectively managed by your dentist.
Final Thoughts
Choosing Tenerife for dental implants offers an unbeatable blend of affordability, expert care, modern facilities, and breathtaking surroundings. Experience top-tier treatment while surrounded by the island's natural beauty. Tenerife ensures not only a confident smile but also lasting memories. Access affordable dental care today and embark on a journey to a brighter, more vibrant you.
If you're looking for an affordable and convenient way to get teeth implants, look no further than ICA! Their dental implant center in Spain offers a wide range of services to help you achieve the smile you've always wanted. Whether you need a single tooth implant or multiple implants, they can help you achieve satisfactory result. Click contact us button below to get more information!

Related Experiences:
Dental Implants in Spain
Dental Implant in Aydin, Turkey
Dental Implant in Alanya Turkey
Dental Implants in San Jose, Costa Rica
Dental Implant in Bursa, Turkey
Dental Implants in Zagreb Croatia
---