Stem Cell Therapy for Cerebral Palsy Package in Tijuana, Mexico by Immunow Oncology Center
Package price starting from:
$4025
Treatment:
Stem Cell Therapy, Stem Cell Treatment for Cerebral Palsy
Location:
Calle Vaquita 12520 Col. 20 de Noviembre CP 22100 Tijuana B.C., Mexico
Focus Area:
Immunow Oncology Center | Tijuana | Mexico | Stem Cell Therapy for Cerebral Palsy
---
Regenerative Medicine for Cerebral Palsy in Tijuana, Mexico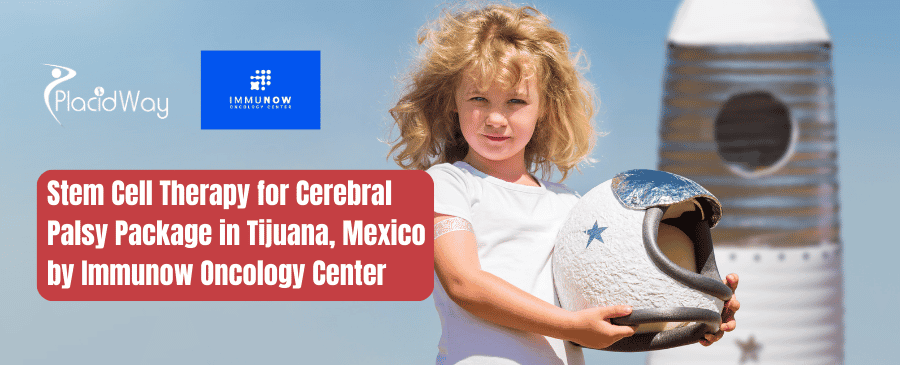 Immunow Oncology Center in Tijuana, Mexico, offers a comprehensive and groundbreaking Stem Cell Therapy package for Cerebral Palsy. With a team of experienced medical professionals and state-of-the-art facilities, this therapy aims to enhance the lives of individuals affected by this neurological condition.
The package includes personalized consultations, cutting-edge stem cell treatments, comfortable accommodation, transportation assistance, and ongoing post-treatment care, ensuring a holistic approach to recovery. Immunow Oncology Center's commitment to excellence and affordability makes it a leading choice for those seeking transformative solutions for Cerebral Palsy in a supportive and compassionate environment.
You can get stem cell therapy for cerebral palsy package in Tijuana, Mexico by Immunow Oncology Center with the cost starts at $4,025. Please refer to our price list table below:
| | |
| --- | --- |
| Location | Cost in USD |
| Tijuana, Mexico | $4,025 |
| United States | $20,000 |
Note: price may change and vary depends on complexity of procedures and patient conditions. Click free quote button below to learn more:

Affordability: Mexico offers cost-effective options without compromising on quality, making treatment accessible to a wider range of patients.
Experienced Medical Team: Immunow Oncology Center boasts a team of skilled professionals with extensive experience in stem cell therapy.
Cutting-Edge Facilities: Tijuana's medical facilities are equipped with state-of-the-art technology, ensuring the highest standards of care.
Short Travel Distance: Proximity to the US makes Tijuana a convenient choice for American patients seeking quality care.
Cultural Experience: Patients can enjoy the rich culture and scenic beauty of Mexico during their recovery.
Stem Cell Therapy for Cerebral Palsy is an innovative medical approach designed to improve the quality of life for individuals living with this neurological condition. It involves the use of stem cells, typically derived from the patient's own body or other ethically sourced materials, to promote neural repair and regeneration in the brain. These stem cells have the remarkable ability to transform into various cell types, aiding in the repair of damaged brain tissue and the formation of new neural connections.
By harnessing the regenerative potential of stem cells, this therapy aims to enhance motor skills, alleviate symptoms, and boost overall cognitive and physical function in individuals with Cerebral Palsy. While results can vary from person to person, this treatment holds significant promise in providing hope and improved outcomes for those affected by this challenging condition.
Medical Consultations: Initial evaluations, consultations, and follow-up appointments with the medical team.
Stem Cell Therapy: Cutting-edge stem cell treatment tailored to individual patient needs.
Accommodation: Comfortable lodging during the treatment period.
Transportation: Airport transfers and local transportation for medical appointments.
Post-Treatment Care: Ongoing support and rehabilitation guidance to maximize the benefits of therapy.
Travel Expenses: Costs associated with international travel to Tijuana.
Personal Expenses: Meals, entertainment, and personal shopping expenses.
Non-Covered Treatments: Any additional medical procedures not included in the package.
Insurance: Medical insurance coverage is not part of the package.
Visa Fees: Fees for obtaining necessary travel visas.
Stem Cell Therapy for Cerebral Palsy Pre-Op Tests:
Medical Evaluation: Comprehensive medical assessment to determine the patient's suitability for stem cell therapy.
Neurological Assessment: Evaluation of the extent of cerebral palsy and potential for improvement.
Blood Tests: Checking for any underlying health conditions or infections.
Imaging Scans: Such as MRI or CT scans to provide a detailed view of the brain.
Genetic Testing: To identify any genetic factors influencing the condition.
Immunow Oncology Center is proud to have a team of renowned medical experts specializing in stem cell therapy for Cerebral Palsy. Our doctors are dedicated to providing personalized care and ensuring the best possible outcomes for patients. Check their profile below to learn more:
Regenerative Medicine Specialists in Tijuana, Mexico

 

Dr. Fernando Estrella

 

Dr. Lulu
Is Stem Cell Therapy for Cerebral Palsy Right for You?
Severity Assessment: The treatment is suitable for various levels of cerebral palsy severity.
Consultation: A thorough consultation with our medical team will determine if you are a suitable candidate.
Realistic Expectations: Understanding the potential benefits and limitations of the therapy is essential.
Medical History: A review of your medical history will help determine the appropriateness of the treatment.
Patient's Willingness: Your willingness to commit to the therapy and follow-up care is crucial.
What to Expect During Stem Cell Therapy for Cerebral Palsy?

Therapy Sessions:

Scheduled stem cell treatments tailored to your condition.

Monitoring:

Continuous monitoring of progress and adjustments as needed.

Rehabilitation:

Rehabilitation exercises to enhance the effectiveness of the treatment.

Supportive Care:

Emotional and psychological support throughout your journey.

Recovery:

Gradual improvements in neurological functions and overall well-being.
1. How does Stem Cell Therapy work?
Stem cells are introduced into the body, where they have the potential to repair damaged brain tissue and promote neural connections, leading to improved motor skills and cognitive functions.
2. Is Stem Cell Therapy safe for Cerebral Palsy patients?
When administered by experienced medical professionals at reputable centers like Immunow Oncology in Tijuana, Mexico, the therapy is generally safe and well-tolerated.
3. Are there age restrictions for this therapy?
While there are no strict age limits, the effectiveness of the treatment may vary depending on the patient's age and the severity of their condition. Consultation with a medical expert is essential.
4. What results can be expected from the therapy?
Results vary from patient to patient, but improvements in mobility, speech, and overall quality of life have been observed in many cases.
5. How long does the treatment process take?
The treatment typically involves several sessions over a few weeks, with ongoing monitoring and follow-up care to assess progress and make adjustments as needed.
6. Is this therapy covered by insurance?
Insurance coverage may vary, but it's essential to check with your insurance provider. Stem cell therapy for Cerebral Palsy is often considered an elective procedure, so coverage may be limited.
Ready to embark on your journey towards improved quality of life for yourself or a loved one? Contact Immunow Oncology Center in Tijuana, Mexico, and book your consultation through PlacidWay Medical Tourism today. Experience the future of Cerebral Palsy stem cell treatment. Click contact us button below to get started!

Related Experiences:
Stem Cell Therapy for Cerebral Palsy in Tijuana Mexico
Stem Cell Therapy for Cerebral Palsy in Guadalajara Mexico
Stem Cell Therapy for Cerebral Palsy in Mexico City
Stem Cell Therapy for Cerebral Palsy: A New Hope in Mexico
Regenerative Medicine for Cerebral Palsy in United States
Stem Cell Therapy for Cerebral Palsy in Thailand
---