Best Package for Robotic Spine Surgery in Bursa Turkey
Package Price:
Call to Check
Treatment:
Robotic Surgery, Robotic Orthopedic Surgery
Location:
Sirinevler mah, Ankara Yolu Cd. No: 795, 16290 Yildirim/Bursa, Turkey, Turkey
Focus Area:
Robotic Spine Surgery in Bursa Turkey | Turan Turan
---
Book Orthopedic Surgery Packages in Turkey by Turan Turan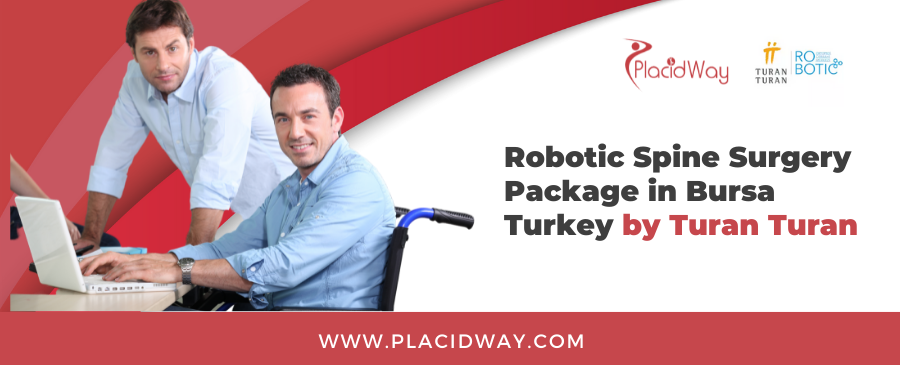 Affordable Packages for Robotic Spine Surgery in Bursa Turkey
Turan Turan present cost-effective package for Robotic Spine Surgery in Bursa Turkey. Book now top quality orthopedic surgery at PlacidWay. Robotic spine surgery can be an affordable and effective way to treat various conditions of the spine. At Turan Turan, we offer affordable packages for robotic spine surgery. If you are considering robotic spine surgery, please contact us at Turan Turan to learn more about our affordable packages.
Definition of Mazor Care Technology for Robotic Spine Surgeries – Mazor X Stealth Edition
Robotic Spine Surgery is a minimally invasive surgical process that allows our surgeons at Turan & Turan Health Group to access mechanical precision that normally not possible for accurate placement of screws and interbody devices during spine surgeries.
Pedicle screw placement is a common spinal surgical procedure, but it remains technically demanding. The anatomical proximity to the central nerves system and main blood vessel structures means that inaccuracy of pedicle screws may result in serious morbidity, complications, and revision surgery.
For many patients, the idea of spine surgery can be intimidating and scary. There are often questions of safety, accuracy and recovery times as they try to figure out which option is best for their specific condition. Fortunately, robotic spine surgery is on the cutting edge of technology in the operating room and provides patients with incredible accuracy, shorter recovery times and, most importantly, an increased level of safety.
Mazor X Stealth Edition delivers predictability of planning, precision of robotics-guidance, and the visibility of navigation in open, minimally invasive, or percutaneous procedures. Mazor Care Technology delivers high rates of pedicle screw accuracy and enables a minimally invasive approach to spine surgery, which has well-established benefits including less tissue trauma, lower blood loss, lower postoperative pain, and convalescence.
Additionally, using robotic guidance instead of image guidance minimizes radiation exposure for the patient, surgeon, and the other operating staff in the room.
You can get Robotic Spine Surgery in Turkey by Turan Turan with the cost starts from Call to Check.
| | | |
| --- | --- | --- |
| | | |
| | Robotic Spine Surgery | |
| | Robotic Spine Surgery | $30,000 |
| | Robotic Spine Surgery | $40,000 |
Note: Final price may change depends on patient condition and complexity of the procedure. Please follow price policy of Turan Turan.

One of the minimally invasive procedure termed as robotic spine surgery, our doctors at Turan & Turan Health Group have access to mechanical accuracy that is typically not achievable for precise insertion of screws and interbody devices during spine procedures.
The implantation of pedicle screws is a routine spinal surgical technique, although it is nevertheless technically challenging. Due to the pedicle screws' strong anatomical closeness to the main blood vessel systems and the central nervous system, there is a risk of significant morbidity, problems, and revision surgery.
The thought of having spine surgery can be uncomfortable and terrifying for many individuals. As people try to choose which choice is best for their particular condition, concerns about safety, accuracy, and recovery timeframes sometimes arise. Robotic spine surgery, fortunately, is at the cutting edge of operating room technology and offers patients exceptional precision, quicker recovery periods, and, most crucially, a higher degree of safety.
In open, minimally invasive, or percutaneous operations, Mazor X Stealth Edition offers predictability in planning, accuracy in robotics-guidance, and transparency in navigation. Reduced tissue trauma, reduced blood loss, and far less postoperative discomfort are just a few of the benefits of minimally invasive spine surgery that are made possible by Mazor Care Technology's high rates of pedicle screw accuracy.
Furthermore, robotic guiding reduces radiation exposure to the patient, surgeon, and other operating room personnel when used in place of direct vision. Numerous common spinal diseases can be treated using robotic spine surgery, including:
Here you can check information about highly qualified surgeon for orthopedic surgery in Bursa Turkey: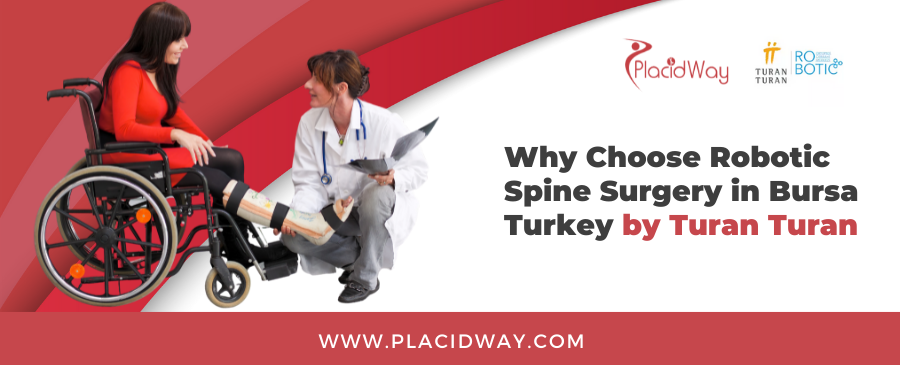 Bursa Turkey is a top destination for orthopedic surgery. There are several reasons why patients choose to have their surgery in Bursa. The hospitals in Bursa are world-renowned for their excellent orthopedic care. Patients from all over the world come to Bursa to receive the best possible care.
The surgeons in Bursa are some of the most experienced and skilled in the world. They have a wealth of experience and knowledge to offer their patients. The staff at the hospitals in Bursa is also highly trained and experienced. They provide exceptional care to all of their patients.
Check below for information about Frequently Asked Questions for Robotic Spine Surgery in Bursa Turkey:
Robotic Spine Surgery can be used for addressing many common spinal conditions including:
Robotic spine surgery is a type of minimally invasive surgery that uses a sophisticated computer-assisted surgical system to help the surgeon operate with greater precision and accuracy.
Candidates for robotic spine surgery are typically those who have been diagnosed with spine conditions that require surgery, but who do not want to undergo traditional, open surgery. Your physician will be able to determine if you are a candidate for this type of surgery.
Some of the potential benefits of robotic spine surgery include less pain, shorter hospital stays, and quicker recovery times. Additionally, because the surgery is less invasive, there is a lower risk of complications.
As with any type of surgery, there are always potential risks involved. However, the risks associated with robotic spine surgery are typically very low. Your physician will be able to discuss the risks involved with this type of surgery prior to your procedure.
The length of time required for robotic spine surgery will depend on the specific procedure being performed. However, in general, this type of surgery is typically much shorter than traditional, open surgery.
Looking for a reputable place to get robotic spine surgery in Bursa, Turkey? Then you should definitely consider PlacidWay! Our experienced surgeons have performed countless successful procedures using the latest technology and techniques, so you can rest assured that you're in good hands.

---