Stem Cell Therapy for Diabetes Packages in Dubai, UAE
Package price starting from:
$9135
Treatment:
Stem Cell Therapy, Stem Cell Treatment for Diabetes
Location:
Dubai Healthcare City - Building 64 - Block B - Dubai UAE, UAE
Focus Area:
Bioscience Clinic | Dubai | UAE | Stem Cell Therapy for Diabetes
---
Regenerative Treatments for Diabetes in Dubai, UAE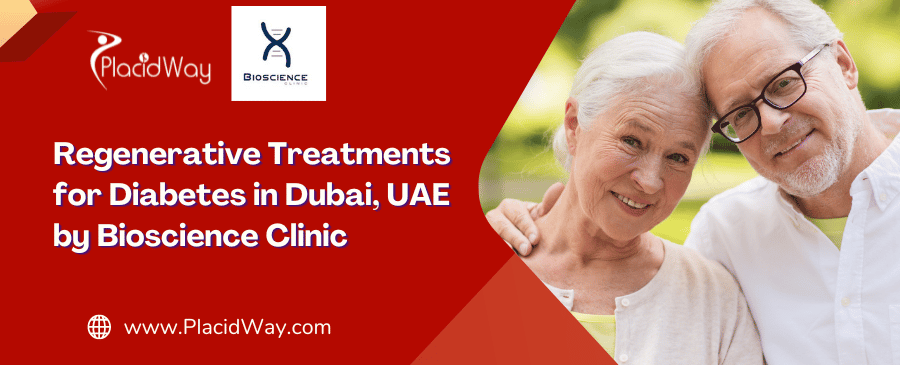 If you are suffered from Diabetes and looking for an effective, long-term solution, Stem Cell Therapy is your best treatment option. Bioscience Clinic in Dubai offers the most advanced stem cell therapy packages to help you manage and even reverse the effects of diabetes.
At Bioscience Clinic, we use high quality stem cells from our own laboratory that are free from any contamination, ensuring the highest quality of care for our patients. Our packages are tailored to meet your individual needs and provide you with a tailored treatment plan that addresses all aspects of your condition.
Cost of Regenerative Therapy for Diabetes in Dubai, UAE
You can get stem cell therapy for Diabetes in Dubai, UAE by Bioscience Clinic with the price starts at $9,135 - $21,780. For more information, check our price table below:
| | |
| --- | --- |
| Country | Cost |
| Dubai, UAE | $9,135 - $21,780 |
| United Kingdom | $15,000 |
| United States | $25,000 |
Note: price can change and vary depends on complexity of procedure and patient conditions. Click FREE QUOTE button below to connect with our customer support and get more information:

What is Diabetes?
Diabetes is a chronic condition that affects the body's ability to produce or use insulin. Insulin is a hormone produced by the pancreas, which helps regulate blood sugar levels in the body. When someone has diabetes, their body either does not make enough insulin (type 1 diabetes) or cannot effectively use the insulin it produces (type 2 diabetes). Without proper control, high blood sugar levels can lead to serious health complications including heart disease, stroke, blindness, and kidney failure.
Advantages of Choosing Diabetes Regenerative Therapy in Dubai, UAE
Protect and prevent remaining β-cells from dying

Promote beta-cell function

Regulating of the immune system

Reduce inflammation

Induce autophagy activity

Prevent metabolic hormone resistance

Encourage existing cells to self-repair

Encourage existing cells to adapt
Potential Results of Diabetic Therapy Support Using Stem Cell
Significant decreased inflammatory markers such as

C-Reactive Protein

Measurable improvement in kidney function of a

Decrease in creatinine levels

Improved capacity for physical activities

An increased feeling of vitality with improved energy levels

Reduced risk of complications

Loss of neuropathy

Loss of pruritus

Loss of Nocturia

Increase limbs vascularization
Diabetes Stem Cell Inclusions:
All medical fees

Stem cell injections for Diabetes
Diabetes Stem Cell Exclusions:
Accommodation

Travel and tourist expenses
Diabetes Stem Cell Pre-Op Test:
Complete Physical Exam (including blood and urine tests)

Medical History Review

Diabetes Education Class

Cardiac Stress Test

Etc.
Highly Qualified Regenerative Therapy Doctors in Dubai, UAE for Diabetes
Doctor Name:
Francisco De Melo

Roberto Viel

Massimo Piracci

Maria Kattar

Mohamed Ahmed Elsaid
Certifications and Accreditations:
UAE MOH approval

GMP certificate

ISO certificate

Dubai Health Authority approval
Why Choose Regenerative Therapy in Dubai, UAE?
It is time to consider regenerative therapy in Dubai, UAE as a viable option for many health and wellness issues. Regenerative therapy is an emerging field of medicine that focuses on the body's natural ability to heal itself. This form of therapy places emphasis on the importance of healthy cell regeneration, which can help restore function and revitalize damaged tissues or organs with minimal side effects.
The use of cell-based therapies has become increasingly popular due to their success in treating various medical conditions such as arthritis, joint pain, sports injuries, chronic wounds,  and autoimmune illnesses. Dubai is home to many medical centers that specialize in regenerative therapy, making it a great option for those looking for an alternative treatment plan.
FAQ about Regenerative Therapy for Diabetes in Dubai, UAE
Q: Who is eligible for regenerative therapy for diabetes in Dubai?
A: Eligibility criteria for regenerative therapy depend on the type of diabetes and the patient's medical history. Generally, patients with Type 1 or Type 2 Diabetes may be eligible if they meet certain conditions such as having good glycemic control, being under regular endocrine care, and having no history of severe complications.
Q: What types of regenerative therapy are available for diabetes in Dubai?
A: There are various kinds of regenerative therapies that may be used to treat diabetes. These include stem cell therapy, platelet-rich plasma (PRP) therapy, and other forms of cellular or molecular regeneration. Depending on the needs of the patient, a combined approach may be used in order to get the best results.
Q: How long does regenerative therapy for diabetes last?
A: The effects of regenerative therapy typically vary depending on individual cases. Generally, it is believed that results can last up to several months or even years. This may also depend on the patient's lifestyle choices and adherence to recommended treatment plans.
Q: Are there any risks with regenerative therapy for diabetes?
A: As with any medical procedure, there are potential risks associated with regenerative therapy. These include side effects such as pain and swelling at the injection site, infection, bleeding, and allergic reactions. It is important to discuss all potential risks with a doctor before undergoing any regenerative therapy for diabetes.
Get FREE QUOTE for Diabetes Regenerative Therapy in Dubai, UAE at PlacidWay!
At PlacidWay, we offer advanced regenerative treatments and services for diabetes in Dubai. With a wide range of high-quality medical services to help diabetic patients, we are committed to providing you with the best medical care available. Our team is composed of highly experienced professionals and experts that have extensive knowledge about diabetes and its symptoms.

Related Experiences:
Stem Cell Therapy for Diabetes in Germany
Stem Cell Therapy for Diabetes in Mexico City
Stem Cell Therapy for Diabetes in Guadalajara, Mexico
Stem Cell Therapy for Diabetes in Tijuana, Mexico
Stem Cell Therapy for Diabetes in India – Proven Results!
Regenerative Medicine for Diabetes in United States
---