Dental Crowns in Los Algodones, Mexico at Sani Dental Group
Package price starting from:
$120
Treatment:
Dentistry, Cosmetic Dentistry, Dental Crowns
Focus Area:
Dental Crowns in Los Algodones Mexico | Oral Surgery | All-Metal Crown | Porcelain Fused to Gold Crown | Full Porcelain/Ceramic Crown | Zirconia Crown
---
Sani Dentals Group Affordable Crowns in Los Algodones Mexico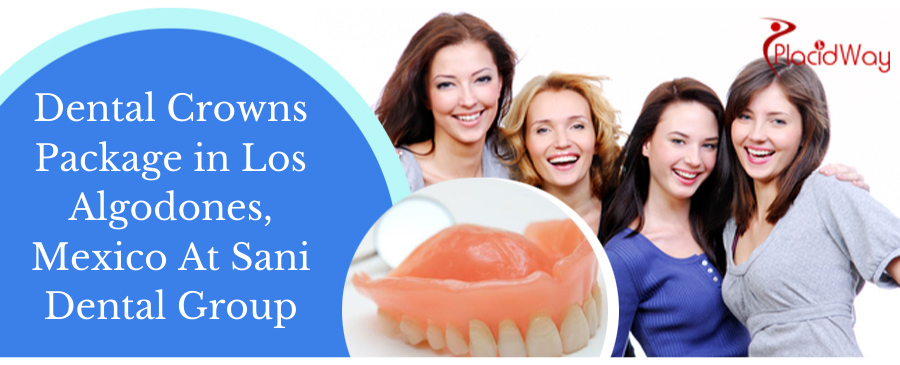 What is a Crown?
A crown is a tooth-shaped cap placed over a tooth that is badly damaged or decayed. A crown may hold together parts of a cracked tooth and can be used to hold a bridge in place. Crowns also are used for cosmetic purposes to cover misshapen or badly discolored teeth.
Crowns can be all metal, porcelain fused to metal, or PFM or all-ceramic porcelain. Metals include gold alloy or a based metal alloy. To place a crown, your dentist must reduce 1 - 2 mm. of the tooth to make room for it. Your dentist will then use a piece of thread or cord or use a laser to push the gum down around the tooth to take an impression of the tooth.
The impressions are sent to the lab where the crown is made, during that time you will have a temporary crown. These crowns are usually made of plastic and are made in your dentist's office on the day of your visit.
These crowns are virtually impossible to distinguish from real teeth. It has a translucency that is very similar to natural teeth. Light is reflected from a pure porcelain crown in much the same way as natural teeth. E-max is recommended only for front teeth.
The time for porcelain fused to metal crowns treatment is performed between 3 and 5 days depending on the specific condition of the patient, most of the time the treatment is done after 72 hours, this involves appointments of one to two hours each. The time required for E-max crowns is 4 days for the full procedure.
Types of dental crowns:
Porcelain bonded to precious metal: most common; the base is metal and porcelain is layered over it.
Porcelain: the whole crown is made entirely of porcelain; can be the most natural-looking and is usually placed on the front teeth.
All-ceramic: an alternative for those who have allergic reactions to metal; it provides the appearance of a porcelain crown; suitable in all areas of the mouth.
Gold-alloy crowns are one of the oldest used filling materials; used with other metal alloys such as silver to increase strength.
Zirconia: chosen by dentists for its advantages which include being tough, withstanding wear and tear, biocompatible, modifiable shape, color, and size.
E.Max Porcelain: also known as zirconium oxide, is considered one of the strongest all-ceramic prostheses, other advantages include high biocompatibility and heat resistance.
Cost of Dental Crowns in Los Algodones by Sani Dental Group
The average cost of Dental Crown in Los Algodones, Mexico is around $120.
Procedure
Cost
All-Metal Crown
$120
Porcelain Fused to Metal Crown
$195
Porcelain Fused to Gold Crown
from $600
Full Porcelain/Ceramic Crown
$350
Zirconia Crown
$450
The price includes:
Ground transportation from airport to clinic and back

For Hotel accommodation, we offer the best hotel in town Hacienda Los Algodones and Cielito Lindo – rates as low as $60.00 per night exclusively for our patients

Free shuttle service between the clinic and hote

l
Dental Crowns in Los Algodones, Mexico - Client Testimonials at Sani Dental Group
Benefits of Dental Crown in Los Algodones, Mexico
Crowns will allow you to recover your tooth's shape, size & appearance

Crowns will prevent further damage to your teeth

Crowns will strengthen your damaged teeth/tooth

Dental crowns will boost your self-esteem and self-confidence

Dental crowns will give you a new amazing smile

They will help you chew much better

Regain a natural-looking smile

Protection for the chipped or cracked teeth

Improved aesthetics

Boost self-esteem

Strengthen the teeth

Restore teeth functionality

Efficient and experienced dentists at Los Algodones, Mexico

Better dental facilities

Fascinating climate for quick healing
FAQs About Dental Crowns in Los Algodones, Mexico
How does a dental crown work?
Dental crowns are tooth-shaped covers that can be set over your tooth. Consider it a cozy cap for your tooth. The crown reestablishes the tooth's shape, size, strength, and appearance. The dental crown is solidified into place on your tooth and it covers the apparent piece of the tooth.
How long does the procedure take?
By using the digital scan from the photos, the dentist creates the crown right there in their clinic. You may have to wait about 1 to 2 hours until the crown is made. Once the crown is ready, your dentist cements it into place. The entire process takes about 2 to 4 hours.
How long will a dental crown last?
Several studies indicate the long-term survival of dental crown is up to a 20-year span. Whether the tests took a look at short-term or long-term use. Dental Crown was able to withstand up to a decade or more of stress.
Is a Dental Crown Procedure Painful?
The applying process of dental Crown is 100% pain-free. There are some people with very sensitive teeth who experience some discomfort but there is no serious pain involved.
If you are looking for crowns or any other dental treatment in Los Algodones Mexico. Contact us we willl help you to get best dental work which full fill your need in affordable price.
Why Choose Sani Dental Group?
Extensively trained Doctors with more accumulated experience than any other clinic in Los Algodones.

Member of the ADA (American Dental Association).

We do not have a single doctor that does everything, if necessary, your dental treatment can be performed by one, two, three, or more doctors. You will be seen by a specialist for each treatment you require.

Unlike other clinics or private practices, we rely on-site laboratory that gives us a great advantage, because you have your dentist and your lab technician in the same place, and between them determines the most appropriate way to carry out the treatment.

Computer-Aided Design and Computer-Aided Manufacturing in dental Laboratory (Cad Cam Technology).

Related Experiences:
Dental Crowns in Los Algodones, Mexico
Dental Crowns in Juarez Mexico
Dental Crowns in Puerto Vallarta, Mexico
Dental Crowns in Cabo San Lucas
Dental Crowns in Mexico: Low-Cost Dental Work
Dental Crowns in Mexicali: Top Dental Clinics and Dentists
---
Dentistry Related Packages
Dentistry Related Experiences