Best Dental Implants in Mexico - Cost, Dentists & Clinics
Package price starting from:
$400
Treatment:
Dentistry, Dental Implants
Focus Area:
Best Dental Implants in Mexico | Tooth Replacement Surgery | Cosmetic Dentistry | Oral Health | Orthodontics | Smile Makeover | Full Mouth Restoration
---
Get Best Dental Implants in Mexico in Cheap Prices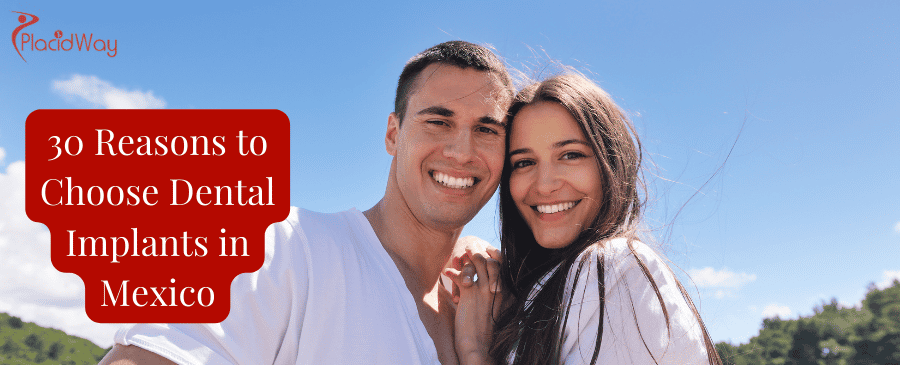 Are you tired of overpriced dental implants in your country? Do you want to explore affordable yet high-quality options for your dental implant needs? Look no further than Mexico!
In this guide, we'll take you on a journey through the world of dental implants in Mexico. You'll learn about the different types of implants available, the cost of dental implants in Mexico compared to other countries, and why Mexico has become a popular destination for dental tourism.
We'll also introduce you to some of the top dentists and clinics in Mexico, providing you with all the information you need to make an informed decision about your dental implant procedure.
So, get ready to dive into the world of dental implants in Mexico and discover why so many people are choosing to cross the border for their dental care. This guide is your ultimate resource for all things dental implants in Mexico - let's get started!
What are Dental Implants?
Dental Implants are a popular way to replace missing teeth and give you a natural-looking smile. They are usually made of titanium and are placed in the jawbone to fuse with the bone over time. This gives them a solid foundation to support dental crowns, bridges, or dentures. Dental implants in Mexico are a popular choice for people who want to restore their smile at an affordable price.
The cost of single dental implant in Mexico is around $400 to $1390 depending upon different quality materials which can be up to 70% cheaper than in the US, and making it an attractive option for many abroad patients.
| | |
| --- | --- |
| Implants Materials | Single Implant Price in Mexico (USD) |
| Standard Implant Crown (including abutment) | $400 |
| Standard Implant Crown BHI / MIS / Nobel (including abutment) | $670 |
| Standard Implant Crown Straumann (including abutment) | $700 |
| Standard Titanium Dental Implant (implant only) BHI Shark | $790 |
| Titanium Dental Implant (Implant only) | $890 |
| Titanium Dental Implant (Implant only) Nobel Biocare Active | $1200 |
| Titanium Dental Implant (Implant only) Straumann SLA | $1290 |
| Standard Titanium Dental Implant (implant only) Straumann | $1200 |
| Titanium Dental Implant (including abutment and standard crown)  | $1300 |
| Metal-Free Dental Implant - Straumann Ceramic Implant Systems - PURE (Implant only) | $1390 |

Cost of Full Mouth Dental Implants in Mexico
The cost of full mouth dental implants in Mexico ranges from $6,500 to $16,000 and when we compare with the USA you get more then 65% of savings on tooth replacement surgery.
| | |
| --- | --- |
| Full Mouth Dental Implants |  Cost in Mexico |
| | $6,500 - $12,000 |
| | $5,000 - $14,000 |
| | $7,200 - $16,000 |
In United States all-on-4 cost around $24,000, All-on-6 cost is around $30,000 and All-on-8 cost is $36,000 on average. which are not making an affordable and cost-effective options compare to Mexico
Some patients require bone grafting, for all on 4, all on 6 & for all on 8 dental implants, which can cost nearly $400.

Best Dentists in Mexico for Implants
Some of the best dental implants in Mexico dentists are given below:
| | |
| --- | --- |
| Dentists | Cities in Mexico |
| Dt. Luis Armando Melendez  | Los Algodones |
| Dt. Enrique Lopez | Los Algodones |
| Dt. Xochipilli Bojorquez  | Los Algodones |
| Dt. Victor Valencia | Los Algodones |
| Dt. Alberto | Chihuahua |
| Dt. Joaquin | Chihuahua |
| Dt. Victor | Tijuana |
| Dt. Leonardo | Cancun |
| Dt. Alejandro | Los Algodones |

There are many dental clinics in Mexico that offer dental implants, so it is important to do your research and choose a reputable clinic. Once you have chosen a clinic, you must schedule a consultation with the dentist to discuss your treatment options. The consultation is important because it will allow the dentist to assess your individual needs and develop a treatment plan that is right for you. After the consultation, you will be able to choose the type of dental implant that you want and schedule your surgery date.
| | |
| --- | --- |
| Clinics | Mexican Border Town |
| | Los Algodones |
| | Los Algodones |
| | Nuevo Progreso |
| | Tijuana |
| | Los Algodones  |
| | Los Algodones  |
| | Los Algodones |
| | San Jose Del Cabo |
| | Tijuana |
| | Tijuana |

30 Reasons to Choose Dental Implants in Mexico
There are numerous genuine reasons why someone may choose dental implants in Mexico, including:
Cost savings: Dental implants in Mexico can be much more affordable than in many other countries.

Quality care: Mexico has many highly trained and experienced dentists who provide high-quality dental care.

Experienced dentists: Many dentists in Mexico have extensive experience and training in dental implants.

Advanced technology: Mexico has many dental clinics that use the latest and most advanced dental technology.

Convenient location: Mexico is easily accessible from the United States and Canada, making it a convenient location for North American patients.

English-speaking dentists: Many dentists in Mexico speak fluent English, making communication with patients easier.

No waiting lists: There are typically no waiting lists for dental implant procedures in Mexico, allowing patients to receive prompt treatment.

Personalized care: Many dental clinics in Mexico offer personalized care to their patients.

State-of-the-art facilities: Many dental clinics in Mexico have state-of-the-art facilities that offer a comfortable and modern environment.

Safety standards: Dental clinics in Mexico must meet strict safety standards to ensure the safety and well-being of their patients.

Accreditation: Many dental clinics in Mexico are accredited by international organizations.

Comprehensive care: Many dental clinics in Mexico offer comprehensive dental care services, including consultations, diagnostics, and follow-up care.

Continuing education: Many dentists in Mexico pursue continuing education to stay up-to-date on the latest advancements in dental technology and treatments.

Modern procedures: Mexico has many dentists who specialize in modern dental procedures, such as same-day implants and All-on-4 procedures.

Accessible transportation: Mexico has an extensive transportation system, making it easy for patients to travel to and from their dental appointments.

Shorter travel time: Mexico is closer to many North American cities than other dental tourism destinations, reducing travel time and expenses.

Fast recovery: Dental implants in Mexico often require less recovery time than in other countries, allowing patients to return to their normal activities more quickly.

Comfortable accommodations: Mexico offers a range of comfortable and affordable accommodations, from budget-friendly hotels to luxury resorts.

Dental tourism packages: Many dental clinics in Mexico offer dental tourism packages that include transportation, accommodations, and even tourist activities.

Familiar culture: Mexico has a familiar culture for many North American patients, with similar customs, traditions, and foods.

Friendly locals: The people of Mexico are known for their hospitality and friendly demeanor.

Delicious cuisine: Mexico is known for its delicious and diverse cuisine, providing a range of food options for patients during their visit.

Warm weather: Mexico's warm climate can be a welcome change for patients traveling from colder climates.

Beautiful scenery: Mexico's natural beauty, including its beaches, mountains, and forests, can provide a relaxing and enjoyable experience for patients.

Tourist attractions: Mexico has a range of tourist attractions, including historical sites, museums, and entertainment venues, providing patients with plenty of things to do during their visit.

Flexible scheduling: Many dental clinics in Mexico offer flexible scheduling, including evening and weekend appointments.

Easy communication: Many dentists in Mexico use modern communication methods, such as email and video conferencing, to communicate with patients before and after their procedures.

Fast turnaround: Dental implants in Mexico can often be completed in a shorter amount of time than in other countries.

No insurance required: Patients do not need insurance to receive dental care in Mexico.

No deductibles: There are typically no deductibles for dental care in Mexico.
Here you will watch videos of the reviews of our past patients who had decided to get their tooth replacement surgery in Mexico through PlacidWay!
Does an Implant give you a Natural tooth vibe?
The implant will be a little different since it doesn't have the cushioning layer as natural teeth do. Many patients didn't even notice the presence of implants after some time.
Is Dental Surgery Procedure Painful?
The bottom line is that you shouldn't have any pain when getting any surgery. Nor should you feel much discomfort throughout recovery.
Is Dental Implant better than a dental bridge?
Implants offer more extended protection for a lifetime. While bridges have a lifespan of around 10 years. Implants also support jaw health. Your bone stays healthy and strong, which impacts both the shape of your face. It also changes oral health positively as you age.
Can I Smoke After the Tooth replacement surgery?
It is generally recommended to wait two to three months for the best chances of osseointegration.
Will I require bone grafting?
If your jawbone isn't thick enough or is too soft. You may need bone grafting before you can have dental implant surgery.
How long will dental implants last?
Several studies indicate the long-term survival of dental implants is up to 20 years. Whether the tests took a look at short-term or long-term use, dental implants could withstand up to a decade or more of stress.
Is it Safe to Get Dental Work Done in Mexico?
There is a great deal of deception about the well-being of the Mexican dental travel industry. Notwithstanding, many US patients have gotten great dental work in Mexico, and it is highly protected if you realize where to go. Portions of Mexico are not suggested for travelers. However, border towns and famous vacationer urban communities are protected and oblige unfamiliar dental patients. Also, we intently screen the areas where our endorsed dental workplaces work. In this way, you can be guaranteed that Beyond Borders Dental suggests safe workplaces and regions and often gives dental treatment to U.S. voyagers.
Are dental Implants more difficult methods than tooth extraction?
All surgeries include a specific level of agony, and a specific degree of sedation is given during dental embed systems. For the most part, patients experience a gentle degree of inconvenience and whine of less than overwhelming torment once the sedation wears off. The aggravation level likewise relies upon whether it is a primary tooth embed or a bone unite methodology. 
What might be said about water filtration frameworks?
If you're stressed over becoming ill from drinking the water in Mexico, you will be glad to realize that our supported dental workplaces use water that is sifted through refined treatment frameworks to keep it protected and consumable. 
Is it common to travel to Mexico for dental tourism?
A huge number of individuals travel to Mexico (and other outside nations) for dental work each year. This is because you can save thousands on reasonable dentistry, and it is simpler to get meetings with Mexican dentists. One more motivation behind why individuals come to Mexico is that they can seek dental treatment done quicker and, even better, receive an excursion in return.
Book All-Inclusive Dental Implant Package in Mexico at a Low-Cost!
Contact us for a free quote and one of our agents will contact you shortly. PlacidWay can help you with free quotes and schedule an appointment for best dental implants in Mexico. If you have some of the mentioned pre-op tests they can be helpful for a doctor to provide you with a more accurate quote. If you would simply love to consult with our agents, you can always give us a free phone call.

Related Experiences:
Dental Implant in Aydin, Turkey
Dental Implant in Alanya Turkey
Dental Implants in San Jose, Costa Rica
Dental Implant in Bursa, Turkey
Dental Implants in Zagreb Croatia
Dental Implants in Ankara, Turkey
---