Cerebral Palsy Stem Cell Therapy Package by Kobinia Med in Vienna Austria
Package price starting from:
$15830
Treatment:
Stem Cell Therapy, Adult Stem Cell Therapy
Focus Area:
Stem Cell Treatment for Cerebral Palsy in Vienna Austria | Cerebral Palsy Treatment with Stem Cell Therapy | Kobinia Med
---
Regenerative Medicine for Cerebral Palsy in Vienna, Austria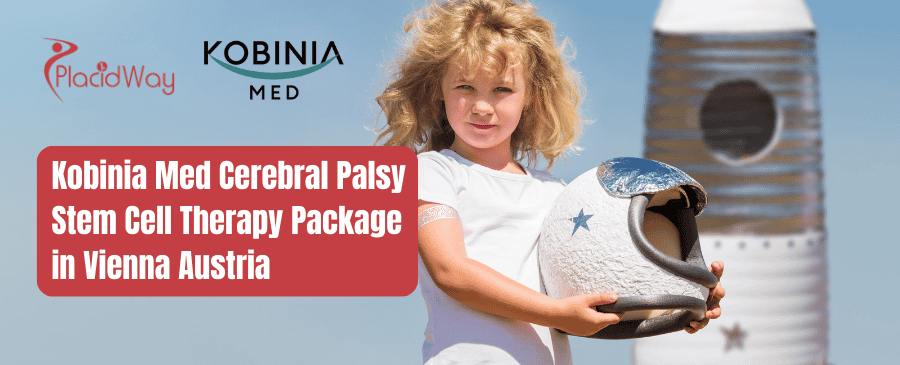 Cerebral Palsy (CP) is a neurological disorder that affects muscle control and movement. It is typically caused by damage to the brain before, during, or shortly after birth. Living with CP can present a range of challenges, from mild to severe, and every individual's experience is unique. The search for effective treatment and management techniques is a journey that leads many to explore revolutionary, evidence-based treatments.
Located in the heart of Europe, Vienna, Austria is at the cutting edge of these emerging treatment options, particularly in the field of Regenerative Medicine. The city, renowned for its rich history, architectural beauty, and contribution to medical advancements, is now paving the way for innovative CP treatments such as stem cell therapy.
Stem Cell Therapy leverages the body's own healing mechanisms, offering hope for a condition previously considered untreatable. Stem cells are the body's raw materials, cells from which all other cells with specialized functions are generated. In stem cell therapy, these cells are manipulated or encouraged to become specific cells that can be used to regenerate and repair diseased or damaged tissues in people with CP.
The Kobinia Med, located in Vienna, is a leading medical center that is spearheading this progressive approach. Offering ground-breaking stem cell treatments for patients with CP, the Kobinia Med is transforming the way we understand and approach this complex neurological disorder. The Institute's commitment to patient care, extensive research, and unparalleled expertise positions it as a top choice for those seeking Stem Cell Therapy for Cerebral Palsy in Vienna, Austria.
Stem cell treatment is a major advancement in the management of Cerebral Palsy, offering hope for improved function and quality of life. The investment in this groundbreaking treatment, though significant, reflects the cutting-edge technology and specialized care involved in delivering these therapies.
At the Kobinia Med in Vienna, Austria, the cost of stem cell treatment for Cerebral Palsy is $15,830. This includes the initial consultation, harvesting and processing of stem cells, the stem cell therapy itself, and follow-up care.
To give a clear perspective of the value we provide, here is a comparative analysis of the costs associated with stem cell therapy for Cerebral Palsy at our institute and globally:
Note: price may change and vary depends on complexity of procedures and patient conditions. Click free quote button below to learn more.

Medical evaluation of the reports

First consultation

Pre-operation examinations at the internal specialist if necessary

Stem cell therapy

Anesthesiologist

Medical assistance and nurse

Check-up after the operation

Lab analysis

Evaluation of the lab analysis

Transfer to and from the clinic on the operation day (incl. special transfer for patients in a wheelchair)

Medication and pain reliever after the operation if required

Follow-up documentation

Visa invitation letter and mail-order

Children: consultation at the paediatrist


Choosing Vienna, Austria as the destination for stem cell treatment for Cerebral Palsy provides multiple benefits, with the city standing at the forefront of regenerative medicine and biomedical research in Europe. Here are the key benefits you can expect:
Access to Cutting-Edge Medical Care: Vienna, Austria is known for its advanced healthcare system and medical innovations. Patients receive top-tier medical care, utilizing the latest evidence-based stem cell therapies.
World-Renowned Medical Experts: Austria is home to many globally recognized medical professionals. The clinicians and researchers in Vienna possess profound knowledge in the field of regenerative medicine, ensuring you receive expert care.
Quality and Safety Standards: Austrian healthcare system adheres to rigorous European quality and safety standards. This guarantees a high level of patient care, ethical handling of stem cells, and a focus on patient safety throughout the treatment process.
Comprehensive Patient Care: In Vienna, patient care extends beyond the treatment itself. It includes pre-treatment consultation, personalized treatment plans, and robust post-treatment support. This holistic approach ensures patients and their families are fully supported throughout their journey.
Cultural and Historical Richness: Vienna is one of the most culturally vibrant cities in Europe, offering patients and their families a unique opportunity to experience its history, architecture, music, and cuisine. This enriches the overall treatment journey, making it a more comfortable and enjoyable experience.
It is crucial to remember that while stem cell therapy holds great promise in treating Cerebral Palsy, outcomes can vary based on the individual's condition. Nonetheless, the potential benefits of this treatment offer hope for improved quality of life and function
 

Medical University of Vienna

Harvard University, Massachussetts General Hospital, Boston, postdoctoral lecture qualification, 1983

International Surgery Experience: Bulgaria, Romania, Iran, Kazakhstan, Serbia, Croatia, England
Why Choose Vienna, Austria for Cerebral Palsy Stem Cell Treatment?
Choosing the right place for treatment is a critical part of the journey towards better health, particularly when considering an innovative approach like stem cell therapy for Cerebral Palsy. The Kobinia Med in Vienna, Austria, stands as an ideal choice, and here's why:
The Kobinia Med is renowned globally for its expertise and pioneering work in the field of regenerative medicine. We have a dedicated team of professionals who are not only experienced but also deeply committed to enhancing the lives of our patients. Our experts continually work on advancing their understanding of stem cells, ensuring that our treatments are guided by the most recent scientific discoveries.
Our approach to care is highly personalized. We recognize that each case of Cerebral Palsy is unique, and we firmly believe in a patient-centered approach. This means that we tailor our therapies to cater to the individual needs of each patient, respecting the distinctiveness of every individual's condition.
Moreover, we adhere to stringent national and international standards, ensuring safety, efficacy, and the highest quality of care for our patients. We maintain transparency in all our processes and ensure that our patients and their families are well-informed at every step.
Apart from the high-quality medical care, choosing our institute in Vienna also offers the opportunity to experience one of the most culturally vibrant cities in Europe. This adds a unique dimension to the treatment journey, making it more comfortable and enjoyable.
Q1: Is stem cell therapy an effective treatment for cerebral palsy?
A1: Stem cell therapy has shown promise in improving symptoms and function in some patients with cerebral palsy. However, individual responses may vary, and it is important to consult with a medical professional to assess suitability and discuss potential outcomes.
Q2: What is the recommended age for stem cell therapy in cerebral palsy patients?
A2: Stem cell therapy for cerebral palsy can be considered for patients of various ages, including children and adults. The suitability of treatment depends on the individual's condition and medical evaluation.
Q3: Are there any risks or side effects associated with stem cell therapy for cerebral palsy?
A3: While stem cell therapy is generally considered safe, there are potential risks and side effects. These can include infection, bleeding, and allergic reactions. A thorough medical evaluation and discussion with a specialist can help assess the potential benefits and risks.
Q4: How many sessions of stem cell therapy are typically needed for cerebral palsy?
A4: The number of stem cell therapy sessions required for cerebral palsy varies depending on individual needs and treatment plans. It may involve a series of sessions administered over a specific period, as determined by the medical team.
Q5: Is stem cell therapy for cerebral palsy covered by insurance?
A5: Insurance coverage for stem cell therapy varies depending on the insurance provider, policy terms, and specific circumstances. It is advisable to check with your insurance company to determine coverage eligibility and potential reimbursement options.
Take the first step towards a brighter future! Book your appointment now for cutting-edge Epilepsy Stem Cell Treatment in Vienna, Austria, with PlacidWay. Discover innovative therapies and renowned medical experts dedicated to transforming lives. Don't wait any longer – seize this opportunity for a healthier tomorrow! Click here to schedule your appointment today.


Related Experiences:
Stem Cell Therapy for Parkinson's disease in Austria
Stem Cell Therapy for Anti-Aging in Austria
Stem Cell Therapy in Austria
Cerebral Palsy Stem Cell Therapy in Austria
Explore Effective Stem Cell Therapy for Autism in Austria
Stem Cell Treatment for COPD in Europe
---