Stem Cell Therapy for Cerebral Palsy Package in Thessaloniki, Greece by GMTP
Package price starting from:
$11011
Treatment:
Stem Cell Therapy, Stem Cell Treatment for Cerebral Palsy
Location:
Thessaloniki, Ethnikis Antistaseos str., 42-44, Kalamaria, 55133, Greece
Focus Area:
GMTP Group | St. Luke Hospital | Thessaloniki | Greece | Stem Cell Therapy for Cerebral Palsy
---
Regenerative Medicine for Cerebral Palsy in Thessaloniki, Greece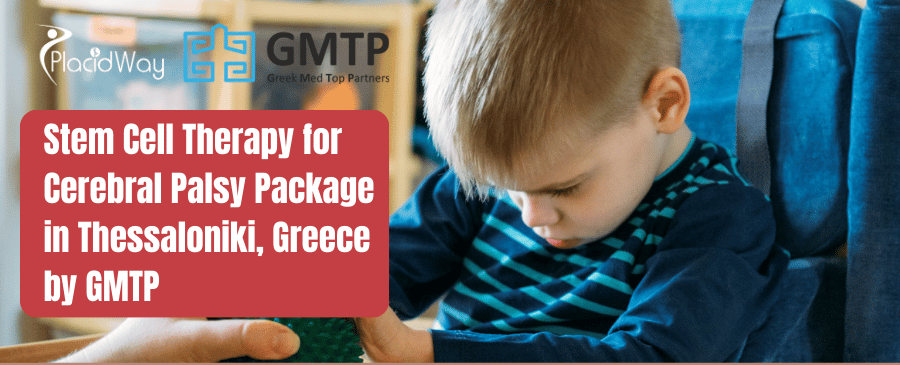 Cerebral Palsy is a neurological disorder that affects movement, coordination, and muscle tone, often caused by damage to the brain before or during birth. While there is no known cure for cerebral palsy, innovative treatments such as stem cell therapy have shown promising results in improving the quality of life for patients. Thessaloniki, Greece, offers an exceptional destination for individuals seeking stem cell therapy for cerebral palsy, with GMTP leading the way in providing comprehensive treatment packages.
St Lukes Hospital and Anagennisi Recovery and Rehabilitation Center provides all necessary medical treatments and medications according to the latest medical protocols. The center has an experienced team of nutritionists, psychologists, physiotherapists, occupational therapists and social workers who provide comprehensive care for every patient depending on their particular needs. Hand in Hand for more intergated result that includes Stem Cell Regeneration and Rehabilitations.
You can get stem cell therapy for cerebral palsy package in Thessaloniki, Greece by GMTP with the price starts at 10,000 to 12,000 Euro ($11,011 - $13,214). Check price list table below to learn more:
| | |
| --- | --- |
| Detail | Cost in Euro/USD |
| Treatment Cost Range: | 10,000 to 12,000 Euro ($11,011 - $13,214) |
| Rehabilitation and Therapies: | 8,000 to 10,000 Euro ($8,809 - $11,011) |
Note: price may change and vary depends on complexity of procedures and patient conditions. Click free quote button below to learn more:

Advanced Medical Facilities: Thessaloniki, Greece, is renowned for its state-of-the-art medical facilities, equipped with the latest technology and infrastructure to support cutting-edge treatments. GMTP - St. Luke's Hospital is at the forefront of medical innovation, ensuring that patients receive the highest standard of care.
Experienced Medical Professionals: The medical professionals at GMTP - St. Luke's Hospital in Thessaloniki are highly experienced in stem cell therapy for cerebral palsy. They possess extensive knowledge and expertise, ensuring that patients receive personalized treatment plans tailored to their specific needs.
Affordable Treatment Options: Greece offers cost-effective medical treatments compared to many other countries, making it an attractive choice for individuals seeking stem cell therapy for cerebral palsy. GMTP - St. Luke's Hospital strives to provide affordable treatment packages without compromising on quality.
Beautiful Destination: Thessaloniki, Greece, is not only a hub for medical excellence but also a picturesque destination that offers a serene environment for healing and recovery. Patients and their families can enjoy the scenic beauty, cultural heritage, and warm hospitality that Greece is famous for.
Accessible Location: Thessaloniki is conveniently located with excellent transportation links, making it easily accessible for international patients. The city has an international airport, making travel arrangements convenient for individuals seeking treatment from abroad.
The stem cell therapy for cerebral palsy package at GMTP - St. Luke's Hospital in Thessaloniki, Greece, includes:
Comprehensive Medical Evaluation: A thorough evaluation of the patient's medical history and condition, including diagnostic tests and assessments, to determine the most suitable treatment approach.

Stem Cell Therapy Sessions: The package includes a specific number of stem cell therapy sessions tailored to the patient's needs. The therapy aims to promote neurological regeneration and improve motor function.

Accommodation and Transportation: The package covers comfortable accommodation for the patient and their accompanying family members. Additionally, transportation to and from the hospital and airport transfers are included for convenience.

Multidisciplinary Rehabilitation Program: A personalized rehabilitation program is designed to complement the stem cell therapy, incorporating various therapies such as physiotherapy, occupational therapy, and speech therapy to optimize results.

Follow-up Care and Support: GMTP - St. Luke's Hospital provides comprehensive follow-up care to ensure the patient's progress is monitored and any necessary adjustments are made. The medical team remains available to address any concerns or queries throughout the treatment journey.
The stem cell therapy for cerebral palsy package at GMTP - St. Luke's Hospital in Thessaloniki, Greece, excludes:
Travel Expenses: The package does not cover travel expenses to and from Thessaloniki, including flights and visas.
Personal Expenses: Personal expenses such as meals, additional accommodation beyond the package duration, and leisure activities are not included.
Additional Medical Services: Any additional medical services or treatments beyond the specified stem cell therapy and rehabilitation program are excluded from the package.
Insurance Coverage: The package does not include insurance coverage. Patients are advised to arrange appropriate insurance coverage to safeguard their interests.
Non-Medical Support: Non-medical support services, such as translation services or specialized care for individuals with specific needs, are not included in the package.
Stem Cell Therapy for Cerebral Palsy Pre-Op Tests
Prior to the stem cell therapy for cerebral palsy, the following pre-operative tests may be conducted:
Medical History Review: A detailed review of the patient's medical history, including any previous treatments or surgeries related to cerebral palsy.
Imaging Tests: Imaging tests, such as MRI or CT scans, to assess the brain's structure and identify any potential abnormalities or damage.
Blood Tests: Comprehensive blood tests to evaluate overall health, detect any underlying conditions, and ensure suitability for the stem cell therapy procedure.
Neurological Assessment: A neurological assessment to evaluate motor function, muscle tone, reflexes, and any associated complications.
Cardiac Evaluation: A cardiac evaluation to assess the patient's heart health and ensure they can undergo the stem cell therapy procedure safely.
Rehabilitation – OPTIONAL PACKAGES
4 WEEKS - 3 HOURS DAILY INDIVIDUAL THERAPY
Unlock the potential for growth and development with our optional rehabilitation package, offering four weeks of individual therapy sessions, three hours daily. Tailored to meet specific needs, this comprehensive program aims to enhance skills, promote independence, and improve overall well-being. Check below to learn more:
1. Consultation of rehabilitation doctor.

2. Blood test – WBC (white blood cell), RBC (red blood cell), HGB (hemoglobin), HCT (hematocrit), Platelets, MCV (average volume of red cells), MCH (average amount of hemoglobin per red blood cell), MCHC (average concentration of hemoglobin in red blood cell).

3. Cardiac check-up (cardiologist consultation, electrocardiogram, heart Ultrasound).

4. Follow up by neurologist.

5. Follow up by orthopedic.

6. Individual plan of treatment course according to recommendations by our doctors.

7. Individual plan of nutrition according to recommendations by nutrition dietologist.

8. Individual therapies using classic and modern methods which correspond to the needs and abilities of the patient.

9. Therapies may include:

✔ Physiotherapy using classic and modern methods such as Bobath (Baby-bobath), Makenzie, Mulligan concept, PNF method, gymnastics, kinesitherapy, kinesio taping method, CI method for children etc.

✔ Hydrotherapy (therapeutic pool, AQUA-PNF method, hydrotherapeutic water stream massage, pool lift for persons with special needs).

✔ Occupational therapy (Ergo therapy) using classic and modern methods and modern devices such as Hocoma, Armeo spring, Nirvana etc.

✔ Speech (Logo therapy) and swallowing therapy.

✔ Psychological, neuropsychological and cognitive training (with extra charge).

✔ Retraining cognitive functions, social services, ADL (activities of daily living).

✔ Usage of Eksoskeleton and Lokomat, Armeo, Nirvana, Biodex and Snoezelen & many other modern devices.

10. 4 weeks (28 days) accommodation in a fully furnished apartment (patient and accompanying person).

11. Transfer to the rehabilitation center and back (not individual).
GMTP SERVICES:
1. We help you in choosing the best doctor/clinic/rehab center for your case.

2. Medical documents' translations before, during and after your treatment.

3. Arranging appointments with the doctors and for other medical exams, such as MRI, CT, blood tests, etc.

4. Interpreter during doctor's consultation and therapies.

5. Assistance and translation during urgent situations in the hospital for necessary communication between patient and doctor.

6. Professional control of medical services by communication with the doctor in charge and other specialists.

7. Assistance in buying medications.

8. Arranging transfers and taxi services (the cost of the transfer/services not included).

9. 24/7 assistance and translation on the phone.

10. Assistance upon arrival, including help in shopping from the supermarket, internet connection and buying a SIM card.

11. Visa support service.

12. Arrival and departure transfer by car.

13. Meeting inside the airport in Greece.
EXTRA CHARGES (NOT INCLUDED):
1. Electricity, water and building common services bills in the apartment 9€ per day (in case of over usage of the air-conditioner or hot water boiler the charge can be higher).

2. Payment for house cleaning service 40€ once during the whole stay.

3. Outsourced doctors' consultations or follow up (such as neurosurgeon, orthopedic surgeon, urologist, cardiologist, dermatologist etc.) at extra charge. Ask us for exact cost before booking appointment.

4. Scheduled or emergency patient's transfer by ambulance or by car.

5. In case patients wish to have a private transfer (to be alone in the car without other patients) extra charge of 10 € per way will apply.
Important notes:
1. Please sign a contract with our company before you start treatment course.

2. The price of the package is fixed and non-changeable even if the patient does not need any of the included services, the price cannot be reduced.

3. No therapies performed during weekends and public holidays in Greece.

4. We do not recommend you lose therapies because lost therapies are non-refundable even if the patient is sick not able attend the therapy.

5. In case the patient has any infection or sickness that may infect or affect other patients must be transferred individually at extra charge of 10 € per way. It depends on doctor's recommendations.

6. The price of this program is 7.130 Euros.
Thessaloniki, Greece is home to a highly qualified doctor specializing in cerebral palsy therapy. With extensive expertise, the doctor offers personalized treatment plans including orthopedic interventions, rehabilitation therapies, and targeted exercises. Patients and their families can rely on the doctor's knowledge and compassionate care to improve motor skills and overall functionality, enhancing their quality of life and fostering greater independence.
Best Doctors for Cerebral Palsy Treatments in Greece at GMTP

Evangeliou Athanasios

Hariklia Proios

Chatzisotiriou Athanasios

Zountsas Vas
To connect with these highly qualified doctors in Thessaloniki, Greece for cerebral palsy therapy, you can contact PlacidWay Medical Tourism for assistance and guidance.
Cerebral Palsy Treatments in Thessaloniki, Greece – Artur Testimonial
Thanks to the charitable foundation "Neopalimaya Kupina" and its director, Mrs. Irina Chuvikina, Artur was able to embark on a transformative journey to Greece. Despite suffering from various medical conditions, including cerebral palsy and spastic diplegia, Artur received specialized medical care.
Upon his arrival at St. Luke's clinic in Thessaloniki, Artur underwent a comprehensive evaluation by a pediatric neurologist and an orthopedic surgeon. They confirmed his mixed cerebral palsy diagnosis and determined that he would benefit from bilateral ankle reconstruction, lengthening, and fasciotomy of hamstrings and biceps.
Artur's parents, who had been unsuccessful in finding a suitable doctor in Russia, were elated to discover that Greece offered the opportunity for the operation. On June 26th, 2017, orthopedic surgeon Nikolaos Rigopoulos successfully performed the complex surgery using the Grice-Green method with fibular autotransplantation. Astonishingly, Artur's recovery progressed rapidly, allowing him to leave the clinic a mere two days after the surgery, bringing hope and joy to his family.
Cerebral Palsy Treatments in Thessaloniki, Greece – Polina Testimonial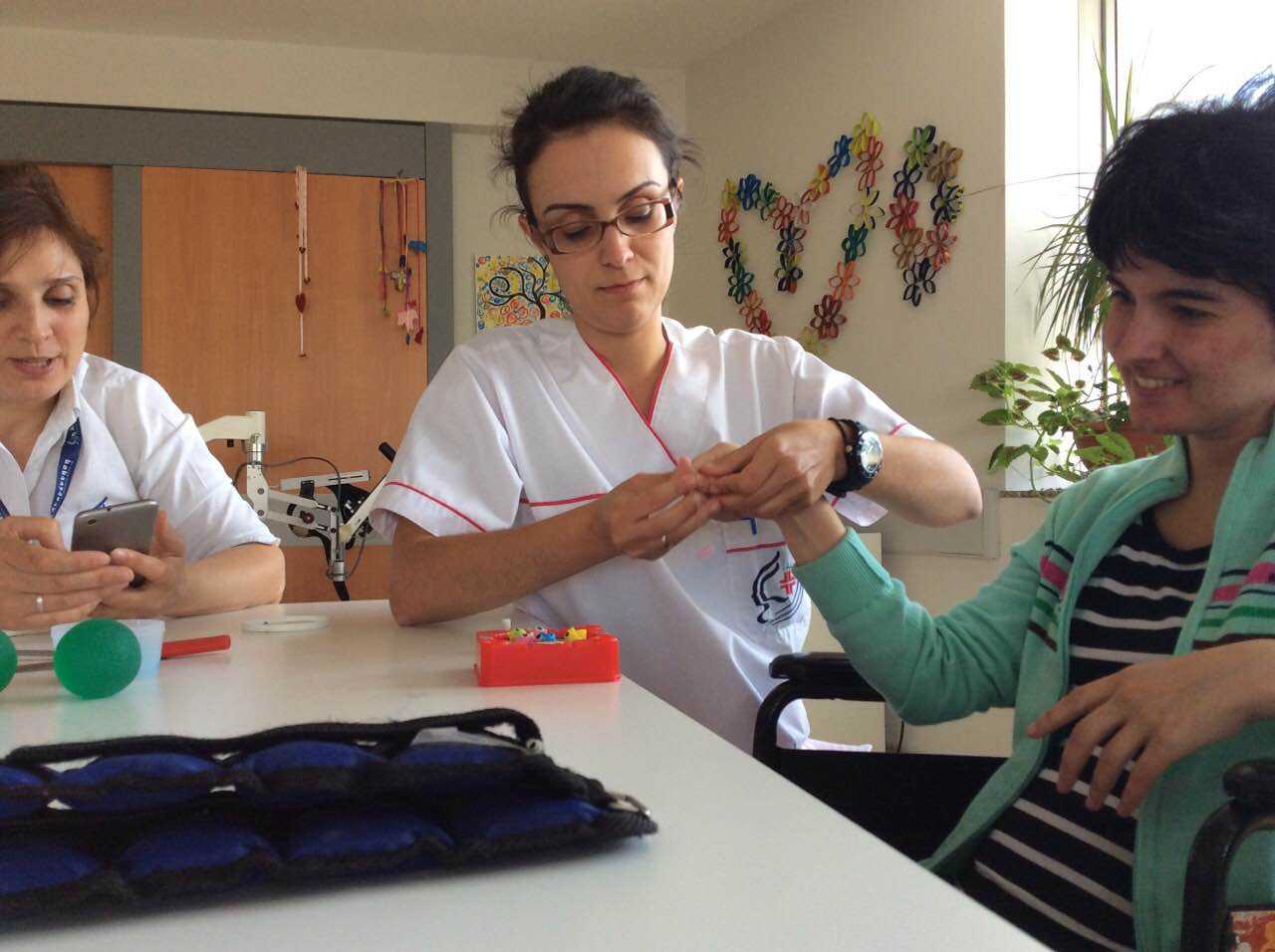 Polina, a young mother of two, has been battling cerebrospinal multiple sclerosis and symptomatic epilepsy since 2004. In 2016, after an extensive search for a facility that offered both treatment and a vacation-like atmosphere, Polina and her mother arrived in Greece to seek medical care at the Medical and Rehabilitation Centre "Anagennisi."
At "Anagennisi," a personalized treatment plan was developed for Polina, encompassing various exercises and therapies to address her specific needs. This included balance and coordination exercises, correcting walking patterns, training for daily activities, physiotherapy, kinesiotherapy, stretching exercises, and hydrotherapy. Additionally, she was encouraged to participate in group lessons and received psychological support.
One aspect of her treatment that particularly resonated with Polina was her drawing lessons, which allowed her to capture the beauty of Greece's natural surroundings through her artwork. Within a short span of time, the treatment yielded remarkable results, including improved coordination, enhanced muscle dynamics in the upper and lower limbs, and advancements in memory, speech, and cognitive functions. Delighted with the outcomes, Polina's family continues to return to "Anagennisi" for treatment whenever the opportunity arises.
Cerebral Palsy Treatments in Thessaloniki, Greece – Ilya Testimonial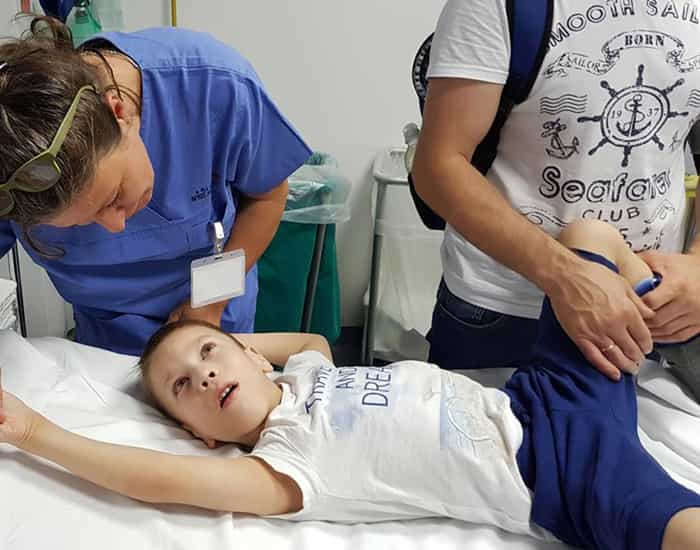 In December 2016, Greek orthopedic surgeon Nikolaos Rigopoulos conducted free examinations for children with cerebral palsy in Moscow. One of the patients, 6-year-old Ilya, had experienced severe complications from an intracranial hemorrhage in 2010. After a consultation with Dr. Rigopoulos, it was recommended that Ilya undergo intensive functional rehabilitation therapy to improve his musculoskeletal functions, focusing on specific exercises targeting various muscle groups. Encouraged by the doctor's dedication, Ilya's parents considered seeking treatment in Greece with the assistance of the charitable foundation "Neopalimaya Kupina."
After 8 months, Ilya and his father arrived at the Medical and Rehabilitation Centre "Anagennisi" for his treatment. Within just 2 months, the center's specialists, along with Ilya's enthusiastic participation, achieved remarkable results. With the efforts of the logotherapists' team, improvements were observed in areas such as reduced salivation, improved pronunciation, enhanced chewing and facial muscle dynamics, better breathing depth and rate, improved swallowing reflex, and the ability to consume chewy food.
Occupational therapists and physiotherapists successfully decreased intense spasticity in Ilya's limbs, improved grasp reflex functions, and increased passive-active movements in his ankle, knee, and hip joints. As a result, the previously considered necessary operation could be postponed. With the birth of Ilya's younger brother, the family plans to return to Greece together in the following year, eagerly anticipating the continuation of his progress.
Cerebral Palsy Treatments in Thessaloniki, Greece –Arman Testimonial

Arman, a boy from Kazakhstan with cerebral palsy, traveled to Thessaloniki with his mother seeking treatment. Prior to the treatment, Arman was unable to stand or walk. After a thorough examination, he underwent an orthopedic operation performed by Aristotelis Sideridis, an orthopedic surgeon at St. Luke's clinic.
During the surgery, the tendons in both of Arman's ankles were lengthened, and the posterior part of the ankle capsule was released. Additionally, an extra articular arthrodesis was performed on his left leg to address a severe paralytic valgus deformity. The operation was successful, providing Arman with newfound hope for walking correctly.
Following the surgery, Arman underwent a month of rehabilitation treatment at the Medical and Rehabilitation Centre "Anagennisi." The treatment yielded remarkable results, and Arman returned home with significant improvements, marking a significant turning point in his ability to walk and potentially enhancing his overall quality of life.
Thessaloniki, Greece, offers a compelling destination for stem cell therapy for cerebral palsy due to its cutting-edge medical facilities, experienced medical professionals, affordability, picturesque surroundings, and accessibility. Patients can benefit from the expertise and personalized care provided by GMTP - St. Luke's Hospital while enjoying the rich culture and natural beauty of Greece during their treatment journey.
What is stem cell therapy for cerebral palsy?
Stem cell therapy for cerebral palsy is a promising treatment approach that involves the use of stem cells to promote neurological regeneration and improve motor function in individuals with cerebral palsy. Stem cells have the potential to differentiate into various cell types and repair damaged tissues in the brain, potentially leading to improvements in mobility, coordination, and overall quality of life.
How does stem cell therapy work for cerebral palsy?
Stem cell therapy works by introducing stem cells into the body, either through injections or other delivery methods. These stem cells have the ability to migrate to the damaged areas of the brain and promote repair and regeneration. They can also release growth factors and anti-inflammatory substances that support healing and reduce inflammation. Ultimately, this therapy aims to improve the communication between brain cells and enhance motor function in individuals with cerebral palsy.
What are the potential benefits of stem cell therapy for cerebral palsy?
Stem cell therapy for cerebral palsy offers several potential benefits, including improved motor function, increased muscle strength and coordination, enhanced speech and communication skills, reduced muscle stiffness and spasticity, and enhanced overall quality of life. While results may vary for each individual, many patients have experienced noticeable improvements in their symptoms and abilities after undergoing stem cell therapy.
Is stem cell therapy for cerebral palsy safe?
Stem cell therapy for cerebral palsy, when performed by qualified medical professionals in reputable facilities like GMTP - St. Luke's Hospital in Thessaloniki, Greece, is generally considered safe. The treatment utilizes the patient's own cells (autologous stem cells) or carefully screened donor cells (allogeneic stem cells), minimizing the risk of rejection or adverse reactions. However, as with any medical procedure, there can be some risks and potential side effects, which will be thoroughly discussed with the patient before treatment.
Who is a suitable candidate for stem cell therapy for cerebral palsy?
Suitable candidates for stem cell therapy for cerebral palsy are individuals diagnosed with cerebral palsy and are seeking alternative treatment options to improve their condition. The candidacy for stem cell therapy depends on various factors, such as the patient's overall health, severity of symptoms, and individual medical assessment. It is recommended to consult with a medical professional specializing in stem cell therapy to determine the suitability of this treatment approach for an individual's specific case.
To explore the possibilities of stem cell therapy for cerebral palsy in Thessaloniki, Greece, and book a consultation, visit PlacidWay Medical Tourism's website or contact their dedicated team of professionals. Start your journey towards improved quality of life and discover the potential of stem cell therapy in managing cerebral palsy effectively. Click contact us button below to get started:

Related Experiences:
Regenerative Medicine for Cerebral Palsy in United States
Stem Cell Therapy for Cerebral Palsy in Tijuana Mexico
Stem Cell Therapy for Cerebral Palsy in Guadalajara Mexico
Stem Cell Therapy for Cerebral Palsy in Mexico City
Stem Cell Therapy for Cerebral Palsy in Thailand
Stem Cell Treatment for Cerebral Palsy in Germany, Europe
---