GMTP – Greek Med Top Partners
GMTP in Thessaloniki, Greece: A Gateway to Outstanding Healthcare Services
Thessaloniki, Ethnikis Antistaseos str., 42-44, Kalamaria, 55133, Thessaloniki, Greece

Specialty:

Cosmetic/Plastic Surgery, Fertility Treatment, Infertility/IVF, Pediatric Treatment, Rehabilitation, Rehabilitation and Medical Spa Treatment, Stem Cell Therapy

Focus Area:

GMTP | Greek Med Top Partners Hospital | Thessaloniki | Greece | Stem Cell Therapy | Rehabilitation
GMTP – Greek Med Top Partners Profile Overview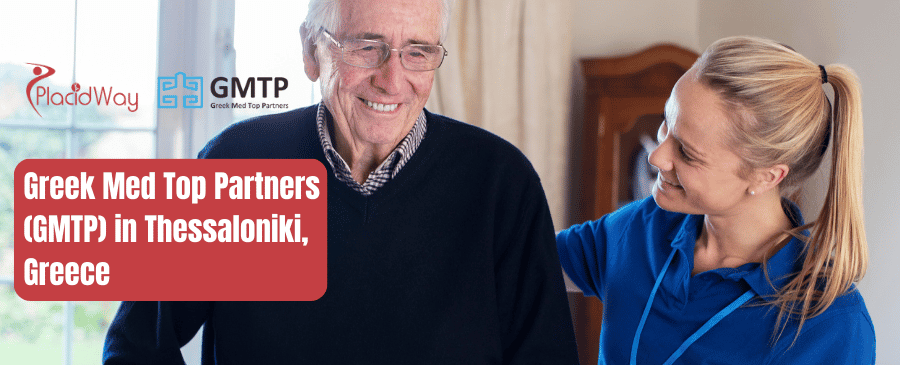 Introducing Greek Med Top Partners (GMTP) in Thessaloniki, Greece
Greek Med Top Partners (GMTP) is a renowned healthcare organization founded by Sam Awad, dedicated to providing exceptional medical services and facilitating treatment for international patients in Greece. With a strong commitment to delivering the highest quality of care, GMTP has established itself as a trusted name in the healthcare industry.
Founder's Background - A Journey of Purpose, Sam Awad
Before establishing GMTP, Sam Awad had a successful 19-year career as a travel agent. However, his life took a transformative turn when he recognized the immense impact he could have on people's lives through healthcare. With a newfound sense of purpose, Sam founded GMTP, dedicating himself to a mission that involves improving people's health and future. His personal journey fuels his unwavering commitment to providing exceptional care and making a difference in the lives of patients.
GMTP takes pride in representing a carefully curated network of prestigious clinics and rehabilitation centers in Greece, such as Anagennisi Rehabilitation Center and St. Luke's Hospital. These facilities are selected based on their commitment to excellence and their ability to provide specialized treatments across various medical fields. Our patients can trust that they will receive top-notch care from highly skilled healthcare professionals in state-of-the-art facilities, ensuring their journey to recovery is comprehensive and effective.
A Unique Blend of Healthcare and Experiential Delights in Greece
In Greece, you'll discover a captivating blend of world-class healthcare and an array of experiential delights. Renowned for its professional doctors and adherence to international standards, Greece offers exceptional medical expertise and the latest advancements in technology and methods. Alongside this, you'll be enthralled by the country's natural beauty, from the sun-soaked beaches to the invigorating thermal springs, baths, and waterfalls.
Immerse yourself in the rich tapestry of history through visits to ancient ruins and UNESCO World Heritage sites, and explore Christian religious landmarks that reflect centuries of devotion. For those seeking adventure, Greece's ski centers provide exhilarating experiences amidst breathtaking landscapes. All the while, Greece prioritizes relaxation and safety, ensuring your well-being as you embark on your journey of healthcare and exploration.
FAQs (Frequently Asked Questions)
Q: What is Greek Med Top Partners (GMTP)?
A: GMTP is an organization in Thessaloniki, Greece that facilitates medical treatment for international patients.
Q: What services does GMTP provide?
A: GMTP arranges treatment at clinics and rehab centers, offers financial assistance, and ensures quality care for patients.
Q: Does GMTP have professional doctors?
A: Yes, GMTP collaborates with professional doctors in various medical specialties to ensure the best care for patients.
Q: Does GMTP uphold international standards?
A: Yes, GMTP prioritizes maintaining international standards in hospitals and clinics it represents for high-quality healthcare services.
Q: Does GMTP provide assistance with accommodation for international patients?
A: While specific details may vary, GMTP can offer guidance and support in arranging suitable accommodations during treatment.
Q: Is Thessaloniki a safe and welcoming city for international patients?
A: Thessaloniki is known for its warm hospitality and offers a safe environment for international patients seeking medical care.
A: You can connect with GMTP by contacting our customer support at Placidway Medical Tourism. They will provide you with the necessary information available. Click contact us button below to get started:

---
GMTP – Greek Med Top Partners, Thessaloniki, Greece Profile Details
Excellence in Care and Services
At GMTP Greek Med Top Partners in Thessaloniki, Greece, our vision is to excel in everything we do and every service we offer. We believe that every individual deserves the best possible healthcare experience, and we work tirelessly to ensure that our patients receive superior care and support. Our team is driven by a passion for improving the health and well-being of our patients, with a focus on achieving positive outcomes and enabling them to lead fulfilling lives.
Patient-Centric Approach: Compassion and Empathy
GMTP values a patient-centric approach, recognizing the importance of building strong relationships with our patients. We understand that healthcare extends beyond medical procedures, and we strive to create a nurturing and supportive environment. Our dedicated team of healthcare professionals not only provides exceptional medical expertise but also ensures that patients feel understood, respected, and cared for throughout their healthcare journey. We are committed to addressing their physical, emotional, and psychological needs, helping them overcome challenges and achieve optimal health.
Supporting Patients in Need
GMTP understands that some patients face financial constraints when it comes to accessing necessary medical treatments. As an organization driven by compassion, we offer financial assistance to individuals in difficult circumstances. Our aim is to ensure that financial limitations do not hinder patients from receiving the medical services they require. Through payment plans and other forms of support, we strive to alleviate the burden of healthcare costs and enable patients to access the care they need to restore their health.

---
GMTP – Greek Med Top Partners Treatments Offered
Treatment in Greece - Over 2470 years ago!
In Greece, discover

Professional Doctors

International Standards upheld in Hospitals / Clinics

Latest Medical Technology and methods

Smiling Medical Teams willing to assist you

Sun, sea, sandy beaches

Delightful Weather

Christian Religious Sightseeing

Historical Sightseeing

Thermal Springs, Baths and Waterfalls

Ski Centers

Relaxation and Safety
Medical Specialties
Allergy & Immunology

Anesthesia

Cardiovascular Disease

Cardiology

Dermatology

Emergency Medicine

Endocrinology and Metabolism

Family Practice

Gastroenterology

General Practice

Geriatric Medicine

Gynecology

Gynecology Oncology

Hematology

Infectious Diseases

Internal Medicine

Neonatology

Nephrology

Neurology

Neurology Surgery

Obstetrics and Gynecology

Oncology, Medical

Ophthalmology

Orthopedic Surgery

Otorhinolaryngology (Ear, Nose, Throat)

Rheumatology

Sports Medicine

Surgery, General

Surgery, Hand

Surgery, Thoracic

Surgery, Vascular

Surgery, Colon and Rectal

Surgery, Urology

Pathology

Pediatrics

Physical Medicine and Rehabilitation

Plastic Surgery

Podiatrice Medicine

Podiatry

Preventative Medicine

Psychiatry

Pulmonary Disease

Radiology, Diagnostic

Radiology, Nuclear

Radiation Oncology

---
GMTP – Greek Med Top Partners Certificates, Accreditations, Qualifications
Expert Medical Professionals at Greek Med Top Partners (GMTP)
In Thessaloniki, Greece, Greek Med Top Partners (GMTP) takes pride in its exceptional team of medical professionals. With a diverse range of specialties and expertise, our doctors are dedicated to providing the highest level of care to our patients. From board-certified physicians to experienced surgeons, our team undergoes rigorous training and stays up-to-date with the latest advancements in their respective fields. At GMTP, we prioritize the well-being and satisfaction of our patients, and our doctors play a crucial role in delivering personalized and effective treatment plans. With their expertise and commitment to excellence, you can trust that you will receive exceptional medical care and attention at GMTP.
Experienced Specialists at GMTP Medical Group

Dr. Sam Awad

• Founder of GMTP MEDICAL GROUP

• Experienced Specialist at GMTP

• CEO of GMTP Medical Group

Dr. Loizidis Theodoros

• May 2010: Member of the European College of Physiatrists (Senior Fellowship of Physical Medicine and Rehabilitation)

• March 2002: Doctor of the Aristotle University of Thessaloniki, Laboratory of Physiology, Department of Medicine

• October 2001: Specialist in Physical Medicine and Rehabilitation (Specialty Title)

• October 2000: Member of the European Council of Specialists in Physical Medicine and Rehabilitation (European Board Certified)

Dr. Mouza Eirini

• Physical Medicine & Rehabilitation Doctor

• Member of European & International Society of PRM.

• Studied Medicine and graduated from Aristotle University of Thessaloniki Medical School in 1993.

• Completed training in specialty of Physical & Rehabilitation Medicine in 2001 in General Hospital Athens G. Gennimatas.

Dr. Chatzisotiriou Athanasios

• Graduated from the School of Medicine of Aristotle University.

• Completed his specialization in Neurosurgery at the University Clinic of the AHEPA hospital in Thessaloniki.

• In November 2003 he received the title of doctor with a general grade of Excellent.

• 2005 - 2007 Retrained at the University Neurosurgery Clinic of the Lausanne Hospital (Switzerland).

Dr. Zountsas Vasilis

• Chief Consultant Neurosurgeon in neurosurgical department in Evangelic St. Luces Hospital in Panorama Thessaloniki (Greece).

• Doing Over 2500 Operations.

---
GMTP – Greek Med Top Partners Testimonials
Cerebral Palsy Treatments in Thessaloniki, Greece –Arman Testimonial
Arman, a brave and determined young boy, joyfully shares his heartfelt testimonial about the incredible cerebral palsy treatments he received at Stem Cell and Rehab Clinic in Thessaloniki, Greece. With unwavering support and compassionate care from the expert medical team Arman experienced remarkable improvements in his mobility and overall quality of life. Through personalized treatment plans and innovative therapies, Arman's motor skills flourished, and he gained newfound independence and confidence.
Stem Cell Therapy for MS Real Patient Testimonial - Irina and Polina
Irina and Polina, real patients at Stem Cell and Rehab Clinic in Thessaloniki, Greece, share their heartfelt testimonial about the life-changing stem cell therapy they received for multiple sclerosis (MS). They express their gratitude for the exceptional care and support provided by expert medical team. Through stem cell therapy, Irina and Polina noticed significant improvements in their symptoms, experiencing enhanced mobility, reduced fatigue, and improved overall quality of life. Their testimonial highlights the transformative potential of stem cell therapy offering hope and renewed possibilities for individuals living with MS.
Cerebral Palsy Treatments in Thessaloniki, Greece – Artur Testimonial
Artur, a vibrant and determined young boy, shares his heartwarming testimonial about the cerebral palsy treatments he received at Stem Cell and Rehab Clinic in Thessaloniki, Greece. Artur expresses his immense gratitude for the compassionate care and unwavering support he received from the expert medical team. Through their personalized approach and advanced treatments, Artur experienced remarkable improvements in his motor skills, independence, and overall well-being. He enthusiastically shares how the dedicated professionals have played a significant role in helping him overcome challenges and embrace a brighter future.

---
GMTP – Greek Med Top Partners Awards & Recognitions
---
Thessaloniki, Greece Destination Overview
Embark on Restorative Pathways: Thessaloniki, Greece - A Medical Tourism Hub for Stem Cell Therapy and Rehabilitation
Thessaloniki, Greece, has emerged as a prominent destination for medical tourism, particularly for Stem Cell Therapy and Rehabilitation. With its state-of-the-art facilities and skilled medical professionals, Thessaloniki offers cutting-edge treatments and effective rehabilitation programs. Patients from around the world choose Thessaloniki for its advanced stem cell therapies that target various medical conditions and promote healing.
To reach Thessaloniki, the city is well-connected by various modes of transportation. The most convenient way is to fly into Thessaloniki International Airport "Makedonia," which serves both domestic and international flights. From the airport, patients can easily reach their medical facility or accommodation by taxi or private transfer. Additionally, Thessaloniki has a well-developed bus network, making it accessible for those arriving from nearby cities or countries. Traveling by car is also an option, with well-maintained roadways connecting Thessaloniki to neighboring regions.
Apart from its exceptional medical facilities, Thessaloniki offers a rich cultural and historical experience for tourists. Visitors can explore the city's fascinating landmarks, such as the White Tower, Rotunda, and Archaeological Museum of Thessaloniki, which house ancient artifacts and exhibitions. The vibrant city center boasts a lively atmosphere, with bustling markets, charming cafes, and a thriving nightlife scene. Moreover, Thessaloniki's proximity to stunning natural landscapes allows for day trips to Mount Olympus, picturesque beaches, and traditional villages.
For those seeking a tranquil retreat, the nearby Halkidiki Peninsula offers pristine sandy beaches and crystal-clear waters. Halkidiki is renowned for its luxury resorts, offering a perfect blend of relaxation and rejuvenation. Visitors can indulge in spa treatments, enjoy water sports, or simply unwind amidst the breathtaking coastal scenery.
Thessaloniki, Greece, provides a holistic experience for medical tourists, combining top-notch medical treatments, convenient transportation options, and an array of captivating tourist attractions. Whether you are seeking advanced stem cell therapy and rehabilitation or wish to explore the rich cultural heritage and natural beauty of the region, Thessaloniki promises a memorable and fulfilling journey.

---
---