Mommy Makeover Procedure in Chennai India
Package price starting from:
$4500
Treatment:
Cosmetic/Plastic Surgery, Mommy Makeover
Focus Area:
Mommy Makeover Package in India | Tummy Tuck Surgery | Vaginoplasty | Breast Reduction Surgery in India | Aesthetic Surgery | Cosmetic Procedures in Chennai
---
Mommy Makeover best service available in Chennai India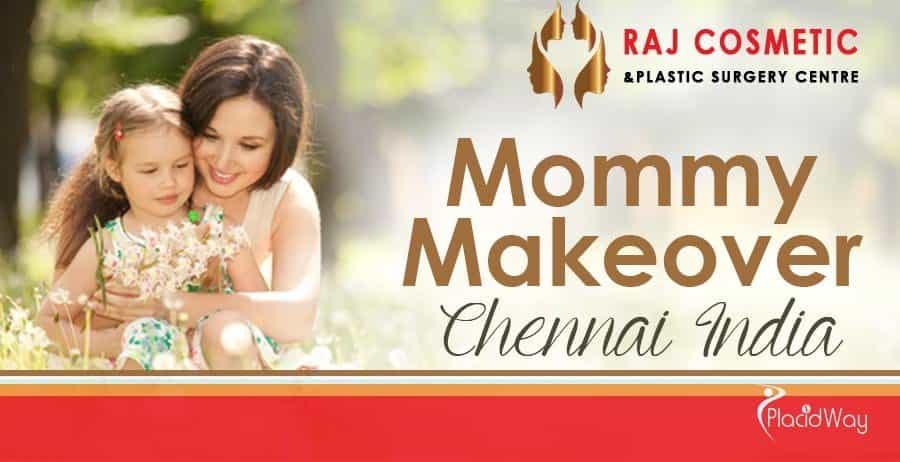 Mommy Makeover Procedure in Chennai India
Raj Cosmetic and Plastic Surgery Centre in Chennai, India is one of the most comprehensive cosmetic clinics in its approach to both surgical and non-surgical techniques. With an experienced team of cosmetic surgeons, provides in-depth knowledge and assistance in selecting procedures that best refine your look and discover the image you always desired.
One of their most successful procedure is the Mommy Makeover Package at Raj Cosmetic,  a combination of procedures that helps women recover beautifully from post pregnancy body changes and breast feeding.
Mommy Makeover Package Includes
Breast augmentation with breast implants or fat tissue transfer, breast lift or breast reduction, they are all included in the mommy makeover procedure depending from case to case. Sometimes two breast procedures are combined for the optimum results.
Tummy Tuck or Abdominoplasty is the cosmetic, reconstructive procedure by which the loose front abdominal muscles are tightened and the excess skin removed from the abdominal area. The Tummy Tuck procedure can be combined with Liposuction if necessary.
Vaginoplasty is basically a surgical procedure that tightens a female vagina by the removal of excess lining and through the repair of surrounding soft tissues. The procedure removes excess vaginal lining, tightens vaginal muscles, and tightens or repairs surrounding soft tissue musculature.
Mommy Makeover Package Benefits
Customizable procedure

Enhanced self esteem

Restored breast fullness

Tightened abdominal muscles

Sculpted body

Removed excess skin around the waistline

Reduced appearance of sagging breasts

Enhanced natural curves
Useful information regarding Mommy Makeover Procedure
The surgery is done under anesthesia. It takes 3 hours for breast surgery, 2 hours for tummy tuck and one and half hour for vaginal tightening.
The Surgery may require 3 to 4 days hospitalization. If you want we can discharge you with tubes the next day after surgery.
In tummy tuck procedure the scar will be hidden in the bikini area and in breast surgery  the scar will be hidden under the breast.
You can breastfeed but there will be some reduction in milk segregation.
One week is sufficient to take rest for vaginal surgery.
It is better to stay in country for a minimum  of 10 days.
Yes, you can give normal birth.
No, the fat does not return.
Treatment Cost at Raj Cosmetic and Plastic Surgery Center in Chennai, India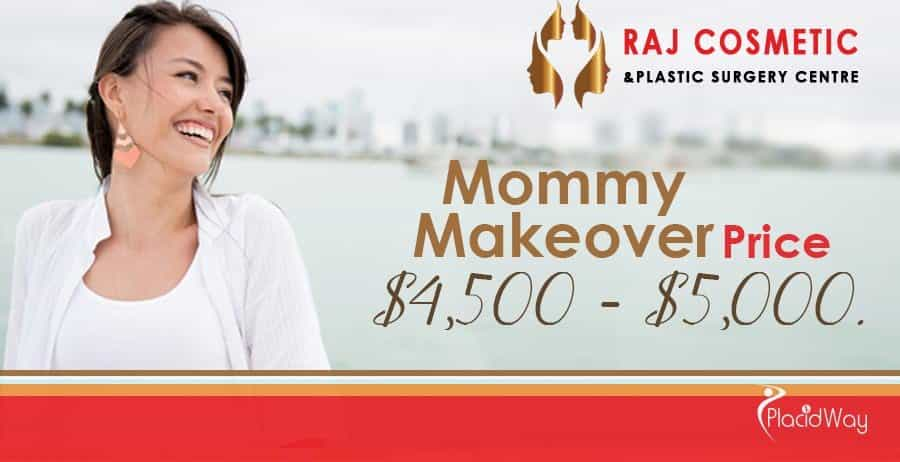 Cost of Mommy Makeover is just between $4500 to $5500
At Raj Cosmetic and Plastic Surgery Center, they are proud of their:
High safety standards

Latest Technological Equipment

Full-time Anesthesiologist

Experienced Surgery Nurses

Experienced & Highly Qualified Doctors
When you are considering having cosmetic or reconstructive surgery, you want to be attended by an experienced doctor who not only has the experience and is using the latest technology, but also someone who is dedicated to achieving the natural-looking result that preserves your unique personality and spirit.
Raj Cosmetic and Plastic Surgery Center, India can offer you all these at affordable cost!
Don't hesitate to contact them regarding other successful cosmetic procedures in Chennai!

Related Experiences:
Transform Your Look with Mommy Makeover in India
Mommy Makeover in Nuevo Progreso Mexico
Mommy Makeover in Mexico City, Mexico
Mommy Makeover in Guadalajara, Mexico
Mommy Makeover in Antalya, Turkey
Mommy Makeover in Croatia
---