Life Changing Total Knee Replacement Package in Puerto Vallarta Mexico
Treatment:
Orthopedic/Knee Surgery, Knee Replacement Total or Partial, Knee Surgery
Focus Area:
Total Knee Replacement in Puerto Vallarta, Mexico | TKR | Orthopedic Surgery | Knee Arthroplasty | Minimally Invasive
---
Effective Total Knee Arthroplasty in Puerto Vallarta, Mexico

Relief from Knee Pain After Total Knee Replacement Surgery in Puerto Vallarta, Mexico
Are knee pain and stiffness giving you a hard time? Do you suffer from osteoarthritis or knee injuries? The package available for total knee replacement in Mexico can be the solution you've been looking for!
Dr. Jose Manuel Hernandez in Puerto Vallarta, Mexico offers top medical care and services, providing both local and international patients with quality, professionalism, support and warmth. Practicing orthopaedic surgery for more than 10 years, Dr. Jose Manuel Hernandez is a renowned worldwide specialist. The patients are treated with personalized attention, within a stress-free environment.
In Puerto Vallarta, Mexico the total knee replacement package at the cost of $13,000 which can give you more then 70% cheaper cost then the USA. Many patient visit Mexico just because of low cost and quality treatment just like in developed countries. Below in the table you can see other knee surgeries prices compare to America.
| | | |
| --- | --- | --- |
| Procedures | Puerto Vallarta, Mexico Prices | USA Prices |
| knee replacement (THR) | $13,000 | $40,000 |
| KR Minimally Invasive (Both knees) | $20,000 | $60,000 |
| Knee Replacement (TKR) - Both knees | 22,000 | $70,000 |
Knee surgery package inclusions in Puerto Vallarta:
Stem cells injections

All medical-related costs (hospital fees, doctor fee, equipment, nurse care and medications)

Pre-op tests

Hospital Stay
Package exclusions for knee surgery in Puerto Vallarta:
Airfare

Hotel Accommodation
The knee replacement surgery treats and repairs damaged knee joints by replacing them with artificial joints which last for 20 years or more. The procedure is done under general or epidural (spinal) anaesthesia. On the other hand, the stem cell therapy for affected knees is realized through injections that aim to regrow the cartilage. This therapy helps the healing process of damaged or injured knees.
Procedure of total knee orthopedic surgery in Mexico
In Puerto Vallarta Mexico, the most common type of knee surgery is total knee arthroplasty (TKA). This surgery is also known as a full or complete knee replacement. It involves removing the damaged joint surfaces of the knee and replacing them with artificial parts, called implants. The goal of Knee Replacement Surgery is to relieve pain and improve function. The surgery is usually performed on an outpatient basis, which means that patients can go home the same day.
Recovery time varies from person to person, but most people are able to return to their usual activities within a few months. Total knee arthroplasty is a safe and effective procedure that can provide lasting relief from chronic knee pain. 
The total knee replacement is highly recommended for:
People struggling with painful and stiff knees

Those who perform simple daily activities with difficulty

Patients who tried other treatments, but had no success
Conditions that might make the total knee replacement surgery an option:
Osteoarthritis

Runner's knee

Traumatic injuries
Benefits of the total Knee arthroplasty:
Pain relief

Knee joint function is improved

Mobility is improved

Quality of life is improved
Best orthopedic surgeon in Puerto Vallarta, Mexico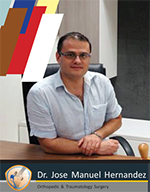 Dr. Jose Manuel Hernandez  is one of the top orthopedic surgeon in Puerto Vallarta, Mexico 
Specialty include the following:
Meniscal repair.

Cartilage repair.

ACL, PCL repair.

Knee Replacement.

PRP injections

Cell therapy ( stem cells)  meniscus and cartilage regeneration

Spinal Blocks (ESI) by fluoroscopy

Intradiscal ozone therapy (bulged disc, disc herniations without surgery.
Watch total knee replacement video in Mexico
See video information about knee replacment Surgery in Mexico:
Start exploring your options! Know everything about the package offered by Dr. Jose Manuel Hernandez! for total knee replacement in Puerto Vallarta, Mexico
 Get in touch with us now!

Related Experiences:
Knee Replacement in Puerto Vallarta, Mexico – Best Price Today!
Knee Replacement in Cabo San Lucas Mexico
Knee Replacement in Tijuana - Restore Your Knee Health
Feel Better & Move Better with Knee Replacement in Mexicali
Best Knee Replacement in Cancun Mexico from Top-Rated Hospital
Get Your Knee Replacement in Istanbul - Turkey
---
Orthopedic/Knee-Surgery Related Packages
Orthopedic/Knee-Surgery Related Experiences