Cirrhosis of the Liver - Stem Cell Therapy Cost - Ukraine
Treatment:
Stem Cell Therapy, Stem Cell Treatment for Liver Diseases
Focus Area:
Cirrhosis of the liver | Stem Cell Therapy Cost | Stem Cell Treatment for Liver Cirrhosis | Stem Cell Therapy Clinic | Cirrhosis Treatment | Kyiv | Ukraine
---
Cirrhosis of the liver, Stem Cell Therapy Cost, Stem Cell Treatment for Liver Cirrhosis, Stem Cell Therapy Clinic, Cirrhosis Treatment, Kyiv, Ukraine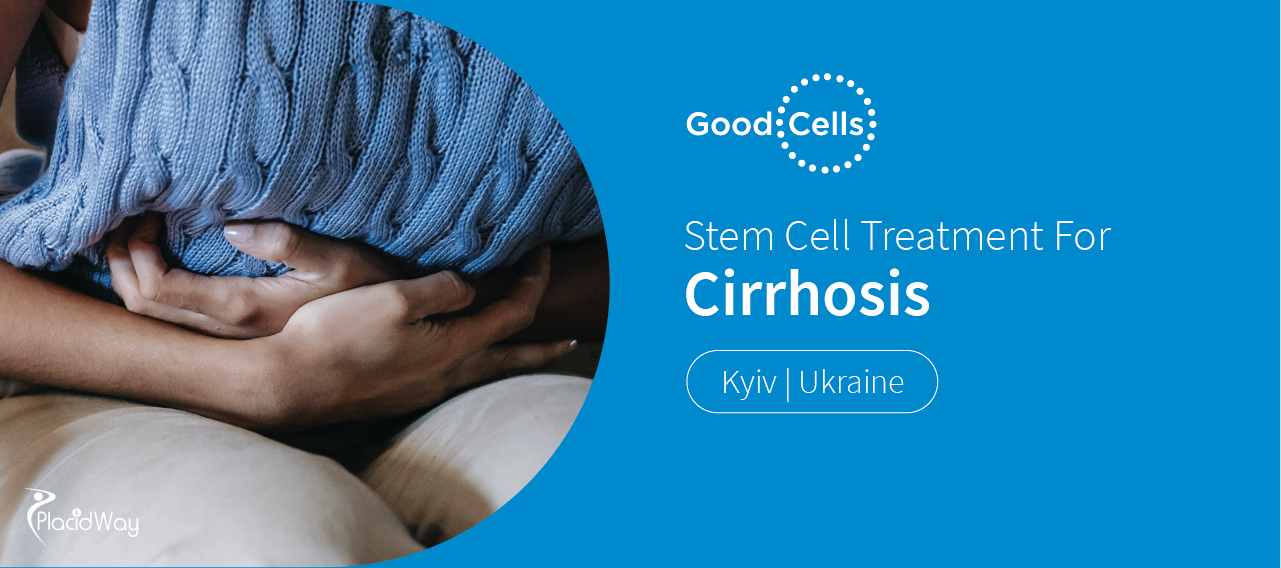 Stem Cell Therapy for Cirrhosis in Kyiv, Ukraine by Good Cells
Cirrhosis of the Liver is a severe complication of multiple liver diseases characterized by distortion of liver architecture and its functions.  Diseases leading to cirrhosis cause death of liver cells (hepatocytes), resulting in inflammation and triggering of the reparative processes - excessive growth of fibrous (scar) tissue. Cirrhosis changes the person, both physically and psychically, and at times working and living with these people is uneasy. 
Conventional treatment of liver cirrhosis is intended to protect the cell from further damage with medicines through metabolic correction and stimulation of gall secretion.  This can improve the patient's condition, but it neither stops its progression nor eliminates the cause.
Stem Cell Therapy for Liver Cirrhosis
Stem cells and stem cell therapy have offered a new dimension for regenerative medicine and opened a new page to treat liver cirrhosis. 
The cirrhosis treatment results and efficacy depend on the stage of the disease presented by the patient, and the earlier the treatment is started, the better the results are to be expected.  Optimal effects are achieved in combination with a healthy lifestyle (diet, abstinence from alcohol and other bad habits, etc.) and following recommendations by the clinic's doctors.
Good Cells' treatment of cirrhosis can help overcome liver disease and start the process of regeneration. Patients experience a steady improvement in their biochemical and clinical parameters, histological pattern, and indicators of liver elastography.
Patient's Requirements for the Procedure at Good Cells
Patients with liver cirrhosis of degree A, B, C in the stage of subcompensation and compensation.

Patients with hepatitis, including steatohepatitis with the transition to cirrhosis of the liver.

Patients with viral cirrhosis (after undergoing antiviral therapy).

Contraindications are an active phase of viral hepatitis.
Good Cells' team is sure of the programs' effectiveness. Three, six, nine, and twelve months after your treatment, they will provide full follow-up and consultations with your doctor whenever needed.
The treatment usually takes from 5 to 7 days (depending on the stage of disease)
How much does Stem Cell Therapy Cost for Liver Cirrhosis?
Stem Cell Therapy Cost for Liver Cirrhosis starts from $5,000, and it includes:
Stem cell products for the treatment;

Consultation of a doctor-coordinator of stem cell program;

Consultation of profile specialists;

Ultrasound scanning;

Blood and urine medical tests;

Other medical tests recommended by the doctor (if necessary);

Follow up after the treatment.
Stem Cell Therapy Effects:
improvement in multiple diagnostics and biochemical parameters (ALT, AST, serum albumin, etc.)

skin itching disappearance

lesser icteric discoloration of sclera and skin

subsidence of edema

subsidence of pain

hepatic histology improvement

fibrotic index reduction (the consequence of dissolving the existing fibrosis and

clinical and functional improvements in hepatic encephalopathy cases by synthetic, metabolic, and detoxifying functions of fetal progenitor cells

reduction of portal hypertension, meaning a lower risk of recurrent hemorrhages

subsidence of cirrhosis severity (Child Score)

prevention of complications and subsidence of their symptoms at early stages

more effective disease management

powerful immune-boosting

general health improvement

life quality improvement and longer life expectancy 

additional waiting time for transplantation (if necessary).
Why Choose Good Cells for Stem Cell Treatment in Kyiv, Ukraine?
More than 10 years of Stem-Cell Therapy

Only scientifically proven methods

High success rate

Highly qualified team

Transparent relationship with the client

Exceptional quality of stem cells

High-level personalized service
To learn more about the package, click the button below:

Related Experiences:
Stem Cell Therapy in Dominican Republic
Stem Cell Therapy for Muscular Dystrophy in India
Stem Cell Therapy for Kidney Failure in India
Stem Cell Therapy for COPD in Tijuana Mexico
Stem Cell Therapy for COPD in Germany
Stem Cell Treatment for COPD in Europe
---
Stem-Cell-Therapy Related Packages
Stem-Cell-Therapy Related Experiences