CBC Health Stem Cell Therapy for Cerebral Palsy Package in Munich, Germany
Package price starting from:
$19818
Treatment:
Neurology,Stem Cell Therapy, Stem Cell Treatment for Cerebral Palsy, Cerebral Palsy
Location:
Ottostraße 3-5, 80333, Munich, Germany, Germany
Focus Area:
CBC Health | Munich | Germany | Stem Cell Therapy for Cerebral Palsy
---
Regenerative Medicine for Cerebral Palsy in Munich Germany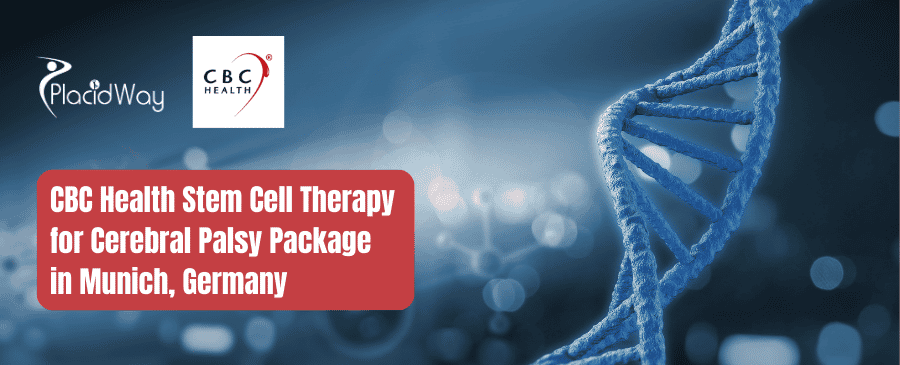 CBC Health specializes in umbilical cord blood therapy for neurological diseases, including stroke. While their attached files primarily focus on stroke therapy, they also treat other conditions such as Cerebral Palsy, diabetes, autism, Crohn's disease, and ulcerative colitis. They evaluate cases of diseases like ALS, Lyme disease, Scleroderma, COPD, etc., on an individual basis and collaborate with an independent clinic for those treatments.
The treatment cost for adults is EUR 44,000 and EUR 18,000 for children. They emphasize their unique approach of administering a high number of cell components per kilogram of body weight, exceeding the minimum recommended by Duke University Clinic. If you are interested, they suggest having a direct conversation with their Head Physician, Dr. Nils Thoennissen, and they are happy to arrange this free-of-charge consultation at your preferred time.
For more information about CBC:
Cell type provided: Umbilical cord blood stem cells

Umbilical cord blood is collected from placenta via the umbilical cord vein.

To achieve an optimum therapeutic effect, a dose of 50 million cells per kg is required, and each infusion includes cord blood collected from 4 to 8 donors.

The entire course of infusions is scheduled over two to three days, and after each infusion, the patient is monitored for several hours for any potential adverse reactions.

In the majority of patients, cord blood infusions have resulted in mild improvement of cognitive and motor functions.  These functional gains become noticeable within the first few weeks after the infusion and continue for the next 3 to 6 months.

Adverse reactions to cord blood cell infusions are rare and generally mild.
Cerebral Palsy (CP) is a neurological disorder that affects movement, muscle tone, and motor skills. CBC Health, a renowned medical center in Munich, Germany, offers advanced Stem Cell Therapy as a promising treatment option for individuals with CP. This groundbreaking therapy aims to improve motor function, enhance quality of life, and provide hope to patients and their families.
With its state-of-the-art facilities, cutting-edge technology, and highly skilled medical professionals, CBC Health has established itself as a leader in stem cell research and therapy. Patients from around the world travel to Munich to access their comprehensive treatment packages, which combine medical excellence with compassionate care. For more information, check our package details below.
You can get CBC Health stem cell therapy for cerebral palsy package in Munich, Germany with the price starts at EUR 18,000 or $19,818. Please refer to our price list table below:
| | | |
| --- | --- | --- |
| Location | Cost for Children | Cost for Adult |
| Munich, Germany | EUR 18,000 or $19,818 | EUR 44,000 or $48,441 |
Note: Price may change and vary depends on complexity of procedures and patient conditions. Click free quote button below to learn more:

Expertise: Munich boasts world-class medical facilities and specialists, providing top-notch care and expertise in treating cerebral palsy using stem cell therapy.
Cutting-Edge Technology: CBC Health utilizes the latest advancements in stem cell research and regenerative medicine, ensuring the most effective and innovative treatments.
Holistic Approach: The treatment packages in Munich encompass a holistic approach, including personalized therapy plans and support services for both patients and their families.
Affordability: Despite the exceptional quality of care, stem cell therapy packages in Munich are competitively priced, offering excellent value for money.
Cultural Experience: Patients and their families can enjoy the rich cultural heritage and stunning landscapes of Munich while undergoing treatment, making it a unique and enriching medical journey.
The stem cell therapy for cerebral palsy at CBC Health involves a multi-step process:
Patient Evaluation: Medical experts assess the patient's condition, medical history, and suitability for stem cell therapy.
Stem Cell Harvesting: Stem cells are sourced from the patient's bone marrow or umbilical cord, ensuring compatibility and reducing the risk of rejection.
Laboratory Processing: The collected stem cells undergo specialized laboratory procedures to optimize their therapeutic potential.
Stem Cell Infusion: The processed stem cells are reintroduced into the patient's body, targeting the affected areas to promote tissue repair and regeneration.
Follow-up Care: CBC Health provides comprehensive post-treatment care, including rehabilitation, physiotherapy, and ongoing monitoring.
Personalized Treatment Plan: Each patient receives a customized treatment plan tailored to their specific needs and condition.
Accommodation: The package includes comfortable lodging for the patient and their companion during the treatment period.
Airport Transfers: CBC Health ensures seamless transportation from the airport to the accommodation and the medical center.
Translation Services: Language barriers are minimized with the assistance of professional interpreters.
24/7 Support: Patients and their families have access to round-the-clock support from CBC Health's dedicated medical coordinators.
Travel Expenses: The package does not cover the cost of flights or travel to Munich.
Personal Expenses: Patients are responsible for any non-medical expenses incurred during their stay.
Unforeseen Medical Complications: Additional treatment for unexpected medical issues not directly related to the stem cell therapy is not included.
Non-Specified Treatments: Any treatments outside the agreed-upon plan may incur additional charges.
Travel Insurance: Patients are advised to arrange their travel insurance for added financial protection.
Stem Cell Therapy for Cerebral Palsy Pre-Op Tests
Medical Assessment: A comprehensive evaluation of the patient's medical history and physical condition is conducted.
Neurological Examination: This test helps assess motor function, muscle tone, reflexes, and coordination.
Imaging Studies: MRI or CT scans provide detailed images of the brain, allowing for accurate diagnosis and treatment planning.
Blood Tests: These help identify any underlying health issues that could impact the treatment process.
Genetic Testing: In some cases, genetic testing may be recommended to understand the genetic basis of cerebral palsy.
Dr. Nils Thoennissen is a distinguished stem cell specialist based in Munich, Germany, with a wealth of experience in regenerative medicine and neurology. As a key member of CBC Health's renowned medical team, Dr. Thoennissen is dedicated to advancing the field of stem cell therapy for cerebral palsy and other neurological conditions. His expertise lies in tailoring personalized treatment plans, combining cutting-edge research with compassionate patient care. Dr. Thoennissen's commitment to excellence, along with his exceptional surgical skills, ensures that patients receive the highest standard of care throughout their treatment journey. With his warm demeanor and patient-centric approach, Dr. Nils Thoennissen stands as a trusted beacon of hope for those seeking transformative stem cell therapy in Munich.
Cerebral Palsy Stem Cell Specialist in Munich, Germany

• More than 14 years clinical experience in chemotherapy including blood transfusions, as well as stem cell transplantation.

• Spent 3 years in Los Angeles, USA, at Cedars-Sinai-Medical-Center, UCLA for research.

• Author of more than 40 high-ranking clinical and scientific publications in peer-reviewed international journals.

• Investigator and Sub-Investigator of several clinical studies.

• Past consultant of Hem/Onc Dpt. and Emergency Dpt. in the University Clinic of Hamburg-Eppendorf, Germany
Is Stem Cell Therapy for Cerebral Palsy Right for You?
Ideal candidates for stem cell therapy are individuals diagnosed with cerebral palsy seeking improved motor function and quality of life.

Patients should have a stable medical condition and be willing to commit to the treatment process and post-treatment rehabilitation.

It is essential to discuss individual medical history and expectations with CBC Health's medical team to determine suitability for stem cell therapy.
What to Expect During the Cerebral Palsy Stem Cell Treatment
Upon arrival, patients receive a warm welcome and a detailed orientation of the treatment process.

Stem cell harvesting is a minimally invasive procedure performed under local anesthesia.

After the infusion, patients undergo post-treatment care, including physiotherapy and rehabilitation.

CBC Health's dedicated medical coordinators and staff provide continuous support and assistance during the entire treatment period.
1. Is stem cell therapy safe for children with cerebral palsy?
Yes, stem cell therapy for cerebral palsy is considered safe for children. CBC Health's treatment approach prioritizes patient safety and utilizes autologous stem cells, sourced from the patient's own body, minimizing the risk of adverse reactions.
2. How long does the stem cell therapy treatment typically last?
The duration of stem cell therapy for cerebral palsy varies depending on the patient's individual condition and response to treatment. Treatment typically spans several days, followed by a post-treatment rehabilitation period, which may extend over several weeks.
3. What benefits can stem cell therapy offer to individuals with cerebral palsy?
Stem cell therapy aims to improve motor function, reduce muscle spasticity, enhance coordination, and promote neurological development in individuals with cerebral palsy. It may lead to increased independence and an improved quality of life.
4. Are there any side effects associated with stem cell therapy for cerebral palsy?
The side effects of stem cell therapy for cerebral palsy are generally mild and transient. Patients may experience temporary discomfort at the site of stem cell harvesting and minor bruising. Severe complications are rare, and CBC Health's medical team closely monitors patients throughout the treatment.
5. Can stem cell therapy completely cure cerebral palsy?
Stem cell therapy is not a definitive cure for cerebral palsy. However, it has shown promising results in improving symptoms and overall functionality in many patients. The treatment aims to provide substantial relief, enhance motor skills, and enhance the patient's quality of life.
Unlock the potential of Cerebral Palsy Stem Cell Therapy in Munich, Germany at PlacidWay! Get a FREE QUOTE for the life-changing treatment provided by CBC Health. Book your consultation now with PlacidWay Medical Tourism to embark on a journey of hope and healing. Discover the cutting-edge advancements in stem cell therapy and personalized treatment plans designed to improve motor function and enhance the quality of life for individuals with cerebral palsy. Take the first step towards a brighter future by reaching out today! Click button below to get started:

---