Orthopedic Stem Cell Therapy Package in Guadalajara, Mexico by Stem Health
Package price starting from:
$3000
Treatment:
Stem Cell Therapy, Stem Cell Therapy for Shoulder , Stem Cell Therapy for Spinal Stenosis, Stem Cell Treatment for Knee Osteoarthritis Abroad, Stem Cell Treatment for Hip Abroad, Stem Cell Therapy for Spine Arthritis, Stem Cell Therapy for Osteoarthritis, Stem Cell Therapy for Knee Arthritis, Stem Cell Knee- ACL Tears Treatment Abroad
Location:
Avenida Santa Teresa de Jesus 527 Colonia Camino Real, Zapopan, Jalisco, México C.P. 45040 , Mexico
Focus Area:
Stem Health | Guadalajara | Mexico | Orthopedic Stem Cell Therapy
---
Orthopedic Regenerative Medicine in Guadalajara, Mexico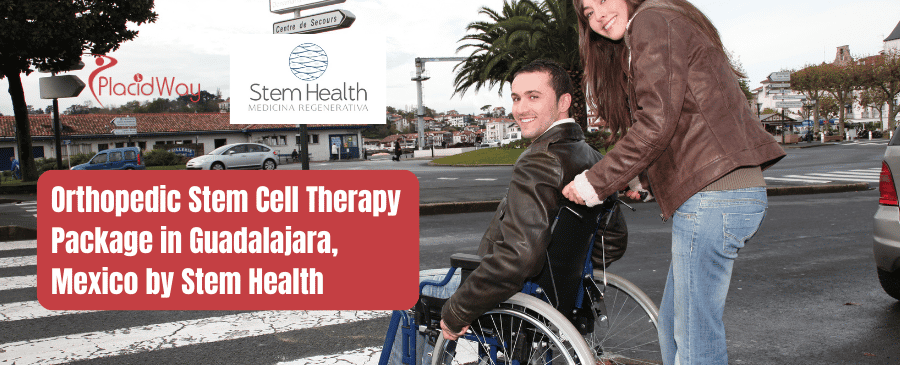 Orthopedic Stem Cell Therapy is an innovative medical treatment offered by Stem Health in Guadalajara, Mexico. This groundbreaking procedure utilizes stem cells to address various orthopedic conditions, promoting natural healing and pain relief. Stem Health's state-of-the-art facility and experienced medical team ensure world-class care and optimal outcomes. Check our package details below to learn more.
You can get orthopedic stem cell therapy package in Guadalajara, Mexico by Stem Health with the price starts at $3,000. Check our price list detail below for more information:
Procedures

Time of Procedure

Cost in USD

Intraarticular application of 50 million of stemcells (one joint).

30 minutes

$3,000

Intraarticular application of 100 million of stemcells (two joints. Both knees).

One hour

$5,000

Intratecal application of 100 million of stemcells.

One hour

$4,000

Regenerative Medicine for: Intraarticular (knees, shoulders, elbow, wrist, rotator cuff) and Intrathecal (in the spine for back pain mainly)
Note: price may change and vary depends on complexity of procedures and patient conditions. Click free quote button below to learn more:

Access to Renowned Experts: Guadalajara boasts skilled orthopedic specialists and stem cell researchers, ensuring top-notch treatment.
Cost-Effective Packages: Stem Health offers affordable packages ranging from $3,000 to $5,000, providing exceptional value for patients.
Advanced Medical Facilities: Guadalajara houses cutting-edge medical facilities, equipped with the latest technology for successful stem cell therapy.
Beautiful Recovery Environment: Patients can recuperate in the serene surroundings of Guadalajara, contributing to a peaceful healing process.
Travel Opportunities: Combining treatment with exploring Guadalajara's rich culture and heritage can make the medical journey rewarding.
Our laboratory, clinic and operating room are located in the same building in the city of Guadalajara in Mexico. Most of the times the treatment has to be repeated six month later and one year later depending on every case. We just produce and cultivate Mesenchymal Stemcells from Human Placenta or Umbilical Cord. Our stemcells are totally fresh, natural, pure, clean, inocuos, free of infections, bacteria, fungus and virus
Our stemcells come from Mexican Donors. This is called Allogenic Procedure. All of our donors are healthy young Mexican women between 18 to 25 years old. First time pregnancy, all of them have been tested against infectious diseases and oncogenes (cancer free). We can produce and applicate stemcells from the own patient´s body (fatty tissue). This is called Autologus.
If so, please add 3,000 USD additional and patient has to wait 4 weeks to produce the stemcells Exosomes are very very small particules excreted by the own stemcells while under cultivation in our laboratory. They have tremendous regeneration powers. The intraarticular and Intrathecal procedures take place in our special operating room. It is made by an anesthesiologist guided by special medical devices named flouroscopy and ultrasound. Anesthesia is included in the given prices.
Tranportation Airport (Hotel-Laboratory-Hotel-Airport included in the given prices)
Initial Consultation: Thorough assessment by medical experts to determine the suitability of stem cell therapy.
Stem Cell Harvesting: Safe extraction of stem cells from the patient's bone marrow or adipose tissue.
Specialized Treatment: Precise stem cell injection into the damaged area for targeted healing.
Post-Procedure Follow-up: Regular check-ups and care to monitor progress and address any concerns.
Rehabilitation Guidance: Tailored rehabilitation plans to optimize the recovery process and enhance long-term results.
Travel Expenses: Costs related to flights, accommodation, and transportation are not included in the package.
Additional Treatments: If supplementary procedures or medications are required, they will be charged separately.
Personal Expenses: Any expenses incurred for personal needs during the stay are not covered.
Complications Management: In the rare event of complications, additional medical services might not be included.
Non-Medical Services: Costs for optional services like spa treatments or tours are not part of the package.
Orthopedic Stem Cell Therapy Pre-Op Tests
Blood Tests: Comprehensive blood work to assess overall health and identify any underlying conditions.
Imaging Studies: X-rays, MRI, or CT scans to pinpoint the precise location and extent of the orthopedic issue.
Physical Examination: Thorough evaluation of the affected area to understand the extent of the damage.
Medical History Review: Understanding the patient's medical background to ensure safe and effective treatment.
Cardiovascular Evaluation: Assessment of heart health to determine the patient's suitability for the procedure.
Stem Health's team comprises experienced orthopedic surgeons and regenerative medicine specialists. These dedicated professionals have a proven track record of successful orthopedic stem cell therapy outcomes. Check their doctor profile below to learn more.
Orthopedic Stem Cell Doctors in Guadalajara, Mexico
Is Orthopedic Stem Cell Therapy Right for You?
Suitable Candidates: Individuals with orthopedic conditions, joint pain, or sports injuries may benefit from stem cell therapy.
Medical Evaluation: A thorough assessment by Stem Health's experts will determine the patient's eligibility for the treatment.
Expectations Discussion: Clear communication about the potential benefits and realistic outcomes of the procedure.
Alternative Options: Patients will be informed about alternative treatments if stem cell therapy is not the most appropriate choice.
Informed Decision: Making an informed decision about treatment based on personalized medical advice and patient preferences.
What to Expect During Treatment in Guadalajara, Mexico
Warm Welcome: Patients will be warmly greeted and guided through every step of the treatment journey.
Expert Care: Highly skilled medical professionals will ensure the procedure is performed with precision and care.
Comfortable Environment: Stem Health's facilities provide a comfortable and supportive setting for treatment and recovery.
Comprehensive Support: Patients will receive detailed instructions for pre and post-treatment care, maximizing the treatment's effectiveness.
Cultural Experience: Exploring Guadalajara's vibrant culture and attractions can complement the healing process, creating a memorable experience.
1. Q: What is Orthopedic Stem Cell Therapy?
A: Orthopedic Stem Cell Therapy is a regenerative medical procedure that utilizes stem cells to treat orthopedic conditions, promoting natural healing and tissue repair.
Q: Is the procedure safe and effective?
A: Yes, Orthopedic Stem Cell Therapy is considered safe and effective, with minimal risks as it uses the patient's own stem cells, reducing the chance of adverse reactions.
Q: What conditions can be treated with this therapy?
A: Orthopedic Stem Cell Therapy can address various conditions, including joint pain, arthritis, ligament and tendon injuries, and degenerative joint diseases.
Q: How long is the recovery period?
A: The recovery period varies based on individual factors and the extent of the condition treated. Many patients experience gradual improvements in the weeks following the procedure.
Q: Why choose Guadalajara, Mexico, for the treatment?
A: Guadalajara offers world-class medical facilities, skilled specialists, and affordable packages for Orthopedic Stem Cell Therapy, making it an excellent choice for patients seeking quality care and cost savings.
Book your consultation now to embark on a transformative journey of healing with Orthopedic Stem Cell Therapy in Guadalajara, Mexico. Discover the benefits of Stem Health's advanced treatments and experienced medical team. Take the first step towards a pain-free future!

Related Experiences:
Stem Cell Treatment for Hip in Mexico - Choose Hip Pain Relief Therapy
Stem Cell Therapy for Osteoarthritis in Mexico
Stem Cell Therapy for Knee in Mexico - Choose Knee Treatment Mexico
Regenerative Medicine for Knee Injury in United States
Stem Cell Therapy for Osteoarthritis in India
Stem Cell Therapy for Parkinson's Disease in Guadalajara, Mexico
---