Package Details

Stem Cell Therapy for Anti Aging Solutions in Lenggries, Germany
Stem cell therapy is the new future for a variety of anti aging treatments. Studies underway and therapies offered throughout Europe have seen effective results through the use of fetal stem cells in reducing signs of aging, improving posture, mobility, and quality of life. Anti aging treatments, from reducing the signs of wrinkles to fighting free radical damage to enhancing memory, concentration, and quality of life are the focus of researchers around the world.
Many individuals seeking stem cell therapies for anti aging treatments are trying to undo the damage of years of sunbathing, tobacco or alcohol use, or wrinkles and damage caused by stress and overwork.
Lenggries in Germany is a popular location for anti aging treatments using stem cells at reputed medical centers. The expert medical professionals utilize a process involving fetal stem cell transplantation, which helps in regulating blood pressure, normalizing heart rate, increase brain and memory function, and decrease in levels of bad cholesterol in the blood.

Stem Cell Anti Aging Cost
The Cost of  Stem Cell Therapy for Anti Aging treatment in Lenggries, Germany is around $14,900. Final prices are determined after physical evaluation and laboratory reports analysis.
Length of Stay: 7-10 days
Note:
The duration may vary depending upon the chosen procedure of Stem Cell Therapy for Anti Aging treatment.
Inclusions

:
Pre and post-operative consultations

All hospital fees with night stay

All medical fees (doctor fees, anesthesiologist, and nursing staff)
Exclusions

:
Hotel or recovery house

Preoperative lab work

Airfare
List of required pre-op tests:
Lipid Profiles

Complete Blood Count

Comprehensive metabolic profile

Urinalysis, Routine Profile

Iron, Serum w/TIBC
Complexity Level: Low
Note:
The laboratory tests are done at least 7-10 days prior to the procedure. The particular tests are prescribed after a complete physical evaluation of the patient.
Payment Options: Cash, credit card, wire transfer
Note:
The center may require a money deposit once a patient decides to book the treatment.
Factors that Affect Package Price
You may find that the same provider is offering different package prices for Stem Cell Therapy for Anti Aging Solutions in Lenggries, Germany. This happens due to relative factors such as:
Age

Gender

Weight

Hormonal instabilities

The essence of treatment

Facilities at the medical center

Qualification and experience of the doctors

Post-procedure therapy

Type of the equipment used in the process

Complexities related to the procedure
The doctor at the clinic would ask to go for laboratory tests to ascertain issues and plan your treatment course of action. Based on that, the doctor may consult over the phone and explain about the Stem Cell Therapy for Anti Aging treatment plan for you.
Benefits of Getting Stem Cell Therapy for Anti Aging Solutions in Lenggries, Germany
Long-term remission for anti-aging solutions

Reduced skin elasticity

Improved overall appearance

Boost confidence

Get the best anti-aging solution amidst great German hospitality

Natural way to enhance the beauty
How to Get There
Lenggries is located in Upper Bavaria, Bavaria region of Germany. Brauneck airport connects the city via flights from all major cities in the world. One can also avail of Franz Josef Strauss Airport at Munich, Germany to reach Lenggries. Lenggries is only 76 km from this airport.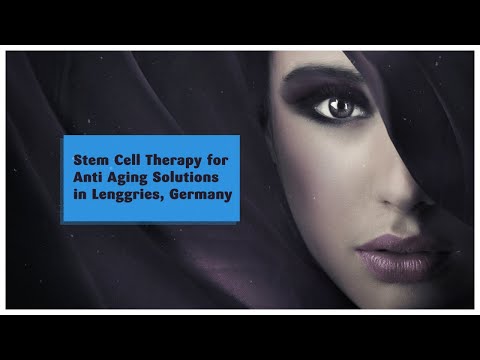 For more information on Stem Cell Therapy for Anti Aging Solutions in Lenggries, Germany, click the button below:

Related Experiences:
Anti-Aging Stem Cell Therapy in Cabo San Lucas - Regain Youthful Skin!
Guide to Stem Cell Therapy for Anti-Aging in Guadalajara
Stem Cell Therapy for Anti-Aging in Puerto Vallarta - Stay Young!
Feel Younger with Stem Cell for Anti Aging in Tijuana Mexico
Stem Cell Therapy for Anti-Aging in India: Look Younger Without Surgery
Multiple Sclerosis Stem Cells Treatment in Europe