Stem Cell Treatment for Diabetes in Lenggries, Germany
Package price starting from:
$14900
Treatment:
Stem Cell Therapy, Stem Cell Treatment for Diabetes
Focus Area:
Stem Cell Therapy for Diabetes in Lenggries Germany | Best Live Cell Based Therapy | Affordable Regenerative Medicine Treatment
---
Diabetes Regenerative Medicine Therapy Package In Lenggries Germany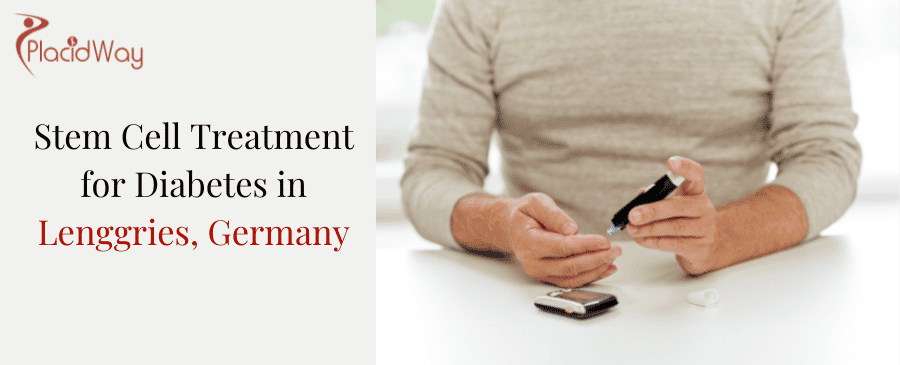 With the headway of stem cell therapy and innovations, the scientists have positive outcomes to bring down the glucose levels and accomplish total inversion of the diabetic cycle among numerous patients. Numerous specialists say that stem cell therapy is the eventual fate of diabetes treatment. Lenggries is one of the quickest developing clinical travel industry objections in Germany. Stem cell therapy for diabetes is exceptionally famous in Lenggries because of the accessibility of cutting-edge centers with the best mechanical benefits, profoundly qualified specialists, and low treatment costs in contrast with other created nations.
Reduction or abolition of insulin requirement

Long term control of blood sugar

Stabilizing carbohydrate metabolism that results in stabilizing blood sugar level and decrease of HbA1C gradually

Hypoglycemic medications may decrease gradually in case of the diet that limits animal fat and excludes carbohydrates

Conceivable anticipation of diabetes confusions (constant kidney disappointment and nephropathy, angiopathy of the little and vessels (mind, limits, heart, and so on).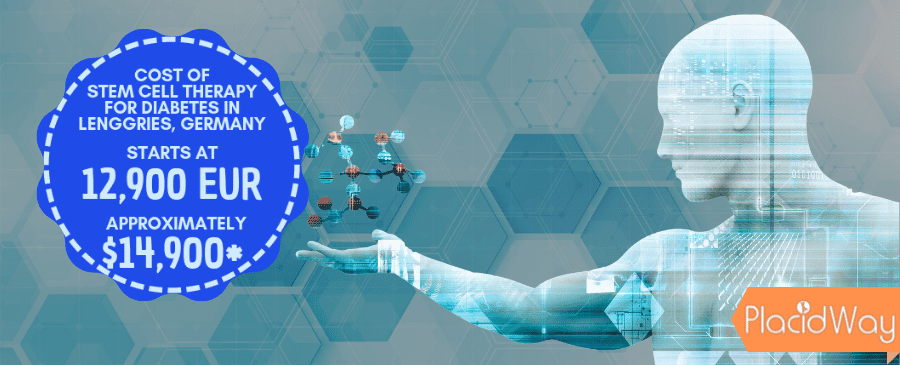 Stem cells for diabetes costs starts at 12,900 EUR, which is approximately $14,900. By getting stem cell treatment for diabetes in Lenggries, Germany you can save more than $10,000 because the cost of stem cell treatment for diabetes in America is around $25,000.
| | |
| --- | --- |
| Country | Diabetes Regenerative Medicine Cost |
| Lenggries, Germany | $14,900 |
| United States | $22,000 |
Length of Stay: 10-15 days
Not everyone can go for stem cell therapy, as the process may have some complications. Those who are obese may experience complications during the procedure. People suffering from any health issue should consult with the doctors first and only with their approval, they can opt for the procedure.
Complexity Level: High
Pre and post-operative consultations

All hospital fees with night stay.

All medical fees (doctor fees, assistant plastic surgeon, anesthesiologist, and nursing staff).

Post-surgery garment.

Consultations (pre and postoperative).
Hotel or recovery house.

Preoperative lab work.

Airfare
List of Required Pre-Op Tests for Stem Cell:
Ultrasound examination on kidney, heart, thyroid, and Prostate CT on abdomen, chest, and brain

Gastroscopy and colonoscopy

CBC and serology

Cancer markers like CEA, AFP, PSA

Urine test

Others like Hepatitis Ag/Ab test, AIDS, Electrolite, RA factor, Prolactine, ESR, EKG, etc.
Note:
The pre-op tests are subjected to the specific health conditions of the patient. All the required tests to be done at least 15 days prior to the procedure.
Payment Options: Cash, Credit card, wire transfer
Note:
The center may require a money deposit once a patient decides to book the surgery
Factors that Affect Package Price of Advance Stem Cell Therapy for Diabetes
You may find that the same provider is offering different package prices for stem cell therapy for diabetes. This happens due to relative factors such as:
Level of risk involved in the procedure

Experience of the medical team

Age of the patient

Health condition of the patient

Availability of bone marrow, etc.
The doctor at the clinic would ask for the reports of your health to analyze your present physical condition. Based on that, the doctor may consult over the phone and explain the surgery plans.
Why are stem cells not at present being utilized to treat diabetes? 
To fix type 1 diabetes, stem cell substitution should be more than just an instance of trading insulin-creating cells from a solid pancreas with those annihilated by diabetes in a diabetic patient. Various confusions block this as basic treatment.
What measure of time does it need for stem cell therapy to work? 
Most patients feel no improvement for something like 3 weeks and possibly 6 to 8 months. At the point when you feel improvement, you will see continued improvement becoming in excess of a half year.
Why is Regenerative Medicine Therapy so costly? 
The expense of regenerative medicine is to be sure costly, particularly on the grounds that the techniques are once in a while covered by medical coverage.
What number of stem cell treatments are required? 
A few conditions might react well with only one stem cell infusion, while others might require intermittent treatments for the greatest advantages. For instance, an individual looking for stem cell therapy to recuperate from a games injury might require a couple of injections in particular, while an individual with osteoarthritic harm might require a few.
Are stem cell injections hurt? 
Stem cell injections are a type of regenerative medicine that is still in the early stages of development. While there is still much to learn about the potential risks and benefits of this treatment, early studies suggest that it is generally safe and well-tolerated by most patients. Injections are usually given into the joint or area of injury, and the stem cells help to promote healing and repair damaged tissue.
In some cases, mild discomfort or soreness may occur at the injection site, but this is typically short-lived and should not last for more than a few days. If you are considering stem cell injections, be sure to consult with a qualified healthcare provider to see if this treatment is right for you.
Do insurance cover stem cell injections? 
While Insurance organizations, by and large, don't pay for stem cell treatments, they might pay for your conference with the specialist and other related costs that are brought about during the procedure does protection cover stem cell injections? 
While Insurance organizations by and large don't pay for stem cell treatments, they might pay for your meeting with the specialist and other related costs that are caused during the technique.
What would it be advisable for me to do after stem cell injection?
By and large, you should avoid mitigating drugs, rest the influenced region for one to two days, and seek prepared to start non-intrusive treatment once your primary care physician says you're prepared for it. Torment in differing levels is standard on the initial not many days after stem cell treatment.
Innsbruck Kranebitten Airport is the nearest major international airport in Lenggries, Germany. The city can also be reached via another major international airport, which is Munich Airport. 
For more details on stem cell diabetes treatment in Lenggries, Germany, click the button below:

Related Experiences:
Stem Cell Therapy for Diabetes in Germany
Stem Cell Therapy for Diabetes in Mexico City
Stem Cell Therapy for Diabetes in Guadalajara, Mexico
Stem Cell Therapy for Diabetes in Tijuana, Mexico
Stem Cell Therapy for Diabetes in India – Proven Results!
Regenerative Medicine for Diabetes in United States
---