Anti Aging Stem Cell Treatment Package by Stem Health in Guadalajara, Mexico
Package price starting from:
$4000
Treatment:
Stem Cell Therapy, Anti Aging Stem Cell Treatments
Location:
Avenida Santa Teresa de Jesus 527 Colonia Camino Real, Zapopan, Jalisco, México C.P. 45040 , Mexico
Focus Area:
Stem Health | Guadalajara | Mexico | Anti Aging Stem Cell Treatment
---
Anti Aging Regenerative Medicine in Guadalajara, Mexico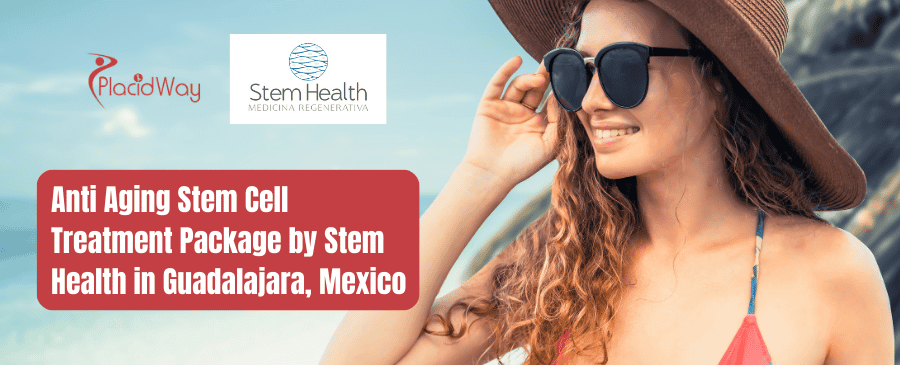 Stem Health proudly presents its Anti-Aging Stem Cell Treatment Package in Guadalajara, Mexico. Harnessing the potential of cutting-edge stem cell technology, this revolutionary package aims to rejuvenate your body and enhance your quality of life. With expert medical professionals and state-of-the-art facilities, Stem Health ensures a personalized and comprehensive experience for every patient. Embrace the journey towards a younger and healthier you with our anti-aging stem cell treatment.
You can get anti aging stem cell treatment package by Stem Health in Guadalajara, Mexico with the price starts at $4,000 - $9,000. See our price list table below for more information:
Anti-Aging treatment

Time of Procedure

Cost in USD

Initial State

Intravenous Application of 100 Million of MSC´s + 400 IU of Exosome

One Hour

$4,000

More Advanced

Intravenous Application of 200 Million of MSC´s + 400 IU of Exosome

Two Hours

$7,000

Very Advanced

Intravenous Application of 300 Million of MSC´s + 400 IU of Exosome

Three Hours

$9,000
Note: price may change and vary depends on complexity of procedures and patient conditions. Click free quote button below to learn more:

Medical Excellence: Guadalajara boasts a thriving medical ecosystem with world-class facilities and highly skilled specialists. Stem Health's collaboration with leading medical experts ensures top-notch care and advanced treatments.
Cost-Effective Solutions: Compared to many other countries, Guadalajara offers cost-effective stem cell treatments, making it an attractive destination for those seeking affordable yet exceptional anti-aging therapies.
Cutting-Edge Technology: Stem Health in Guadalajara stays at the forefront of medical innovation, leveraging cutting-edge stem cell technology to provide groundbreaking anti-aging solutions.
Stunning Location: While undergoing treatment, patients can enjoy the picturesque beauty and rich culture of Guadalajara, enhancing their healing experience.
Holistic Support: Stem Health's treatment package in Guadalajara includes comprehensive post-treatment care and assistance, ensuring a seamless recovery and overall wellness.
The anti-aging stem cell treatment offered by Stem Health in Guadalajara, Mexico, follows a comprehensive approach to combat various signs of aging. Through stem cell injections, growth factor therapy, and tailored regenerative treatments, the procedure aims to rejuvenate and revitalize patients. Each step of the process is meticulously planned and executed by a team of experienced professionals, ensuring the highest level of care and efficiency.
At Stem Health, our commitment to quality and safety is evident in our state-of-the-art facility, where the laboratory, clinic, and operating room are all conveniently located under one roof in the city of Guadalajara. For most cases, the treatment may require repetition after six months or one year, depending on the individual's specific needs. The stem cells utilized in the process are sourced from either Human Placenta or Umbilical Cord, produced and cultivated in-house. These stem cells are meticulously screened, ensuring they are fresh, natural, pure, and free of any infections, bacteria, fungus, or viruses.
Our stem cell donors are healthy young Mexican women aged between 18 to 25 years, with no history of diseases or oncogenes (cancer-free). The procedure can be conducted as an allogenic procedure using stem cells from Mexican donors or as an autologous procedure, utilizing the patient's own stem cells from fatty tissue. The latter option incurs an additional cost of 3,000 USD and necessitates a waiting period of four weeks for the stem cells' production. To boost the regenerative effects, Exosomes—powerful regeneration particles secreted by the stem cells—are also employed during the treatment.
During intra-articular and intrathecal procedures, patients receive anesthesia, and these specialized interventions take place in our dedicated operating room. The procedures are guided by medical devices such as fluoroscopy and ultrasound, ensuring precision and accuracy throughout the treatment process. With anesthesia included in the given prices, Stem Health prioritizes patient comfort and safety at every step of the Anti-Aging Stem Cell Treatment.
Personalized Consultation: Upon arrival, patients undergo a detailed evaluation by our expert medical team to determine the most suitable treatment plan.
Stem Cell Therapy: Stem cells, sourced ethically and safely, are administered to target specific areas, stimulating regeneration and rejuvenation.
Growth Factor Treatment: Growth factors are used to support the regenerative process, optimizing the treatment's effectiveness.
Post-Treatment Follow-up: Stem Health ensures continued care with regular follow-ups to monitor progress and provide any necessary support.
Accommodation and Travel Assistance: Stem Health assists in organizing accommodation and travel arrangements, ensuring a stress-free stay in Guadalajara.
Travel Costs: The package cost does not cover airfare or travel expenses to Guadalajara.
Additional Medical Services: Any non-included medical procedures or treatments outside the package will incur separate costs.
Personal Expenses: Expenses such as meals, personal shopping, or entertainment are not part of the package.
Extended Stay: In case of an extended stay beyond the treatment duration, additional accommodation costs will be borne by the patient.
Medical Complications: Any unforeseen medical complications requiring extended care may not be included in the package.
Anti Aging Stem Cell Treatment Pre-Op Tests
Blood Tests: Comprehensive blood tests are conducted to evaluate the patient's overall health and identify any underlying conditions.
Cardiac Evaluation: A cardiac assessment ensures that the patient is fit for the stem cell treatment.
Imaging Studies: Various imaging studies, such as MRI or CT scans, are performed to assess targeted treatment areas.
Medical History Review: The medical team reviews the patient's complete medical history to tailor the treatment accordingly.
Physical Examination: A thorough physical examination helps assess the patient's current health status.
At Stem Health in Guadalajara, Mexico, our team of Stem Cell Doctors is dedicated to pioneering advancements in regenerative medicine. With a wealth of experience and expertise in stem cell therapies, our doctors are committed to providing cutting-edge treatments that promote healing, rejuvenation, and improved quality of life for our patients. Equipped with state-of-the-art facilities and adhering to strict medical protocols, our Stem Cell Doctors offer personalized care and tailored treatment plans to address a wide range of health conditions. Whether it's anti-aging solutions, joint rejuvenation, or overall wellness enhancement, our compassionate and skilled Stem Cell Doctors strive to bring the transformative potential of stem cell therapies to each individual we serve.
Best Anti Aging Stem Cell Doctors in Guadalajara, Mexico
Is Anti Aging Stem Cell Treatment Right for You?
Ideal for individuals seeking effective anti-aging solutions.

Those looking for non-invasive and natural regenerative therapies.

Suitable for patients with age-related concerns like joint pain, reduced energy, and skin aging.

Not recommended for individuals with severe underlying health issues or allergies to stem cell therapies.

Those willing to invest in their well-being and embrace a holistic approach to aging gracefully.
What to Expect During the Anti Aging Stem Cell Treatment
Consultation: Patients receive a comprehensive consultation with Dr. Rodriguez, discussing their goals and medical history.
Treatment Procedure: Stem cell injections and growth factor therapy are administered in a minimally invasive procedure.
Recovery Period: Most patients experience little to no downtime and can resume daily activities soon after the treatment.
Post-Treatment Care: Follow-up appointments and aftercare instructions are provided to ensure optimal results.
1. How does Anti-Aging Stem Cell Treatment work?
Short Answer: Anti-aging stem cell treatment harnesses the regenerative properties of stem cells to promote tissue repair and rejuvenation. Stem cells are injected into targeted areas, aiding in the regeneration of damaged cells and tissues, leading to a more youthful appearance and improved overall health.
2. Is Anti-Aging Stem Cell Treatment safe?
Short Answer: Yes, the treatment is considered safe when performed by experienced medical professionals using ethically sourced stem cells. Stem Health in Guadalajara adheres to strict medical guidelines and maintains a high standard of safety in all procedures.
3. What results can I expect from the treatment?
Short Answer: Results vary depending on individual factors, but many patients experience improved skin texture, reduced joint pain, increased energy, and a general sense of vitality. It's essential to consult with the medical team to set realistic expectations based on your specific condition.
4. Are there any age restrictions for the treatment?
Short Answer: While there are no strict age limitations, the treatment is typically more effective for individuals in their mid-30s and above. It can address age-related concerns such as wrinkles, joint issues, and energy levels in older patients.
5. How long does the recovery period take?
Short Answer: The recovery period for anti-aging stem cell treatment is usually minimal. Most patients can resume their regular activities within a few days after the procedure. The medical team at Stem Health will provide post-treatment care instructions to ensure a smooth recovery process.
Ready to embrace a more youthful you? Book your consultation today at PlacidWay Medical Tourism and embark on an extraordinary anti-aging journey with Stem Health in Guadalajara, Mexico. Experience the transformative power of stem cell treatments. Click contact us button below to get started:

Related Experiences:
Guide to Stem Cell Therapy for Anti-Aging in Guadalajara
Stem Cell Therapy for Anti-Aging in Mexico City
Stem Cell Therapy for Anti-Aging in Juarez, Mexico
Anti-Aging Stem Cell Therapy in Cabo San Lucas - Regain Youthful Skin!
Feel Younger with Stem Cell for Anti Aging in Tijuana Mexico
Stem Cell Therapy for Anti-Aging in Puerto Vallarta - Stay Young!
---