Package Details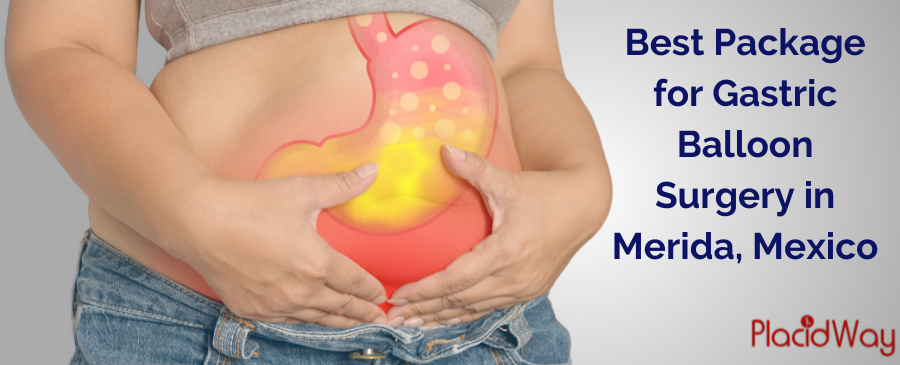 Gastric Balloon Surgery Package in Merida, Mexico
Bypass Gastrico Merida clinic provides a cheap package for Gastric balloon Surgery in Merida, Mexico. Get top treatment free quotes from top centers. Bypass Gastrico Merida is #1 leading clinic that gives the best Laparoscopy and Corpulence surgery in the Mexican City of Merida.
Definition of Gastric Balloon Treatment in Merida, Mexico
The gastric balloon Surgery, sometimes called the intragastric balloon, is a soft, silicone balloon inserted into the stomach and filled with sterile saline. This is a non-surgical procedure, done without general anesthesia. The balloon is usually left in the stomach for six months and is sometimes done as preparation for other weight-loss surgeries.
The silicone balloon will occupy about two-thirds of the stomach. After six months, the balloon will be removed because its quality will be affected by the acidic environment in which it stays. The procedure does not take more than 30 minutes, and the patient will be able to return home the next day if there are no complications.
Get Gastric Balloon Package in Merida, Mexico, at Bypass Gastrico Merida clinic with a price starting from $3,200.
Note: Price can be different or change depending on the complexity of the procedure. Please follow the Price Policy in Bypass Gastrico Merida Clinic or contact the Customer Representative.
The gastric balloon is a soft silicone balloon inserted into your stomach to give a feeling of fullness to your stomach. The gastric balloon is inserted into your mouth to reach the stomach through the passage of your esophagus. A thin and flexible tube called an endoscope is used for this insertion with a light and a camera on one end. You will be given a "light" anesthetic for this procedure for mild sedation. This is a completely painless procedure, though a bit uncomfortable. The insertion procedure takes only 10 to 15 minutes and you can go home the same very day.
The gastric balloon is deflated and removed typically after six months as there can be an increased risk of balloon deterioration and perforation. By the Gastric Balloon procedure, you can lose between 20 and 30% of your excess weight (your weight over a BMI of 25). However, this can vary in different individuals depending on individual circumstances.
Below are some advantages of selecting weight loss surgery in Merida, Mexico by Bypass Gastrico Merida Clinic:
Non-invasive procedure

Short recovery period

Safer and cheaper alternative compared to other procedures

Lower risks of complications

The patient can return to work in 1-2 days

It can help achieve long-term weight loss if exercise and diet and are added to the daily routine

Improves obesity-related conditions
The balloon

The anesthetic

The endoscopy room

The endoscopy

The medical fees

The pre and post-diet, labs and evaluation from the bariatric surgeon
IMPORTANT: Merida is 3 hours away from Cancun.
Check below for information on exclusions for Gastric Balloon Package in Merida, Mexico:
Personal expenses

Preoperative lab work

Airfare
Below are some pre op tests in Gastric Balloon Package in Merida, Mexico by Bypass Gastrico Merida Clinic:
Abdominal ultrasound

Complete blood count (CBC)

Blood urea nitrogen (BUN)

Test for cortisol, creatinine, electrolytes, prolactin, and thyroid-stimulating hormone (TSH)

Cardiac catheterization

Chest X-ray

Electrocardiogram (EKG)

Flexible sigmoidoscopy

Mammogram

Pap smear

Pelvic ultrasound

Pulmonary function tests

Persantine thallium scan

Colonoscopy

Echocardiogram
Note: The pre-op tests will be suggested after an essential physical check up. The tests are required to be done before 7-10 days of the treatment.
Payment Options: Cash, Credit Card, Wire Transfer
Note: The clinic may ask you for money deposit once you decide to receive the surgery.
Here you can find information about gastric Balloon surgeon in Merida, Mexico:
Doctor Name: Md. Jesus Nunez Hernandez
Experiences and Certifications:
Specialist Diabetes Obesity Surgery and Laparoscopic
Merida, Mexico is most ideal decision for Medical Tourism objective, as it impacts the recuperating and improvement of the patients. Merida, Mexico is considered one of the most grounded and the best clinical improvement business regions that welcome you with its amazing climatic conditions and generally standard quality. Patients can get:
Personalized attention to every patient

The most recognized and trusted hospital will do treatment

Hospital is fully equipped

Best medical facilities

Excellent amenities and comfortability of patients and companion

Affordable cost
Here you will find information about FAQ (Frequently Asked Questions) for Gastric Balloon in Merida, Mexico:
How do Stomach Balloons Help you to Lose Weight with surgery?
Endoscopically placed gastric balloon help you to achieve weight loss as it takes up space in your stomach and restricts your food intake. Thus, you eat less and gain less weight. Your excess body fat gets burnt during the process of metabolism.
How long does it take to recover from gastric balloon?
You should plan three days of inactivity to recover from the procedure. You will be able to resume regular activity sooner or later than this depending on how quickly your body adjusts to the balloon.
How long does it take to lose weight with a gastric balloon?
Gastric balloons are an alternative to bariatric surgery for people with lower body mass indexes. Most patients lose between 20 and 50 pounds over six months (about 10 to 20% of total body weight).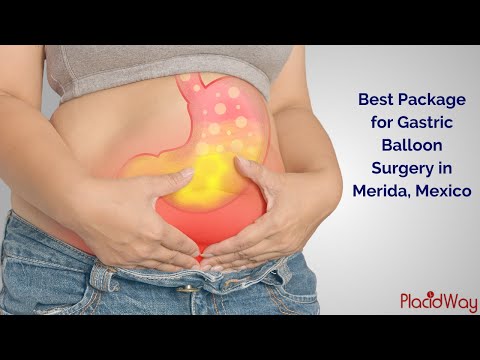 Book now gastric balloon package from #1 best clinic for Obesity Surgery in Merida, Mexico at Bypass Gastrico Merida Clinic. You will acquire top-quality Gastric Balloon at pocket-friendly expenses. Make sure to tap contact us button below to get more information or if you want to book your reservation today:
Related Experiences:
Gastric Balloon in Mexicali
Gastric Balloon in Cancun
Gastric Balloon in Mexico
Gastric Balloon in Turkey
Gastric Sleeve Surgery in Merida, Mexico - Remove Excess Fat!
Gastric Sleeve in Cancun, Mexico