Package Details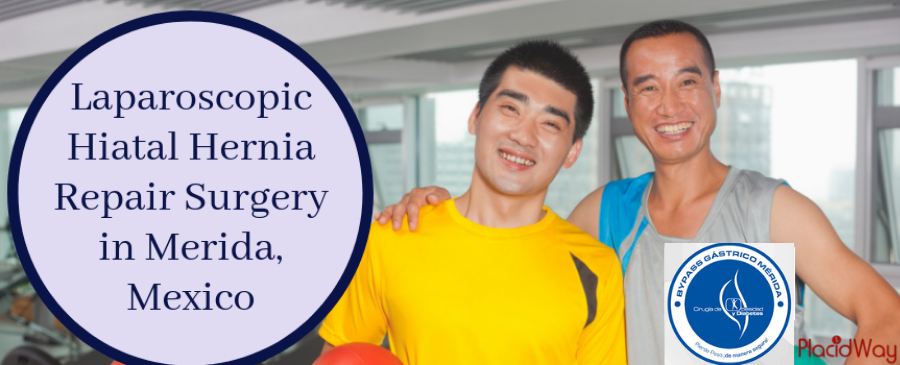 Hiatal Hernia Repair Package in Merida, Mexico
Have you ever felt chest pains or abdominal ones or nausea? You might be suffering from a form of hernia. But, do not fear! The road to a pain-free life is easy and goes through a fairly easy surgical procedure.
In layman's terms, anytime a body part migrates to an area of the body it isn't supposed to be, it's called a hernia. A hiatal hernia occurs when the stomach bulges through the opening in the diaphragm called a hiatus.
Usually, the esophagus passes through the hiatus from the chest cavity into the abdominal one and connects to the stomach. There are two types of hiatal hernia:
Sliding, and

Paraesophageal
In the sliding hiatal hernia, the stomach and the part of the esophagus that joins the stomach slide through the hiatal opening. This is the more common type of the two.
The paraesophageal hernia is less common and occurs when the esophagus and stomach remain in their place, but part of the stomach squeezes through the hiatal opening in the diaphragm. Although this type of hernia doesn't necessarily present any symptoms, the stomach can become strangulated and its blood supply can be cut off.
Hiatal Hernia Surgery Cost in Merida, Mexico
The cost of Hiatal Hernia Surgery in Merida, Mexico starts from $4,100 at Bypass Gastico Merida clinic. Whereas, the same procedure cost $7,750 in the US.
| | | |
| --- | --- | --- |
| Country | Procedure | Cost |
| Merida, Mexico | Hiatal Hernia Surgery | $4,100 |
| United States | Hiatal Hernia Surgery | $7,750 |
Note: Final prices are determined after physical evaluation and laboratory reports analysis.
Length to Stay: 0-2 days
Note: The duration may vary depending upon the condition of the patient and the chosen procedure of treatment
Hiatal Hernia Repair Package Inclusions
Medical and Hospital Fees

Surgeon Fees

Doctor consultation
Hiatal Hernia Repair Package Exclusions
Personal expenses

Airfare
Why Laparoscopic Surgery for Hiatal Hernia Repair?
Laparoscopic hiatal hernia surgery is a minimally invasive procedure. The procedure consists of making a series of small incisions through which the surgeon can see inside the patient's body and insert instruments. Some of the advantages of laparoscopic surgery are:
Reduced risk of infections

Faster recovery and

Less pain and scarring
Benefits of Hiatal Hernia Surgery in Merida, Mexico
Freedom from protrusion

Improved esophagus

Improved the opening in the diaphragm

Better treatment response

High success and satisfaction rates

Availability of best medical facilities

Experienced and skilled surgeons

Fascinating climate for quick healing
Why Get Laparoscopic Surgery for Hiatal Hernia Repair at Bypass Gastrico Merida?
Personalized attention to every patient

Treatment will be done by the most recognized and trusted hospital

Hospital is fully equipped

Best medical facilities

Excellent amenities and comfortability of patients and companion

Affordable cost
For more details on Hiatal Hernia Surgery at Bypass Gastrico Merida clinic click the button below!
Related Experiences:
Hernia Repair in Mexico – Faster Return to Work and Activity