Hair Transplantation in Antalya, Turkey
Package price starting from:
$1600
Treatment:
Hair Transplantation, Direct Hair Implantation (DHI)
Focus Area:
DHI Hair Transplant | Fue | Hairloss | Hair Restoration | Hair Loss Treatment | Antalya | Turkey
---
Best DHI Hair Transplantation in Antalya, Turkey

DHI Hair Transplantation in Antalya, Turkey
Direct Hair Implantation (DHI) is a popular variety of hair transplant treatments, which is quite in demand nowadays. The experts collect grafts from donor locations with higher hair density using micro motor and gift you with a younger look. So, don't let thinning hair and baldness bother you anymore. Get the best and most affordable DHI hair transplant package in Antalya, Turkey.
Turkey is internationally famous for hair transplant procedures. Here, we are presenting one of the best packages for DHI hair transplants in Antalya, Turkey. Read below.
DHI Hair Transplant Turkey Cost
The cost of DHI Hair Transplant in Antalya, Turkey starts from $1,600 approximately. Final prices are determined after physical evaluation and laboratory reports analysis.

Cost Comparison of DHI Hair Transplant in Antalya, Turkey
| | |
| --- | --- |
| DHI Hair Transplant | Cost in USD |
| Antalya, Turkey | $1,600 |
| United Kingdom | £4,000 ($5,500 approximately) |

What are the Stages of DHI Hair Transplant
In this stage, hairs with a width of under 1 diameter are taken out from the scalp with a specific device called "Micromotor" and gathered. No scars or cuts are experienced. 
The hairs gathered in the first stage are painstakingly placed in the pen with suitable trenches for the height of the hair strand. 
The hairs inside the pens are directly implanted in the hairless region. Trenches are opened and hairs are planted at a specific point and the profundity in the recipient region simultaneously. The relocated hair will remain perpetually and never be lost post-transplantation method.
Hair Transplant Turkey Before and After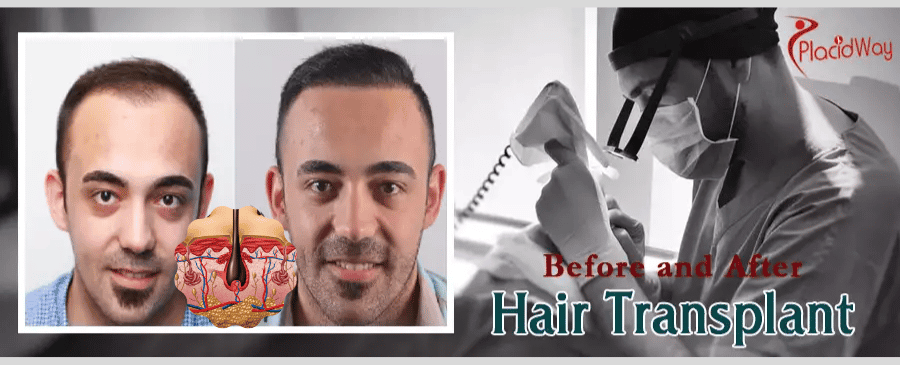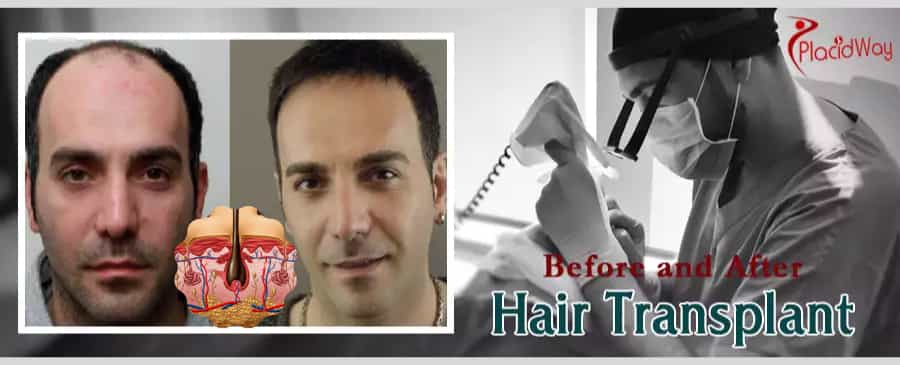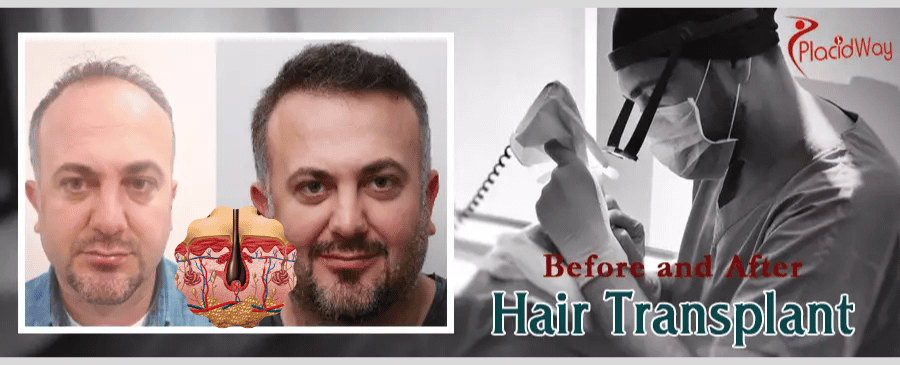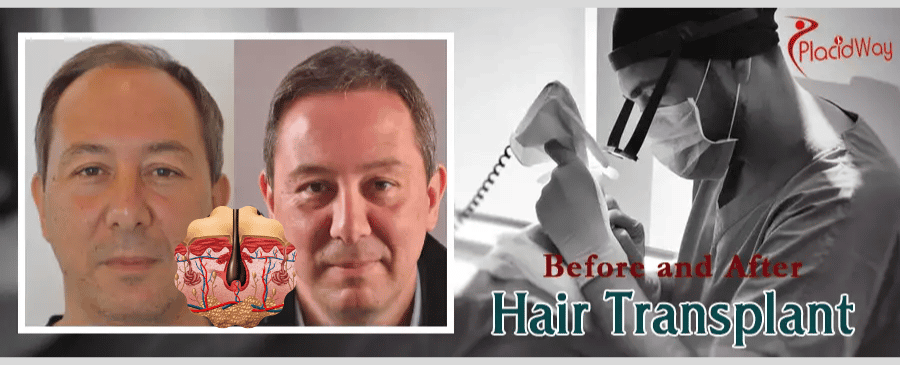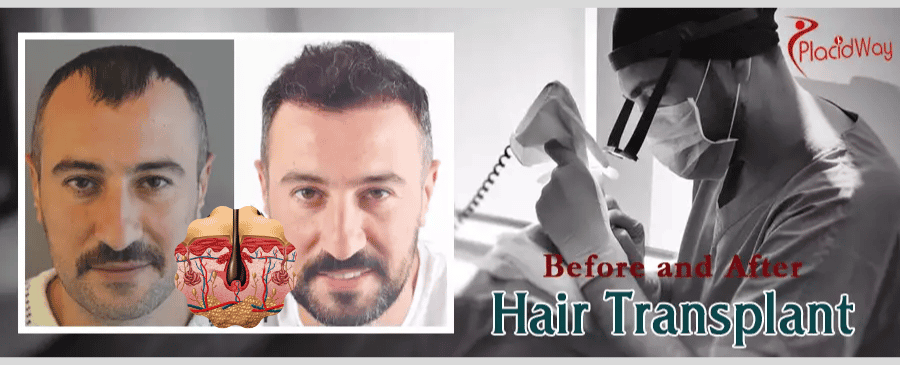 Benefits of DHI Hair Transplant in Antalya, Turkey
Natural-looking result

Fast and easy recovery

The procedure does not last long

No pain or numbness 

Transplanted hair grows fast and does not fall for the entire life

Highly skilled and qualified experts

Affordable price

The patient was given utmost priority

Personalized treatment according to patient's needs

Fascinating climate for quick healing

Qualified medical staff

Modern equipment and procedures
Length to Stay: 0-1 day
Note: The duration may vary depending upon the condition of the patient and the chosen procedure of treatment
Turkey Hair Transplant Clinics




Factors that Affect Package Price
You may find that the same provider is offering different package prices for DHI Hair Transplant in Antalya, Turkey. This happens due to relative factors such as:
Gender of the patient

Age of the patient

The infrastructure of the operation theatre

Surgeon's experience and fees

Qualification of the doctor

Number of hair grafts

Number of hair transplant session
Inclusions:
All hospital fees 

Pre and post-operative consultations

All medical fees (doctor fees, anesthesiologist, and nursing staff)

Surgery

Medicines

Shampoos

Lotions
Exclusions:
Hotel or recovery house

Preoperative lab work

Airfare
List of Required Pre-Op Tests
CBC (complete blood count)

PTT and INR (bleeding parameters)

Hepatitis B, Hepatitis C, and HIV
Note: The laboratory tests are done at least 7-10 days prior to the procedure. The particular tests are prescribed after a complete physical evaluation of the patient.
Payment Options: Cash, credit card, wire transfer
Note: The center may require a money deposit once a patient decides to book the surgery.
FAQ about DHI Hair Transplant
What amount of time does DHI require to recuperate?
It alludes to a brief hair misfortune at the site of the hair transplant. A full recuperation is quite often made in 3 to 4 months.
Is DHI hair transplant better? 
Since the DHI strategy requires more skill and experience than other hair transplant techniques, It can cost more when contrasted with other hair transplantation strategies. Nonetheless, The DHI strategy has a quicker recuperation period and can be performed with less bleeding contrasted with the FUE technique.
Does the donor's hair develop back after DHI? 
The giver hair might not develop back for certain individuals who have gone through hair transplantation. Be that as it may, presently innovation has been created to advance hair regrowth along the benefactor region.
Do all transplanted hair grafts develop? 
Somewhere in the range of 10 to 80 percent of the transplanted hair will completely develop back in an estimated three to four months. Like standard hair, the transplanted hair will thin over the long run.
How long until grafts are secure? 
It requires approximately 14 days for recently implanted grafts to become secure after a hair transplant. This is important to know as it influences your hair transplant aftercare and recuperation, your re-visitation of work, and your lifestyle.
Does DHI hair transplant hurt? 
The recuperation from a FUE hair transplant is typically less painful. With regards to DHI or DHI expert, you'll most likely experience less pain than the FUE interaction. Pain resistance varies from one individual to another, however your prosperity is one of our key concerns.
Does transplanted hair thin after some time? 
The main benefit of a hair transplant is that it is a super durable technique. Indeed. ... The transplanted hair may likewise thin over the long run, very much like ordinary hair. You will require a surgical "clean up" after the transplant method to make more regular looking outcomes
How to Get There
It is easy to get to Antalya, Turkey, as the city is well connected with the rest of the world.  It connects Antalya International Airport with all major cities across the world.
For more information on DHI Hair Transplant in Antalya, Turkey, click the button below:


Related Experiences:
Reasons to Choose Hair Transplant in Istanbul - Turkey
Hair Transplant in Turkey
FUE Hair Transplant in Turkey - Regain Natural-Looking Hair!
Hair Transplant in India
The Guide to Choosing Hair Transplant in Mexico
Hair Transplant in South Korea
---