Package Details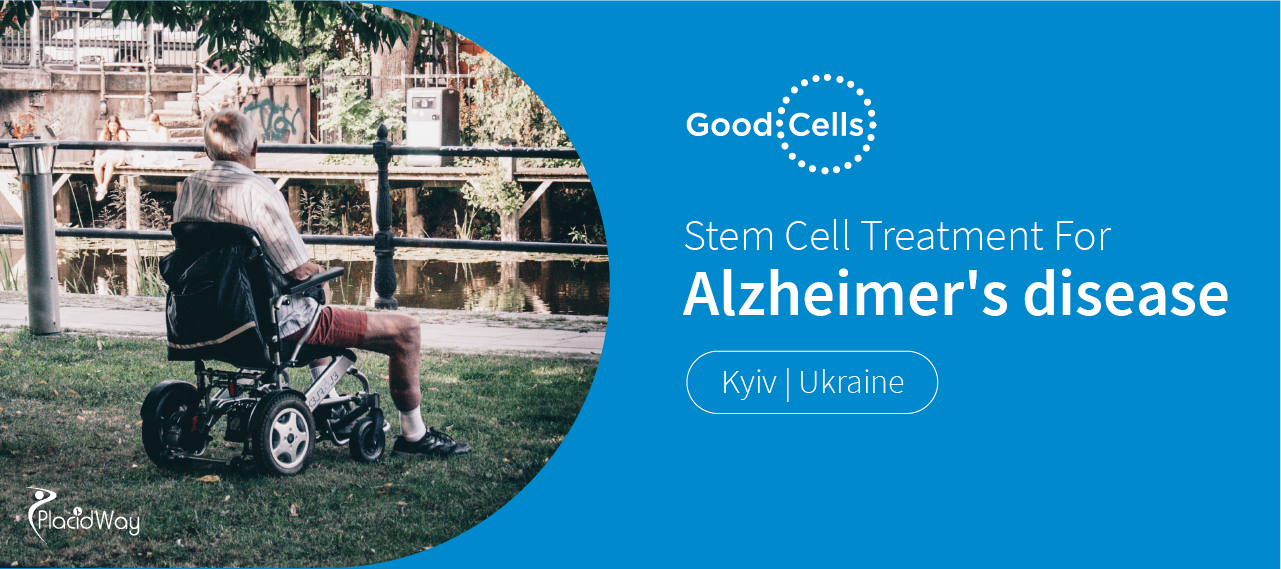 Stem Cell Therapy for Alzheimer's disease, dementia, encephalopathy in Kyiv, Ukraine by Good Cells
Alzheimer's disease, dementia, and encephalopathy have a lot in common and thus can be treated using the same protocol.
Alzheimer's disease falls into the dementia family and accounts for about 70% of all dementias. It is associated with the accumulation of pathological protein deposited between neurons, destroying the connections between them and disrupting the brain's normal functioning. As a result, a person begins to lose memory, correct meaningful understanding of the environment, and sense human social ties.
As for the treatment effectiveness, we are talking primarily about the slow-down of the disease progression. For some time, it can stabilize the patient's condition, improve memory and communication skills. Still, it largely depends on the stage of the disease.
If we refer to neurodegenerative diseases, the GOOD CELLS team proposes neural crest-derived multipotent stem cells. If the basis of dementia or encephalopathy is inflammation (e.g., amyloid angiopathy) or autoimmune component, mesenchymal stem cells from adipose tissue or umbilical cord could be prescribed. Moreover, MSCs can be used with tumor necrosis factor, anti-inflammatory cytokines to produce a special sensitization of this cellular material to the pathological inflammatory process.
For whom is this treatment?
Indications:
This treatment is indicated for patients over 18 y.o. diagnosed with Alzheimer's disease, dementia, or encephalopathy.
Contraindications:
cancer, or its history in the last 5 year;

pregnancy;

mental disorder;

alcohol and drug addiction.
How does it work?
The main task of stem cells is to form new connections between neurons instead of those that have been destroyed, to slow down the processes of neuronal death that constantly occur in patients with Alzheimer's disease, to form support cells that will improve the trophic of main neurons essential for cognitive abilities, memory, form the structure of thinking.
Thus, it is possible to stabilize the patient's condition and delay the development of the disease.
How Much Does Stem Cell Therapy Cost for Alzheimer's disease, dementia, encephalopathy?
The price of the program starts from $5,000, and it includes:
 
Stem cell products for the treatment

Consultation of a doctor-coordinator of stem cell program;

Consultation of profile specialists;

Ultrasound scanning;

Blood and urine medical tests;

Other medical tests recommended by the doctor (if necessary);

Follow up after the treatment.
Why Choose Good Cells for Stem Cell Treatment in Kyiv, Ukraine?
More than 10 years of Stem-Cell Therapy

Only scientifically proven methods

High success rate

Highly qualified team

Transparent relationship with the client

Exceptional quality of stem cells

High-level personalized service
 
To learn more about the package, click the button below:
Related Experiences:
Multiple Sclerosis Stem Cells Treatment in Europe
Cerebral Palsy Stem Cell Therapy in Austria
Stem Cell Treatment for Cerebral Palsy in Germany, Europe
Stem Cell Therapy for Knee in Mexico - Choose Knee Treatment Mexico
Stem Cell Treatment for Hip in Mexico - Choose Hip Pain Relief Therapy
Explore Effective Stem Cell Therapy for Autism in Austria