Gastelum Exclusive Facelift Surgery Package in Tijuana, Mexico
Package price starting from:
$6000
Treatment:
Cosmetic/Plastic Surgery, Face Lift
Location:
Tijuana, Mexico, Mexico
Focus Area:
Gastelum Cosmetic Surgery | Tijuana | Mexico | Face Lift Surgery
---
Low-Cost Face Lift Surgery in Tijuana, Mexico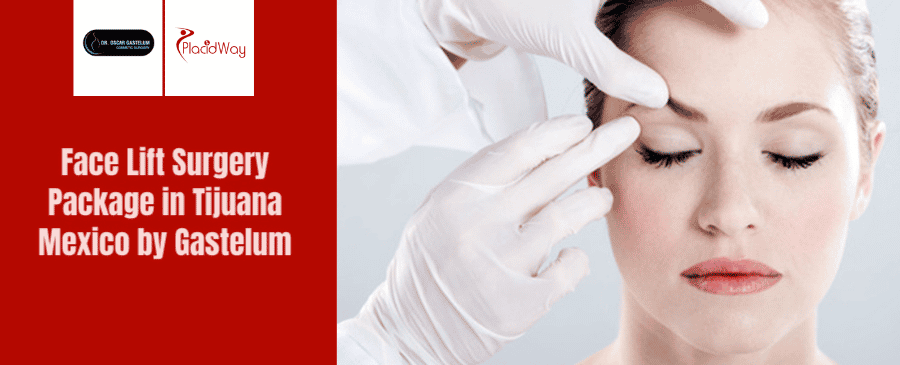 Gastelum Cosmetic Surgery in Tijuana, Mexico is dedicated to providing the highest quality face lift surgery performed by Dr. Oscar Leal Gastelum, a certified cosmetic surgeon. Our aim is to help you achieve your desired body and facial transformation. We take pride in offering the best cosmetic and plastic surgery procedures, utilizing safe and cutting-edge technology. Check our packages detail below to learn more.
You can now book for Face Lift Surgery Package in Tijuana Mexico by Gastelum, costing only $6,000.
| | |
| --- | --- |
| Location | Cost in USD |
| Mexico City, Mexico | $6,000 |
| | |
| Canada | $13,500 |
Note: You may find that the cost can be different and vary due to complexity of procedures or other external factors. For more information about price policy, you can consult with provider directly.

Facelift surgery, also known as rhytidectomy, is a cosmetic procedure aimed at rejuvenating and restoring a more youthful appearance to the face and neck. It involves tightening the underlying facial muscles, removing excess skin, and repositioning the remaining tissues to reduce sagging, wrinkles, and other signs of aging. By addressing loose skin and restoring facial contours, facelift surgery can help improve the overall tone and tightness of the face, resulting in a smoother, more refreshed look. The procedure is typically performed by a skilled plastic surgeon and can provide long-lasting results, enhancing self-confidence and restoring a more youthful appearance.
Here are several advantages that you can find from Face Lift Surgery Package in Tijuana Mexico by Gastelum:
Reduced risk of complications

Less scarring

Smaller incisions and alterations

Reduced recovery time
Factors that Affect Package Price
Check below several factors that may affect the price of Face Lift Surgery Package in Tijuana Mexico by Gastelum:
The result of pre-op tests

Medical conditions

Post-Operative Care

Experience of the Surgeon

Age
Here is information about inclusions you can find through Face Lift Surgery Package in Tijuana Mexico by Gastelum:
All related surgical cost: surgeons, anesthesia, equipment, hospital stay, nursing care.

X-Rays, Laboratory works,

Pre-surgical Evaluation

Post-surgical medication and follow-up

Medical attention and security 24/7

Surgery in Hospital De Los Archangeles
You can find below information regarding exclusions of Face Lift Surgery Package in Tijuana Mexico by Gastelum:
Airfare

Transportation to and from San Diego Airport $160

Recovery stays at Grand Hotel Tijuana - $116 per day

Nursing care at Hotel is $30 extra

Medical Garments $100

Cardiologist $80
You can check below list of required pre op test for Face Lift Surgery Package in Tijuana Mexico by Gastelum:
ECG

Blood count

Chest X-ray

Psychological assessment
Things to Know about Face Lift Surgery Package in Tijuana Mexico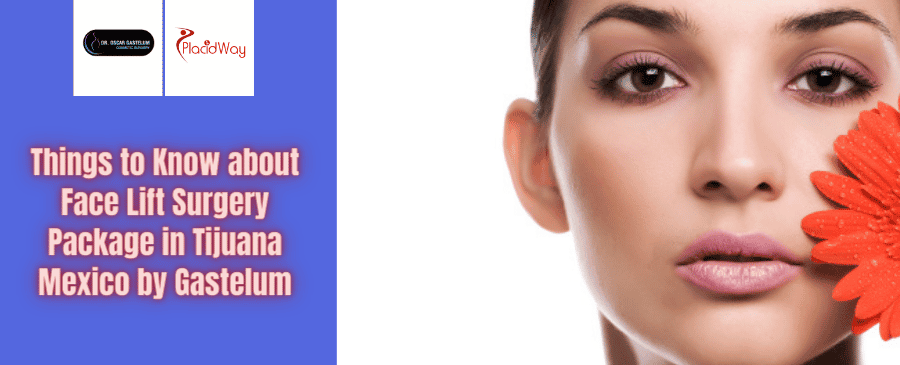 When considering the Face Lift Surgery Package in Tijuana, Mexico by Gastelum, it's important to keep the following information in mind:
Payment Options: We offer convenient payment options, including PayPal/Credit Card or bank transfer.
Video Consultation: If you are interested in the package, we can arrange a Video Consultation to address any questions you may have about the procedure and introduce you to Dr. Oscar Gastelum through an online meeting.
Consultation Availability: Consultations are available from Monday to Thursday, between 4:30 pm and 6:00 pm Tijuana Time.
Flexible Booking Policy: For all bookings made through PlacidWay between June 1, 2021, and December 31, 2021, you have the flexibility to reschedule or cancel your appointment with a full refund (minus any bank transaction charges) if done within 2 weeks of the scheduled procedure date.
Deposit Requirement: To secure your surgery spot, a 15% deposit is required, which will be applied towards the final cost of your treatment.
We aim to provide transparency and convenience throughout your journey, ensuring a smooth experience with Gastelum Cosmetic Surgery in Tijuana, Mexico.
Tijuana, known for its advanced medical facilities and experienced professionals, boasts some of the best facelift surgeons. If you're considering a facelift in Tijuana, here are top board-certified experts you should consider:
1. Dr. Gastelum:
Experience: With over a decade of performing facelifts, Dr. Gastelum has honed his skills to offer patients exceptional results, maintaining a natural look.
Specialization: Apart from facelifts, his expertise includes rhinoplasty, blepharoplasty, and neck lift procedures. His commitment to continuous education ensures he is always updated with the latest techniques.

Board Certified Cosmetic Surgeon in Tijuana, Mexico.
Surgeon Clinica Leal
CEO of Comercializadora Oceptis Sa de CV from 2010 - present in Tijuana Mexico
CEO of Administradora Leal SA de CV from 2010- present in Tijuana Mexico
Professional Aesthetic Plastic Surgeon at Medica Gastelum Sa de CV from 2000 - present in Tijuana Mexico.
Tijuana is a safe destination for solo travelers or families. By staying indoors during late hours and trusting your instincts, you can have a wonderful time exploring the city. Tijuana is also renowned for medical tourism, attracting visitors seeking various healthcare services. If you choose to travel by plane, Tijuana International Airport (TIJ) is conveniently located only six miles from the downtown area.
Alternatively, you can drive from San Diego to Tijuana via I-5 or I-805. There are two entry points into Tijuana: the San Ysidro border crossing and the Otay Mesa crossing. Opting for the Otay Mesa crossing is recommended as it tends to be faster, considering that the San Ysidro entry point is one of the busiest borders in the world. To travel back and forth between Tijuana and San Diego, you can easily take buses departing from the Central de Autobuses de Tijuana.
Here is some important information addressing frequently asked questions about the Face Lift Surgery Package in Tijuana, Mexico by Gastelum:
Why do many people choose face lift surgery?
Face lift surgery is a popular choice for individuals seeking a more youthful and aesthetically pleasing appearance. It focuses on addressing signs of aging in the lower part of the face. This procedure is suitable for those who are beginning to notice early signs of aging, as well as those with significant wrinkles and sagging in the face.
What can people expect from a face lift?
A face lift surgery can enhance facial contours in different ways. Opting for a mid facelift can result in a smoother appearance of the cheeks and lower eyelids. On the other hand, a lower facelift can improve the overall shape of the face, eliminating sagging cheeks and refining the neck area.
What is the ideal age for a facelift?
The ideal age for a facelift varies depending on each individual's unique circumstances and facial characteristics. While individuals in their mid-40s often achieve optimal results, those in their 40s, 50s, and 60s are generally considered good candidates for facelift surgery.
How long do face lifts last?
A face lift can provide a more youthful appearance to the face and neck. However, it's important to note that face-lift results are not permanent. Over time, natural aging processes may cause the facial skin to sag again. On average, the results of a face lift can be expected to last around 10 years.
Take the first step towards your desired look by reserving the Face Lift Surgery Package in Tijuana, Mexico by Gastelum at an unbeatable price. Rest assured that you will receive top-notch treatment from a highly skilled and experienced surgeon. Don't wait any longer, simply click the button below to initiate your consultation process:

Related Experiences:
Facelift in Tijuana, Mexico
Facelift in Guadalajara, Mexico
Facelift in Mexico City, Mexico
Facelift Surgery in Mexicali, Mexico
Facelift in Mexico - Restore Your Youthful Look
Facelift in Merida, Mexico
---