Package Details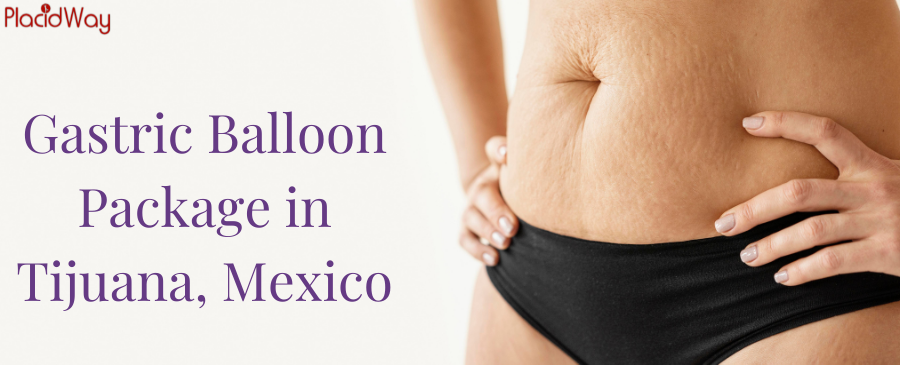 Effective WLS Package for Gastric Balloon in Tijuana, Mexico
Gastelum Cosmetic Surgery offers an all-inclusive package for Gastric Balloon in Tijuana, Mexico. Get high-quality WLS in Tijuana today at PlacidWay.
Gastric Balloon is an appropriate solution for patients who want to lose weight but can't do that with other methods. Gastric balloon is also called the intragastric balloon and is very popular among people with an obesity problem.
Gastelum Cosmetic Surgery is one of the best plastic surgery practices in Mexico. The clinic attracts thousands of American and Canadian patients each year.
Advantages of Gastelum Cosmetic Surgery:
High-success rate of Gastric Balloon surgery

English-speaking medical team

Experienced plastic surgeons

Affordable weight loss surgery

The latest technology used in a bariatric surgeries
What is Gastric Balloon Surgery

Procedure

?
Gastric Balloon is a weight-loss procedure that involves placing a saline-filled silicone balloon in your stomach. This helps you lose weight by limiting how much you can eat and making you feel fuller faster.
There are two types of gastric balloons:
Single balloon – for patients who are not morbidly obese, but want to lose 30 – 45 pounds in order to kick-start their weight loss process.

Dual-balloon – encourages greater weight loss and is usually used in morbidly obese patients
Gastric Balloon Cost in Tijuana by Gastelum Cosmetic Surgery
The cost of a Gastric Balloon in Tijuana is only $4,500. While in the US and Canada you would have to pay over $8,000 for the same quality of the procedure.
Take a look at our cost comparison table below to check the prices.
| | | |
| --- | --- | --- |
| | | |
| | Gastric Balloon | |
| | Gastric Balloon | |
| | Gastric Balloon | |
Note: For more information about the final price, make sure to contact the clinic directly. The price may vary depending on your condition and the complexity of the surgery.
Advantages of Gastric Balloon in Tijuana, Mexico by Gastelum Cosmetic Surgery
Lose weight with the non-surgical method

Resolve conditions related to obesity

Improve your overall health

Feel more confident

Long-term positive results
Gastric Balloon Package Inclusions
All related surgical costs: surgeons, anesthesia, equipment, hospital stay, and nursing care.

X-Rays Laboratory works

Pre-surgical Evaluation

Post-surgical medication and follow-up

Medical attention and security 24/7

1 night stay in Hospital De Los Archangeles
Gastric Balloon Package Exclusions
Payment Options: Cash and Credit Cards.
Best Bariatric Surgeons in Tijuana at Gastelum Cosmetic Surgery
Dr. Óscar Leal Gastelum is a board-certified bariatric surgeon with a long history of experience. His other credentials include
Specialist in Cosmetic and Bariatric Surgery

Experience: 10+ years

Fluent in English
Why Choose Gastric Balloon in Tijuana, Mexico?
Tijuana is a border town located on the Pacific Coast in Baja California. It offers many advantages to international patients as well as interesting places for tourists.
Here are some things you can do in Tijuana besides having Gastric Balloon procedure:
Tijuana Cultural Center – Explore Culture and Arts of Mexico.
Avenida Revolucion – Spend your time in one of the numerous cafes, restaurants, or enjoy outdoor performances.
Mercado El Popo – Buy some fresh products from locals such as cheese, sweets, cosmetics, fruits, and herbs.
FAQs about Gastric Balloon in Tijuana
What should I expect after the Gastric Balloon procedure?
Your surgeon will let you know what to expect after the gastric balloon procedure. You'll probably be able to start eating regular food around three weeks after the insertion of the gastric balloon.
You also must take care of your diet and meet your nutritionist and psychologist, frequently after your procedure.
       What are the side effects of Gastric Balloon?
The most common side effects of the gastric balloon are pain and nausea. However, these symptoms usually only last for a few days after the surgery. A doctor will prescribe effective medications you can use at home.
Am I a good candidate for Gastric Balloon?
The gastric balloon isn't the right choice for everyone who is overweight. Your doctor will let you know if the procedure might be beneficial for you after the examination. You can be a good candidate for Gastric Balloon if
Your body mass index (BMI) is between 30 and 40

You're willing to commit to healthy lifestyle changes

You have not had any previous stomach surgery
What is the recovery process like?
The recovery process from Gastric Balloon depends on the complexity of the surgery, your aftercare, and your overall health. Usually, the recovery period takes up to 6 weeks and consists of resting and avoiding strenuous activities.
However, every person is different and you should consult your doctor about this.
Book Now Affordable Gastric Balloon Package in Tijuana, Mexico!
Gastric Balloon is the right choice for patients with an obesity problem. At Gastelum Cosmetic Surgery, you will get an all-inclusive package for Gastric Balloon in Tijuana. Contact us now for more information!
Related Experiences:
Gastric Balloon in Cancun
Gastric Balloon in Mexicali
Gastric Balloon in Mexico
Gastric Balloon in Turkey
Gastric Sleeve Surgery in Tijuana Mexico - Improve Your Quality of Life
Achieve Long-Term Weight Loss with Gastric Bypass in Tijuana