Buttock Augmentation in Antalya by Yasam Hospitals Group
Package price starting from:
$4510
Treatment:
Cosmetic/Plastic Surgery, Buttock Enlargement
Location:
Sirinyali Mahallesi 1487. Sokak No:4 Muratpasa Antalya, Turkey, Turkey
Focus Area:
Buttock Augmentation | Buttock Enlargement | Butt Implants | Plastic Surgery | Yasam Hospitals Group | Antalya | Turkey
---
Affordable Package for Buttock Enlargement in Antalya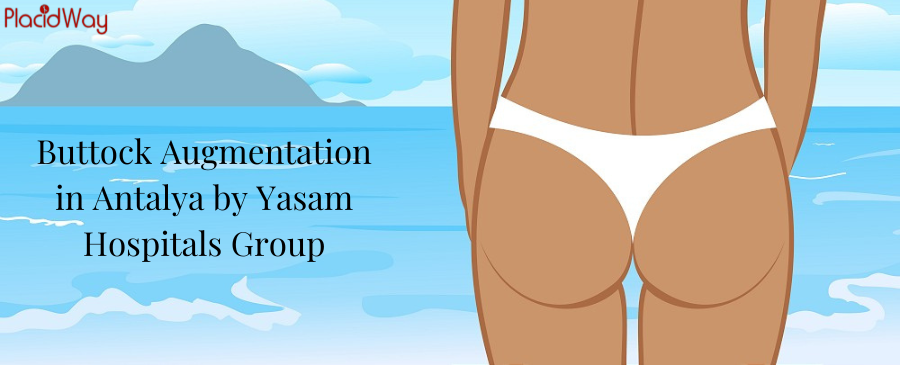 Buttock Augmentation Package in Antalya, Turkey
Improve your butt shape and size, enhance your buttocks with effective butt augmentation in Antalya, Turkey. Feel confident within your body after getting butt enlargement in a top-rated plastic surgery clinic in Antalya. Explore this beautiful Mediterranean city and save up to 60% compared to US and UK prices.
Yasam Hospitals Group is Antalya's best cosmetic surgery clinic, providing effective plastic surgery to international patients. It has modern facilities and comfortable rooms for your pleasant stay.
What is Buttock Augmentation Procedure?
Buttock enlargement is a popular cosmetic treatment for women who feel their behind is too flat or does not have enough of a lift. Since the buttock has become a more prominent attribute among women, and as a result, more individuals are looking to feel better in their clothing. A buttock enlargement enhances the look of the buttock area and offers it a better shape.
Butt implants in Antalya, Turkey cost only $4,510. The exact procedure quality costs over $7,500 in the USA and the UK.
| | | |
| --- | --- | --- |
| Country | Procedure | Cost |
|  Antalya, Turkey | Buttock Enlargement | $4.510 |
| United States | Buttock Enlargement | $9,000 |
| United Kingdom | Buttock Enlargement | $7,500 |
Note: For more information about the final price, contact the clinic directly. The price may vary depending on your condition and the complexity of the surgery. 

Advantages of Buttock Enlargement
Enhances the lower body curves

Boost confidence

More youthful and aesthetically pleasing shaped buttocks

Enhance the overall proportions of the body

Enhanced appearance
Buttock Augmentation Package Inclusions
Medical expenses

1 Day hospital stay

Pre-op and post-op consultations
Buttock Augmentation Package Exclusions
Payment Options: Cash, credit card, wire transfer
Note: The center may require a money deposit once a patient decides to receive the treatment from the clinic.
Yasam Hospital has some of the best plastic surgeons in Turkey. They have diplomas from prestigious schools and speak English fluently. 
Here are the best plastic surgeons at Yasam Hospitals Group:
Op. Dr. Hıdır ÖZER

Op. Dr. Cem AYKENT

Op. Dr. Mesut KILIÇ

Op. Dr. Kazım HANÇER

Prof. Dr. Hasan Şenol COŞKUN
Antalya has a warm Mediterranean climate, beautiful architecture, and long sandy beaches that will enchant you. Along with getting a new buttock look, you will also spend a wonderful vacation in this hot tourist spot in Turkey.
Here are the places you can see in Antalya:
Marina of the old town Kaleici
Yivli Minaret and tea garden of old town Kaleici
Stunning Antalya beaches
What to expect after a butt implant procedure?
Your plastic surgeon will give you detailed instructions for care and recovery. You may need to avoid putting direct pressure on your butt; take an antibiotic and a stool softener. Also you will have to wear compression garments and use surgical drains.
Antalya is a very safe city for cosmetic procedures such as butt implants. The clinic in Antalya uses modern technology to provide quality plastic surgery. Every year. thousands of American and British patients visit this Mediterranean town for affordable cosmetic procedures with positive results. 
Highly skilled plastic surgeons in Antalya at Yasam Hospitals Group are committed to their patient's well-being. They offer a low-cost butt implants package to help you improve your aesthetics. Contact us for more information:

Related Experiences:
Buttock Augmentation in Turkey
Buttock Enlargement in Dominican Republic
Liposuction in Antalya
Breast Lift in Antalya Turkey
Breast Reduction in Antalya Turkey
Rhinoplasty in Antalya Turkey
---
Cosmetic/Plastic-Surgery Related Packages
Cosmetic/Plastic-Surgery Related Experiences