Yasam Hospitals Group
General Surgery in Yasam Hospital in Antalya, Turkey
Sirinyali Mahallesi 1487. Sokak No:4 Muratpasa Antalya, Turkey, Antalya, Turkey

Specialty:

Cancer Treatment, Cosmetic/Plastic Surgery, Eye/Lasik Care, General Surgery, Heart Care/Surgery, Obesity/Bariatric Surgery

Focus Area:

Best General Surgery Clinic | Affordable General Surgery Hospitals | General Surgery Center Turkey | Cheap General Surgery Center | Affordable General Surgery Doctors | Best General Surgery Surgeons | General Surgery Cost | General Surgery Review | Top General Surgery Hospitals | Antalya | Turkey | Yasam Hospitals Group
Yasam Hospitals Group Profile Overview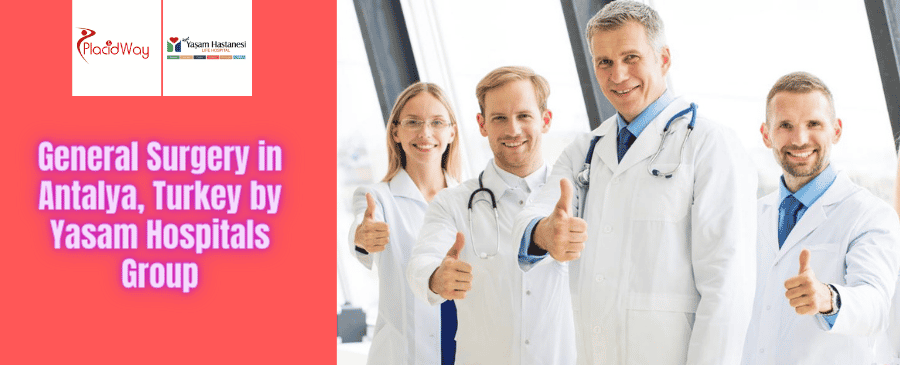 Yasam Hospitals Group provides best General Surgery in Antalya, Turkey. Book online now Cosmetic Surgery, Heart Care Surgery, and Bariatric Surgery at Yaşam Hospitals Group. Our journey started with Kemer Yaşam Hospital in 1996 with the philosophy of "People First", continued with our Antalya, Opera, ASV, Alanya and Manavgat Yaşam Hospitals. In this process that we have completed our 25th year in healtf sector.
All the investments and studies we have made are the natural result of the importance we attach to human health and life with the principle of "Health for All". We strive to achieve the best results with our expert and friendly staff by using the latest technologies produced in the world.
In order to maintain our high level of patient satisfaction with our world-class diagnosis and treatment Medical Centers, we provide 24/7 service with our experienced staff, advanced infrastructure and equipment. We love our job. We value human life by reflecting love to our work and we continue to grow in this direction. We wish you a healthy life.
Here you can find some advantages of using undergoing General Surgery in Antalya, Turkey by Yaşam Hospitals Group:
Prioritizing patient satisfaction.

World-Class Diagnosis and Treatment Units.

Responsive Customer Support 24/7.

Experienced medical staff, nurses, doctors, and surgeons.

Advanced infrastructure and equipment
Check below for more information about list of treatments at General Surgery in Antalya, Turkey by Yaşam Hospitals Group:
Bariatric Surgery incorporates an assortment of systems performed on individuals who had obesity.
Cancer Treatment is the utilization of medical procedure, radiation, meds and different treatments to fix a cancer.
Cosmetic Surgery is the place where an individual decides to have an activity, or intrusive operation, to change their actual appearance for corrective rather than clinical reasons.
Eye/Lasik Care alluded to as laser eye a medical procedure or laser vision amendment, is a sort of refractive medical procedure for the revision of nearsightedness, hyperopia, and astigmatism.
Gynecology Treatments solution related to female organs and manages and fertility treatments.
Cardiac Surgery, or cardiovascular medical procedure, is a medical procedure on the heart or incredible vessels performed via cardiovascular specialists.
Check-Up is a physical examination, clinical assessment, or clinical assessment, a clinical specialist analyzes a patient for any conceivable clinical signs or side effects of an ailment.
General Surgery in Antalya, Turkey by Yaşam Hospitals Group will provide you with the best services at affordable prices. Be sure to get the latest information about Medical Pricings and the latest procedures that you can get by contacting the Customer Representative here:

Here you can find list of General Surgeon in Antalya, Turkey by Yaşam Hospitals Group that can provide you with best service you need:
Op. Dr. Hıdır ÖZER

Op. Dr. Cem AYKENT

Op. Dr. Mesut KILIÇ

Op. Dr. Kazım HANÇER

Prof. Dr. Hasan Şenol COŞKUN
General Surgery in Antalya, Turkey by Yaşam Hospitals Group is ready to welcome local and foreign patients who want to get the best medical services. Start your consultation now and enjoy quality medical services from a certified and experienced top surgeon at Yasam Hospitals. Click the button below to start your consultation, inquire for latest Medical Packages and get more info:

---
---