ADATIP Hospital Gastric Sleeve Packages in Istanbul, Turkey
Package price starting from:
$4200
Treatment:
Obesity/Bariatric Surgery, Sleeve Gastrectomy
Location:
Istiklal Mah. Sehit Mehmet Karabasoglu Cad. No:67/A Serdivan – Sakarya, Turkey, Turkey
Focus Area:
ADATIP Hospital | Istanbul | Turkey | Sleeve Gastrectomy
---
Sleeve Gastrectomy in Istanbul & Sakarya, Turkey by ADATIP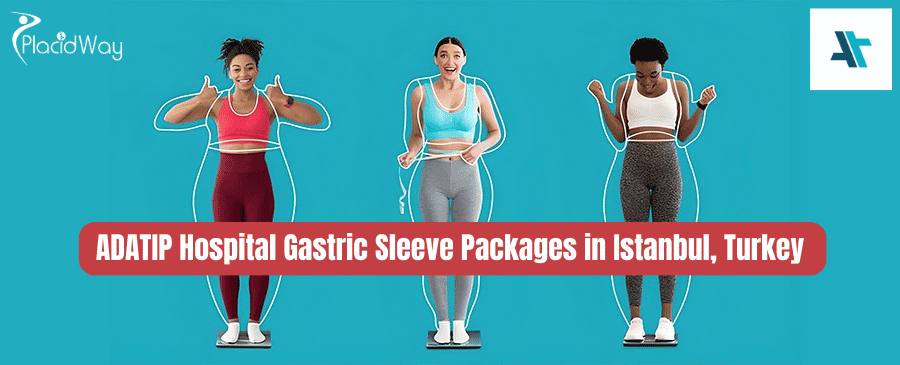 Gastric sleeve surgery, also known as sleeve gastrectomy, has become a popular weight loss solution for individuals struggling with obesity. Istanbul and Sakarya, Turkey, known for its advanced medical facilities and experienced healthcare professionals, offers excellent gastric sleeve surgery packages.
ADATIP Hospital, a leading medical center in Sakarya, provides comprehensive treatment options for individuals seeking long-term weight loss solutions. With their state-of-the-art facilities and skilled medical staff, ADATIP Hospital ensures that patients receive top-quality care throughout their weight loss journe
You can get gastric sleeve surgery packages in Istanbul, Turkey by ADATIP Hospital with the price starts at $4,200. Check our price list table below for more information:
| | |
| --- | --- |
| Location | Cost in USD |
| Istanbul, Turkey | $4,200 |
| United States | $16,750 |
| United Kingdom | $10,316 |
Note: Price may change and vary depending on the complexity of procedures and patient conditions. Click the FREE QUOTE button below to learn more:

Learn More about Sleeve Gastrectomy
Sleeve gastrectomy, a prominent surgical procedure for weight loss, involves the removal of a significant portion of the stomach to create a smaller, sleeve-shaped organ. This reduction in stomach size not only limits the amount of food it can hold but also results in hormonal changes that contribute to reduced appetite and enhanced feelings of fullness. As a result, individuals who undergo sleeve gastrectomy typically experience substantial weight loss over time.
This procedure is often recommended for individuals with obesity, as well as those who may have obesity-related health conditions. With its proven effectiveness and minimally invasive approach, sleeve gastrectomy has gained recognition as a powerful tool in the pursuit of long-term weight management and improved health.
Affordable Treatment: Istanbul, Turkey, is renowned for its affordable healthcare services, making it an attractive destination for medical tourists seeking cost-effective treatment options. ADATIP Hospital offers gastric sleeve surgery packages at competitive prices without compromising on the quality of care.
World-Class Medical Facilities: Istanbul gastric sleeve boasts modern and well-equipped hospitals that adhere to international standards. ADATIP Hospital is equipped with advanced technology and cutting-edge infrastructure, ensuring the highest level of patient safety and comfort during gastric sleeve surgery.
Experienced Surgeons: The city is home to highly skilled and experienced surgeons specializing in bariatric procedures. ADATIP Hospital's team of surgeons is well-versed in the latest techniques and approaches for gastric sleeve surgery, ensuring optimal results for patients.
Cultural Richness and Hospitality: Istanbul offers a unique blend of rich history, vibrant culture, and warm hospitality. Patients can explore the city's iconic landmarks, indulge in culinary delights, and experience Turkish hospitality while undergoing their weight loss journey.
Convenient Travel and Stay: Istanbul is well-connected to major international airports, making it easily accessible for medical tourists. Additionally, the city offers a wide range of accommodation options to suit different budgets and preferences, ensuring a comfortable and hassle-free stay for patients and their companions.
Doctor Consultation

Routine tests required before surgery

2 Days Hospitalization 

2 Days Hotel Accommodation (2 Persons) 5Star

Transfer Service 

Translator Services 

Total 4 days stay in Turkey
Travel Expenses: The gastric sleeve surgery packages offered by ADATIP Hospital do not cover travel expenses such as flights and transportation within Istanbul.
Accommodation: While ADATIP Hospital assists patients in finding suitable accommodation, the package does not include the cost of lodging during the treatment period.
Additional Medical Services: Any additional medical services or treatments not directly related to the gastric sleeve surgery procedure are not included in the package and may incur separate charges.
Personal Expenses: Patients are responsible for their personal expenses, including meals, shopping, and any leisure activities they choose to engage in during their stay in Istanbul.
Complications and Follow-Up Care: In the unlikely event of post-surgery complications or the need for extended follow-up care, additional costs may apply, which are not covered by the package.
Blood Tests: Prior to the gastric sleeve surgery, patients are required to undergo comprehensive blood tests to assess their overall health and identify any potential risk factors.
Imaging Tests: Imaging tests such as abdominal ultrasound and chest X-ray may be conducted to evaluate the patient's anatomical structure and ensure suitability for the procedure.
EKG/ECG: An electrocardiogram (EKG/ECG) is performed to assess the patient's heart function and detect any underlying cardiac conditions that may affect the surgery.
Pulmonary Function Test: This test measures lung capacity and assesses respiratory function, ensuring the patient's suitability for anesthesia during the procedure.
Nutritional Assessment: A thorough nutritional assessment is conducted to understand the patient's dietary habits, identify deficiencies, and develop a post-surgery nutritional plan.
Assoc. Prof. Orhan Veli Ozkan is a respected Obesity and Weight Loss Surgeon located in Istanbul and Sakarya, Turkey. He earned his medical degree from Cerrahpaşa School of Medicine, Istanbul University, and pursued advanced training in General Surgery. As an Associate Professor at Sakarya University's School of Medicine, he specializes in laparoscopic hernia repair, mammary endocrine surgery, laparoscopic procedures (including appendectomy and cholecystectomy), and the surgical management of gastrointestinal diseases. His valuable contributions continue to advance the field of obesity surgery in Turkey.
Weight Loss Surgeon in Istanbul, Sakarya, Turkey

 

Education :

Cerrahpaşa School of Medicine, Istanbul University (1987-1993)

Residency, Department of General Surgery, General Surgery Clinic I, Vakıf Gureba Teaching and Research Hospital, Istanbul (1997-2001)

Assoc. Prof, General Surgery Department, School of Medicine, Sakarya University

Biography:

Laparoscopic repair of Inguinal and abdominal hernia

Mammary endocrine surgery

Laparoscopic surgery (Splenic-adrenal surgery, laparoscopic appendectomy, cholecystectomy, etc).
Istanbul, Turkey, offers a compelling combination of affordability, world-class medical facilities, experienced surgeons, cultural richness, and convenient travel options. Patients can undergo gastric sleeve surgery at ADATIP Hospital, benefiting from competitive pricing, state-of-the-art infrastructure, and the expertise of highly skilled surgeons. Furthermore, the opportunity to explore Istanbul's rich history and vibrant culture adds to the overall experience of medical tourists seeking weight loss solutions.
Frequently Asked Questions (FAQs):
Is gastric sleeve surgery in Istanbul, Turkey safe?
Yes, gastric sleeve surgery in Istanbul, Turkey is safe. The city is known for its advanced medical facilities and experienced surgeons who adhere to international standards. ADATIP Hospital, one of the leading medical centers in Istanbul, prioritizes patient safety and provides top-quality care throughout the surgical process.
What is the recovery period after gastric sleeve surgery in Istanbul?
The recovery period after sleeve gastrectomy Istanbul varies from patient to patient. Generally, patients can expect to stay in the hospital for a few days after the surgery. It may take a few weeks to resume normal activities, and a complete recovery can take several months. ADATIP Hospital's medical team will provide you with detailed post-operative instructions to ensure a smooth recovery.
Will I have excess skin after gastric sleeve surgery?
Excess skin is a common concern after significant weight loss, including gastric sleeve surgery. However, ADATIP Hospital offers comprehensive treatment packages that may include procedures to address excess skin, such as body contouring surgeries. It's essential to discuss your concerns and desired outcomes with your surgeon during the consultation.
Can I travel alone for gastric sleeve surgery in Istanbul?
While it is possible to travel alone for gastric sleeve surgery in Istanbul, it is generally recommended to have a companion or support system during the treatment and recovery period. A companion can provide emotional support, assist with practical matters, and help ensure a smooth experience. ADATIP Hospital can provide guidance on travel arrangements and support for patients and their companions.
Are there any dietary restrictions after gastric sleeve surgery?
Yes, there are dietary restrictions following gastric sleeve surgery. Initially, you will be on a liquid diet, gradually transitioning to pureed and soft foods before reintroducing solid foods. Your surgeon and nutritionist will provide detailed dietary guidelines tailored to your specific needs. Following these guidelines is crucial to support proper healing, weight loss, and long-term success.
Remember to consult with a healthcare professional or directly with ADATIP Hospital for personalized and accurate information regarding gastric sleeve surgery in Istanbul, Turkey.
Take the first step towards achieving your weight loss goals using sleeve gastrectomy Istanbul. Book a consultation with ADATIP Hospital in Istanbul, Turkey, through PlacidWay Medical Tourism. Benefit from their comprehensive gastric sleeve surgery packages and embark on a transformative journey towards a healthier and happier life. Click contact us button below to learn more:

Related Experiences:
Gastric Sleeve Surgery in Istanbul, Turkey
Gastric Sleeve Surgery in Turkey 2023
Gastric Sleeve in Izmir Turkey
Choose Affordable Gastric Sleeve in India for Your Weight Loss
Gastric Sleeve in Latin America
Gastric Sleeve in Poland
---