CODET Vision Institute
Eye Surgery, Cataract Surgery, Myopia, Astigmatism, Glaucoma, Strabismus, Retinal Detachment, Tijuana, Mexico


Avenida Padre Kino 10159 Zona Rio Tijuana, 22010 , Tijuana, Mexico

Specialty:

Eye/Lasik Care, Organ Transplant

Focus Area:

Eye Surgery | Cataract Surgery | Myopia | Astigmatism | Glaucoma | Strabismus | Retinal Detachment | Tijuana, Mexico
CODET Vision Institute Profile Overview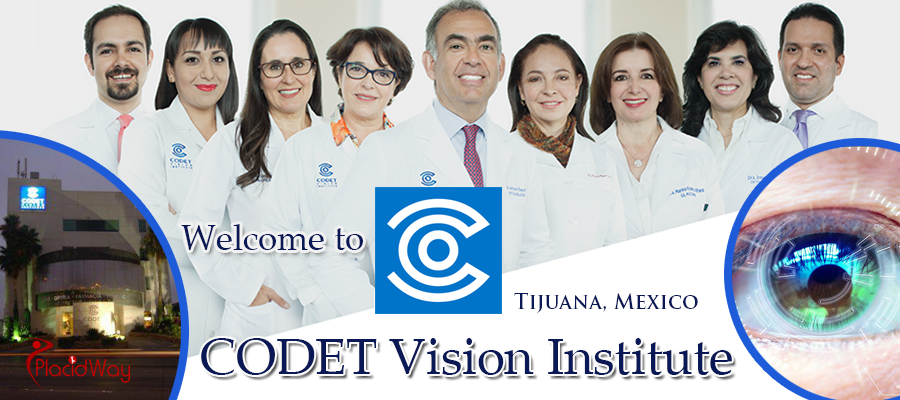 Welcome to CODET Vision Institute
Located in Tijuana, Mexico, CODET Vision Institute is a renowned eye surgery clinic which has earned world-wide recognition for our breakthrough its contributions to ophthalmology. The clinic was opened in 1986 and since then it has become one of the worldwide leaders in ophthalmic care with more than 80,000 Ophthalmology procedures.
CODET is a full-service ophthalmology institute, containing the main sub-specialties such as Cornea, Cataracts, Refractive Surgery, Retina, Glaucoma, Oculoplasty and Pediatric Ophthalmology. At CODET, you will find the most sophisticated diagnostic and surgical equipment, including two excimer lasers, an all-in-one femtosecond laser used for a half a dozen surgeries, 17 eye exam lanes, 4 topography units, 3 optical coherence tomography units (OCT), 5 operating rooms, 5 cataract surgery systems and much more.
Treatments and procedures
Cataracts & Intraocular Lenses (IOL's)
Laser Cataract Surgery
Refractive Lens Exchange
Near vision with IntraLASIK
Near vision with Implants
Custom IntraLASIK (All-Laser-LASIK)
Custom Photorefractive Keratectomy (PRK)
Custom LASIK
For more information about the treatments and procedures offered by CODET Vision Institute, please contact us!

---
---
Eye/Lasik-Care Related Packages
Eye/Lasik-Care Related Experiences