AutoStem Laboratories
Top-Rated Regenerative Medicine Clinic in Chennai, India
NO.2,IV STREET,BHAVANI NAGAR, NEMILICHERY,CHROMEPET CHENNAI TAMIL NADU, Chennai, India

Specialty:

Chronic Diseases, Neurology, Spine Care/Surgery, Stem Cell Therapy

Focus Area:

Auto Stem Laboratories, Cancer Stem Cell Therapy, Regenerative Stem Cell Therapy, Cosmetic Stem Cell Therapy | Chennai | India
AutoStem Laboratories Profile Overview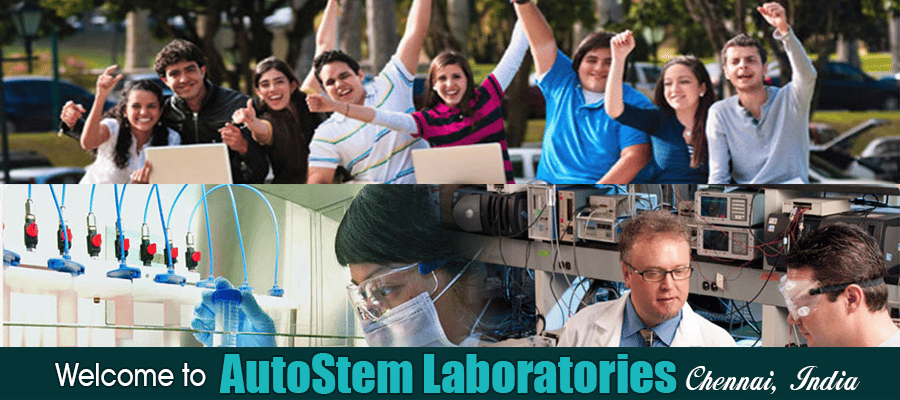 Auto Stem Laboratories (ASL) is a stem cell research company that offers quality-driven Regenerative Medicine, Cancer Stem Cell Therapy and Organ bioengineering in Chennai, India. The world-class services ASL provide are fully customized for therapeutic requirements and unique research. The excellent team of researchers and scientists at ASL are constantly striving for services and innovating applications that perfectly suit the sensibilities and needs of the research, academic and medical fraternity.
ASL provides the best regenerative stem cell therapy for various health disorders. The experts at ASL employ stem cells from different sources such as tissues, bone marrow, cord blood, or peripheral blood. Their effective stem cell therapy can be helpful in neuronal disorders like Parkinsonism, Alzheimer's, and Motoneuron diseases, Spinal Cord injury, Liver disorders, Infertility, Arthritis, Diabetes, and Autoimmune and Inflammatory disorders.
Benefits of Auto Stem Laboratories for Regenerative Treatment in Chennai, India
Below are the benefits of selecting Auto Stem Laboratories in Chennai, India:
Cost-effective treatments

Advanced technology and equipment

Highly experienced stem cell doctors

Modern facilities

Relaxing recovery in a peaceful ambient
List of Medical Treatments Avaliable at ASL clinic in Chennai, India:
Cosmetic Stem Cell Therapy for baldness, hair loss, skin scars, vitiligo and unhealing wounds

Cancer Stem Cell therapy
Stem Cell Treatment Cost

in Chennai India at ASL
Patients worldwide choose Stem Cell Therapy in Chennai at ASL center to save money on expensive treatment back home. You will find low-cost Regenerative Medicine treatments for your specific condition in Chennai top center. For the latest prices at ASL clinic, contact the clinic directly or our Customer Care Team.
Highly Qualified Stem Cell Doctor in Chennai, India at ASL Clinic
Dr. A. Anand Kumar is among the best stem cell doctors in India. He works at Auto Stem Laboratories providing safe and effective regenerative treatment to local and international patients.
Dr. Kumar has over 15 years of clinical experience in stem cell technology and an extensive research career.
Education and Certifications:
International Advanced Diploma in Stem Cells and Regenerative Medicine (ADSCRM)

MD PhD In Stem Cells and Regenerative Medicine (MD PhD SCRM)

Integrated Stem Cell Programs (ADSCRM + MSc/B.Tech Project + CSIR-JRF/GATE-JRF)
Book Your Consultation for Stem Cell Therapy in Chennai, India at ASL clinic
---
---