Medicine Hospital Turkey
Medicine Hospital - Multispecialty Medical Center in Istanbul, Turkey
Barbaros Mah, H. Ahmet Yesevi Cad, No: 149 Gunesli, Bagcilar/Istanbul , Istanbul, Turkey

Specialty:

Cancer Treatment, Chronic Diseases, Cosmetic/Plastic Surgery, Dentistry, ENT, Eye/Lasik Care, Fertility Treatment, General Medicine, General Surgery, Gynecology Treatment, Hair Transplantation, Heart Care/Surgery, Neurology, Obesity/Bariatric Surgery, Organ Transplant, Orthopedic/Knee Surgery, Pediatric Treatment, Radiology/CT Scans, Rehabilitation, Sexual Medicine and Treatment, Skin Care, Spine Care/Surgery, Urology, Vascular Surgery

Focus Area:

Medicine Hospital Istanbul | Dental Health | Brain and Nerve Surgery | Dermatology | Child Health | Endoscopy | Plastic Surgery | Physical Therapy and Rehabilitation | Gastroenterology | Hepatology | General Surgery | Gynecology and Obstetrics | Obesity | Diabetes Surgery | Orthopedics | Traumatology | Hair Health and Transplantation | Multispecialty Center in Turkey
Medicine Hospital Turkey Profile Overview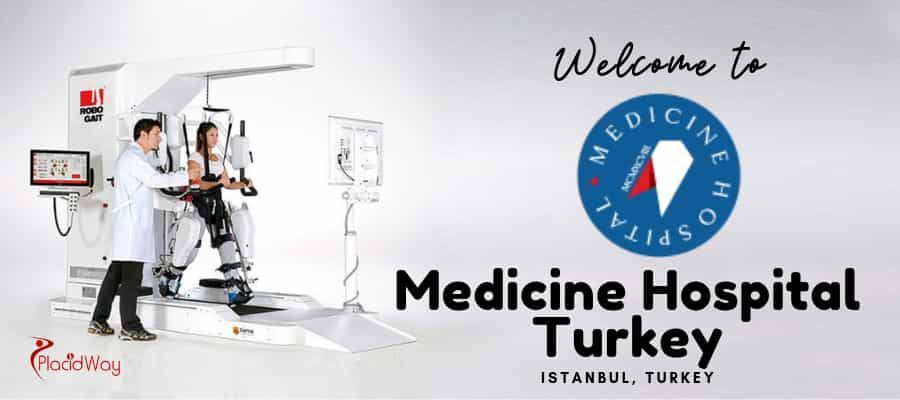 Comprehensive Medical Treatment at Medicine Hospital in Istanbul, Turkey
Medicine Hospital Turkey, located in Istanbul, is a healthcare institution that offers complete treatment solutions with an objective of supreme patient satisfaction. The hospital is committed to providing international standards of medical facilities at every stage of diagnosis and treatment.
Every medical staff of this renowned Turkish hospital comes from a reputed educational and professional background and focus to deliver accurate diagnosis and treatment to domestic and international patients. Each one of them is known for their duty awareness and respect for ethical values to earn recognition as one of the most successful hospitals in Turkey. They not only dedicate their services to treat and cure patients but also contribute to the development of medical science by sharing scientific knowledge on national and international platforms.
Medicine Hospital Turkey do not compromise on the principles of medical ethics, health services], latest technology, diagnostic and treatment methods. All treatment procedures are environmentally sensitive and respect the rights of patients. The center aims to serve as a large and modern hospital that has taken the role of pioneer in the health sector. It has ensured its corporate integrity, and delivers quality health care to the majority of the society in modern physical fields.
Treatments and Services offered by Medicine Hospital in Istanbul. Turkey
Mouth and

Dental Health

Brain and Nerve Surgery

Check-Up

Dermatology

Pediatric Surgery

Pediatric Cardiology

Child Health and Diseases

Dietetics (Nutrition and Diet)

Endoscopy Unit

Infection Hospital and Clinical Microbiology

Adult Intensive Care Unit

Aesthetic and Plastic Surgery

Physical Therapy and Rehabilitation

Gastroenterology and Hepatology

General Surgery

Thoracic Surgery

Chest Diseases Asthma and Allergy

Eye Diseases

Internal Medicine

Gynecology and Obstetrics

Cardiac Surgery

Cardiology

Coronary Intensive Care Unit

Ear - Nose - Throat Diseases and Surgery

Neurology - EEG

Nuclear Medicine

Obesity and

Diabetes

Surgery

Orthopedics and Traumatology

Pathology Laboratory

Psychiatry

Psychological Counseling

Radiology (Imaging) Services

Hair Health and Transplantation

Medical Biochemistry

Sleep Laboratory

Newborn Intensive Care Unit

Foot Care (Podology)

Diet and Slimming

Genital Aesthetics

Medical Aesthetic
Book Appointment for Your Treatment with Medicine Hospital in Istanbul, Turkey
Booking an appointment for your treatment with Medicine Hospital in Istanbul, Turkey is easy and convenient. You can book online by contacting us by pressing contact tab below. Hospital offers a wide range of treatments, including cancer, heart disease, and neurological disorders. Our experienced staff will work with you to develop a treatment plan that is right for you. We offer both inpatient and outpatient care, so you can choose the option that best suits your needs. We accept most insurance plans, and we offer financing options for those who qualify. Contact us today to schedule a consultation. We look forward to helping you achieve your health goals.
If you want to know more about Medicine Hospital in Istanbul, Turkey or want to request for any information, just click the contact tab below!

---
---