CENTRO MEDICO PUERTA DE HIERRO ORTOMEDICA
Zapopan, Mexico
BOULEVARD PUERTA DE HIERRO 5150-201 TORRE C 2TH PISO ZAPOPAN JALISCO

Focus Area: Best Orthopedic Surgery Clinic | Affordable Orthopedic Surgery Hospitals | Orthopedic Surgery Center Mexico | Cheap Orthopedic Surgery Center | Affordable Orthopedic Surgery Doctors | Best Orthopedic Surgery Surgeons | Orthopedic Surgery Cost | Orthopedic Surgery Review | Top Orthopedic Surgery Hospitals | Zapopan | Mexico | Centro Medico Puerta De Hierro Ortomedica | Ligamentary Ruptures | Sport Trauma Surgery | Microsurgery
Best Orthopedic Surgery Clinic, Affordable Orthopedic Surgery Hospitals, Orthopedic Surgery Center Mexico, Cheap Orthopedic Surgery Center, Affordable Orthopedic Surgery Doctors, Best Orthopedic Surgery Surgeons, Orthopedic Surgery Cost, Orthopedic Surgery Review, Top Orthopedic Surgery Hospitals, Zapopan, Mexico, Centro Medico Puerta De Hierro Ortomedica, Ligamentary Ruptures, Sport Trauma Surgery, Microsurgery
Profile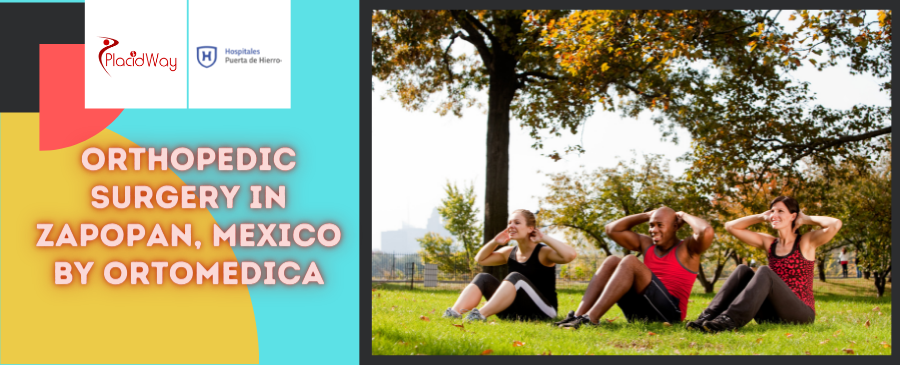 Top Orthopedic Surgery in Zapopan, Mexico
About CENTRO MEDICO PUERTA DE HIERRO ORTOMEDICA in Zapopan, Mexico
CENTRO MEDICO PUERTA DE HIERRO ORTOMEDICA provides best Orthopedic Surgery in Zapopan, Mexico. Book online now Ligamentary Ruptures, Sport Trauma Surgery, and Microsurgery at ORTOMEDICA. It is a new and modern hospital offering state of the art technology, located in Zapopan Jalisco Mexico, all services, all specialties, and our clinic is within this complex, and is oriented to knee surgery.
The clinic also offers care for degenerative diseases that affect the function of the musculoskeletal system. ORTOMEDICA offers cutting-edge surgical techniques, such as microsurgery or arthroscopy, navigation systems for prostheses implantations, and modern hospital facilities that offer patients the highest level of comfort.
Some benefits of undergoing Orthopedic Clinics at ORTOMEDICA in Zapopan, Mexico include;
Procedures are performed by a highly qualified and experience surgeon with deep knowledge of the latest techniques

The clinic has state-of-the-art medical equipment and offers a high degree of comfort to patients

Orthopedic Surgery at Zapopan Mexico would cost significantly less expensive than it would in the USA and many other

ORTOMEDICA provides a wide variety of Orthopedic Surgerys for different types of injuries
ORTOMEDICA, Orthopedic Clinic in Zapopan, Mexico, provides treatment for and assistance with the following conditions:
This clinic offers treatment for injuries to the knee, ankle and /or shoulder that are sustained as a result of sports, recreational or professional practice. Currently, microsurgical procedures are used to resolve these injuries in an outpatient surgery environment.
ORTOMEDICA provides treatment for damage to different joints that is caused by natural aging or overuse. The Orthopedic Surgery offered at ORTOMEDICA can provide relief from the pain and or the state of functional disability that such denegerative diseases can cause.
Orthopedic Surgery offered at ORTOMEDICA can facilitate the recovery of normal joint function after a person has sustained injuries or undergone surgery. With such treatments a patient can regain a normal living standard and be able to partake in the normal and daily activities that the injuries interfered with.
This procedure involves the replacement of the articular surface with metal and plastic components damaged due to diseases or after wear. Knee replacement surgery helps to restore correct movement and eliminate pain.
ORTOMEDICA provides treatment/surgery that can help with torn ligaments. This is a type of injury that is common among those who participate in sports and its occurrence can prevent a person from continuing to play or practice.
ORTOMEDICA is an example of a Medical Center in Mexico that has struck a perfect balance between offering world-class medical treatments, a top of the range medical facility and offering competitively priced services. This is among the reasons for the popularity of Mexico as a medical tourism destination. ORTOMEDICA has made quality healthcare more accessible and to find out more information about the Costs of Orthopedic Surgery at this healthcare center please click on the button below.
Here you can find information about top Orthopedic Surgeon in Zapopan, Mexico by Centro Medico Puerta De Hierro Ortomedica:
Name: Dr. Eduardo Romano
Specializations and Certifications:
Top #1 Orthopedic Surgeon in Zapopan, Mexico

Sports Injuries of the Knee Specialist

Shoulder and Hip Specialist

Injuries and Diseases of Degenerative Origin Specialist

Western Medical Center with training at the National Institute of Rehabilitation and Miami University

Professor for the training of arthroscopic surgeons at the CMNO of the IMSS for 10 years

Active Member of the Mexican Association of Knee and Articular Surgery AMECRA

Founding Member of ORTOMEDICA
ORTOMEDICA welcomes all patients looking for treatment from highly specialized orthopedic surgeons and clinics in Mexico. Located in the commercial-residential and hospital areas of Andares, ORTOMEDICA is a certified modern clinic with an outpatient and long-stay surgery unit. The comfort and satisfaction of patients is a top priority for the team at ORTOMEDICA which makes this clinic among the best options available to patients looking for Orthopedic Surgery and relief from injuries. Start your consultation by clicking on the button below and find out information about available Orthopedic Packages and more.