Sue's Story: A Beautiful Journey to a Better Self!

I know for a fact that being in a medical tourism industry would bring to me different people with different stories which may be good or bad. It's a variety I am very much excited to dive in.
I encounter a lot each day and so I said to myself "Why not write about them?". They say happiness is best when shared and this is definitely one story I'd like everyone to read and be glad about.
I met Sue, a 72-year old lady, when she came to PlacidWay and asked to be assisted for some dental procedures she wants to get done, my encounters with her at that time were very brief but I have a strong recall of her because she is probably one of the bubbliest patients I've met! When she was able to happily get her dental work done in Los Algodones, Mexico, I stopped hearing from her.

A month after, she contacted me and told me about her interest of doing a face lift in Puerto Vallarta, Mexico. She said she fancies the city and would like to have some vacation on the side too. Since then, we've been talking almost non-stop about her plans! She told me about wanting to have a really good doctor to work on her and shared with me her fears too of deciding on the idea given her age and the people who may judge her. Based on the stories she has shared to me, this woman is so hardworking and has spent almost her entire life caring for her family. Given the relationship I've built with her, I can only tell her the first thing that came to my mind as an advice: "If you want this then do it because you deserved it and who else would be the best person to tell you that but yourself".
I contacted Dr. Allan Ceballos Pressler, our amazing doctor in Puerto Vallarta and immediately told him about Sue. He happily scheduled a phone call with her to explain how her surgery will be done and what should she expect. I admire Dr. Ceballos for being accommodating and patient on her as not all doctors would gladly pick up the phone and confront raw questions (including worries!) from patients. That basically eased her worries. 2 weeks after that, Sue decided on a date and excitedly worked with me in planning for her trip!. We were both worrywarts and it was evident when I asked her to make sure to bring her tablet instead of her laptop so we could still videochat on Skype and her telling me to be always available on phone and email in case something odd comes up or she doesn't get recognized at the airport going back home with her passport picture. Well, this lady swept me with her charm and I know beyond making sure she safely arrives, I want her to have the best time of her life.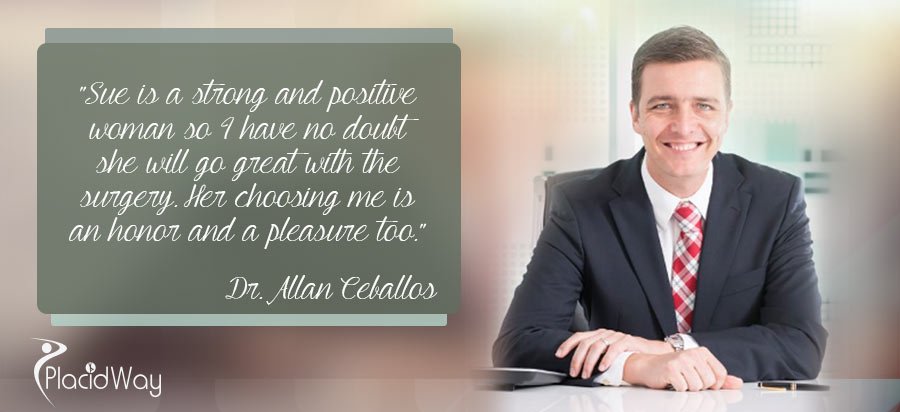 I got in touch with Dr. Ceballos and he said "Sue is a strong and positive woman so I have no doubt she will go great with the surgery. Her choosing me is an honor and a pleasure too."
At last!, she travelled to Puerto Vallarta, had her surgery with Dr. Ceballos and went home safely. We immediately scheduled a videochat date so she can show me her new self! Guess what? I literally had my mouth open when I saw her! She looks amazing! Not I'm-just-being-polite kinda amazing but this-is-crazy and-so-surreal kinda amazing! She looks like a way, way younger version of Sue!
She told me "For years I was hoping to someday change the aging looks. After surgery, I recovered quickly, with little pain or complications! My son immediately noticed the tremendous change. "Mom you look so young! Thanks to Dr. Allan Ceballos! I feel so good about myself, confident that I can look normal again."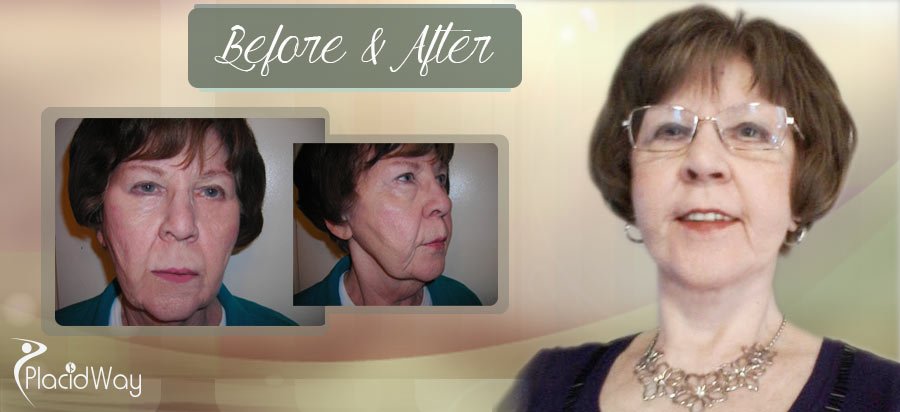 I think that every story has a moral lesson. On this one, I learned and confirmed that things really are never too late. We define our own happiness and we all have different approaches of achieving it. On Sue's case, she did something that's probably not traditional but it became worth it because it made her feel good about herself. She's happy and she deserved it.
Medical Tourism at PlacidWay I believe is all about people's journey and people that are being given choices. Regardless of the medical procedure one may wish, the possibilities just simply expand each time and I think more and more should embrace a similar overwhelming opportunity to be changed for the better.
Would you like to live a successful and happy journey like Sue?
If yes do not hesitate to contact us by clicking on the button below!