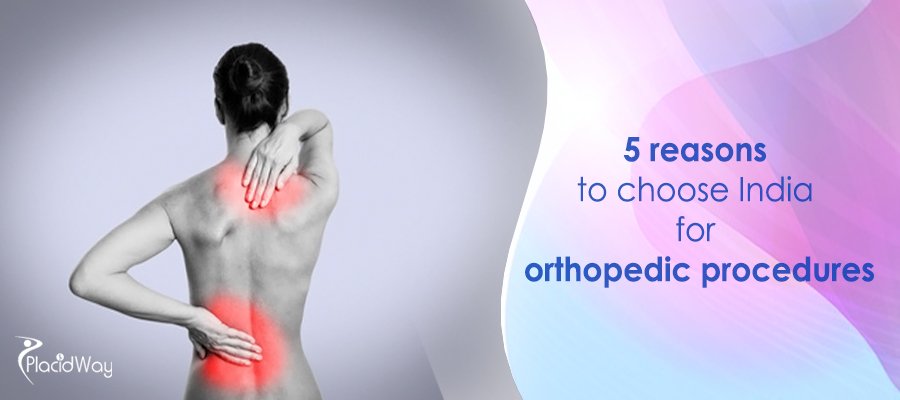 5 Reasons To Choose India For Orthopedic Procedures
Patients usually travel overseas in search of low cost treatment or better treatment facilities. India fulfills both needs by providing high quality treatments at low cost, which is why it has become a favoured medical tourism destination. The dedicated orthopedic centers in state-of-the-art hospitals can undertake all kinds of bone surgeries and joint replacements, that are performed by highly experienced orthopedic surgeons. 
Orthopedic surgery is concerned with conditions involving the musculo-skeletal system. Orthopedic surgeons use both surgical and nonsurgical means to treat musculoskeletal trauma, sports injuries, degenerative diseases, infections, tumors, and congenital disorders.
The most common procedures performed are: knee arthroscopy and meniscectomy, shoulder arthroscopy and decompression, carpal tunnel release, knee arthroscopy and chondroplasty, removal of support implant, knee arthroscopy and anterior cruciate ligament reconstruction, knee replacement, repair of femoral neck fracture, repair of trochanteric fracture, debridement of skin/muscle/bone/fracture, knee arthroscopy repair of both menisci, hip replacement, shoulder arthroscopy/distal clavicle excision, repair of rotator cuff tendon.
Orthopedics in India
With the advancement in knowledge, technology and resources, what took 50 years to achieve in the past can be achieved in 5 years. In fact it has been quipped that the next big revolution in India after IT is in the medical field-education, treatment and research.
The specialty of orthopedics in particular has grown by leaps and bounds; from a neglected specialty that dealt with deformity, osteomyelitis and low energy trauma, orthopedics has become a specialty of demand, and has evolved into many subspecialties like spine, pediatric orthopedics, trauma, hand, sports medicine, arthroscopy, arthroplasty, foot and ankle, shoulder and elbow.
There are several reasons why so many are seeking their orthopedic surgery in India - the quality of treatment, the array of available treatments, a very reasonable price range, and the fact that excellent orthopedic solutions are offered through safe medicine.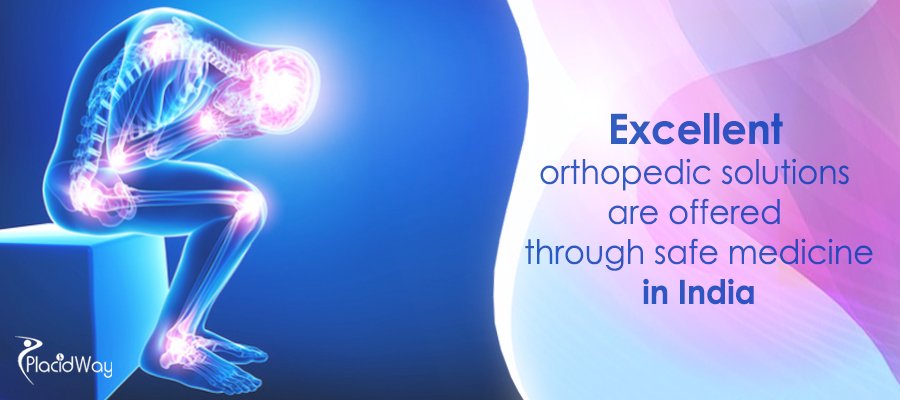 5 reasons to choose India fororthopedic procedures
1. A number of specialist orthopedic surgeons in India have made their mark across the world. Many hospitals specialize in latest techniques and treatments such as minimal invasive surgery, cartilage and bone transplantation, spine surgery and limb sparing surgery. All kinds of musculoskeletal problems ranging from arthritis to sports injuries, to complex broken bones, bone tumors and childhood conditions like scoliosis are treated most effectively. A wide range of spinal surgeries including fixation, stabilization and fusion are regularly undertaken.
2. Shoulder/hip replacement and bilateral knee replacement surgery using the most advanced keyhole or endoscopic surgery and arthroscopy is done at several hospitals in India including the Dr. A. K. Venkatachalam's MJRC Clinic in Chennai, Manipal Hospital and Apollo Victor Hospital in Goa. A knee joint replacement costs about $6,500 to $13,000 in India. In the UK a similar surgery using the same implants and medical consumables costs around $15,000, in USA - $45,000, in Thailand and Costa Rica - $15,000, in Singapore - $20,000.  
3. Offering some of the best medical treatment in the world and with the excellent reputation of its private hospitals, India's health care sector has undergone an enormous boom in recent years and it has become a global health destination, with medical tourism growing each year.
The Medical Council for Tourism in India has a collaborative goal along with Orthopedic Surgeons India to make the sub-continent the most preferred destination for global medical needs. Provision of highest grade services, low costs for treatments, education of world class levels, latest technological advancements, up-to-date hospitals and vacation spots are some of the highlights provided by India.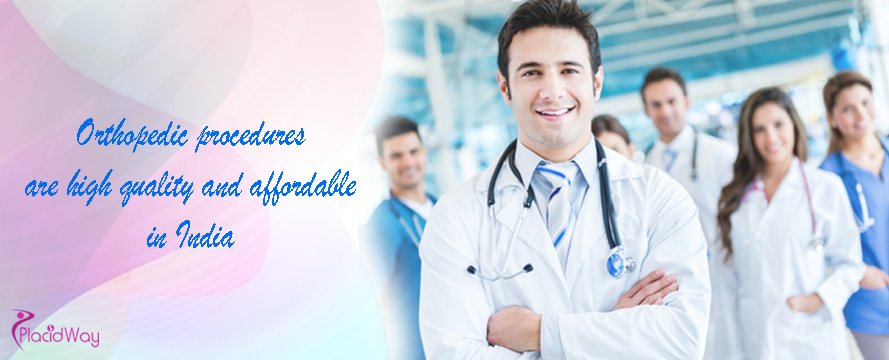 4. Unlike in the US, Canada or Britain where the waiting time is anywhere between 12-24 months, leading private Indian hospitals are able to give dates at short notice. When you finally take the big decision you want to get the surgery done immediately and that is possible in India, often at one-fourth the treatment cost in the US. India is an attractive destination also because clinics offer surgeries that are still not approved by US FDA or the cost is too high back home. Also, there are patients travelling from USA and Canada for niche high cost orthopedics surgeries like hip replacement or advanced knee replacement.
5. The medical treatment may be uncomfortable, but your overall stay will be an experience you will cherish all your life. Orthopedic surgery in India can be combined with a refreshing holiday and experiencing fascinating sightseeing of historic places in Delhi, Chandigarh, Pune and Mumbai before you start with your surgery. India also provides you with the option of relaxing at the exotic beaches of Goa and Kerala after your surgery for quick recovery.
The orthopedic centers in India bring focus to patient-centered care, interdisciplinary medicine, modern infrastructure, cutting edge technology and investigative research. You will receive top-notch treatment and the benefits of skilled surgeons and staff dedicated to getting patients back on their feet.
PlacidWay is a leading medical tourism company that provides wellness and medical travelers up-to-date information about everything they need to know in seeking health options abroad. PlacidWay is connected to a network of 250 medical centers in over 30 countries. Through its connections with international healthcare providers and affordable treatment packages, medical travelers can make the right decision according to their needs, while they explore a destination other than their own.
For more information about the innovative orthopedic procedures in India, contact us!