IVF with Gender Selection in Bangkok Thailand
Why Choose IVF with Sex Selection in Bangkok, Thailand
Thinking about IVF gender selection, but not sure where to go? There are many options available but not all provide a quality solution. The good news is that IVF with Gender Selection in Bangkok Thailand has world-class facilities offering successful treatment at reasonable prices.
Couples from the USA, Canada, and Australia consider sex selection IVF in Bangkok due to its high success rate and affordability. Also, this treatment requires patients to stay in Thailand during the IVF process. Therefore, couples choose to combine the procedure with a leisure holiday in Bangkok, which is more than attractive to medical tourists around the world.
Clinic: 

Beyond IVF

Procedure: IVF with Gender Selection
Top Package Deal: $10,065
Cost in Bangkok: $10,000
Cost in Other Countries: From $15,500
Savings: Over 50%
Top Tourist Attractions: Wat Arun Temple, Bangkok, Phi Phi and Phuket Island, etc
---
IVF with Sex Selection Packages in Bangkok, Thailand
For only $10,065 you'll get all-inclusive treatment and accommodation with your partner in Bangkok's top clinic. Here is what the package includes:
Stimulation

OPU

NGS

Embryo Freeze

Luteal Support

Thawing

ET
Contact our team anytime if you are interested in this package deal or prefer selecting another package that will better suit your needs.
IVF with Gender Selection, Fertility Treatment
Get an affordable package for IVF with Gender Selection in Bangkok Thailand by Beyond IVF at only
---
Cost of IVF with Gender Selection in Bangkok Thailand
If you wonder about IVF Gender Selection Bangkok cost, it is $10,000 on average at top medical clinics. The costs depend on the clinic and doctor's reputation and your individual needs. But compared to the price of over $15,500 in western countries, Bangkok is up to 60% more economical option.
Additional costs you'd have to take care of are only airfare, accommodation, and food. Some Bangkok clinics offer airfare and accommodation arrangement near the clinic and suggest where to eat. They also provide affordable packages with specific services included.
However, savings of around 50% promise quality and safe fertility treatment in Bangkok as well as a comfortable stay. The table below presents the costs from different countries compared to Bangkok.
IVF with Gender Selection Cost Comparison in Thailand

| Country | Procedure | Price |
| --- | --- | --- |
| United Kingdom | IVF with Gender Selection, Fertility Treatment | $17000 |
| Australia | IVF with Gender Selection, Fertility Treatment | $15500 |
| Thailand | IVF with Gender Selection, Fertility Treatment | $10000 |
| United States | IVF with Gender Selection, Fertility Treatment | $20000 |
| Canada | IVF with Gender Selection, Fertility Treatment | $22000 |
---
3 Top IVF Hospitals in Bangkok, Thailand for Gender Selection
Looking for the best IVF clinic in Bangkok that will serve your needs? Worry not, because we partner with accredited medical hospitals in Bangkok for IVF and will help you connect with a reliable physician.
Before going to the Bangkok fertility center, you must be well-prepared to know what to expect in advance. Meaning, you have to be familiar with available facilities and bilingual assistance, successful past patient stories, clinic medical staff (including fertility doctors), additional charges, and what services a clinic provides to you as a foreign patient.
Keeping this in mind, your chosen clinic will be the right option. Now let's see which are the top 3 best IVF centers in Bangkok.
Top Center
Takara IVF Bangkok brings to you the most innovative assisted reproductive technology and serves you with our exclusive treatments individually customized to fit each individual, varying from the simplest treatment to the most advanced technology by our fertility experts trained at a leading fertility clinic in Japan. The clinic specializes in Fertility Treatment, offering IVF, ICSI, IUI, Sperm Freezing, PGS/PGD, Embryo Transfer and advanced infertility treatments including the most cutting-edge IVF technology from Japan.
Top Center
Ibaby Clinic is located in the beautiful Bangkok, Thailand. The Ibaby Clinic specializes in Fertility Treatment. Ibaby Clinic is dedicated to the constant pursuit of excellence, committed to high quality medical care, featuring experienced and trained professionals and using the latest technology.
Top Center
Beyond IVF is the best clinic for Fertility Treatment in Bangkok Thailand. Contact PlacidWay today to get ICSI, IVF and Egg Freezing from top rated center.
---
Fertility Treatment in Bangkok Reviews from Real Patients
---
Best IVF Specialists in Bangkok, Thailand for Family Balancing Procedure
Most IVF doctors in Bangkok have attended rigorous and extensive training abroad and in the country to achieve the most desired outcome for gender selection and other fertility treatments.
Fertility doctors in Bangkok have a proven track record of success in the field of IVF treatment and gender selection. You can find former patient reviews in their profiles and see what others have to say about Bangkok doctors.
Also, checking doctors' credentials and experience can help choose the right fertility doctors for your needs.
We can comfort you not to worry about this part of your trip since our dedicated PlacidWay team is here to help. Let us introduce you to the best IVF doctors in Bangkok:
Dr. Phunsak Suchonwanit | IVF Doctor in Bangkok Thailand by Beyond IVF Biography of Dr. Phunsak S...
---
Fertility Tourism in Bangkok – Top Places to See after IVF Treatment
A vacation in Thailand during your stay for IVF treatment can be helpful in terms of relaxation before or recovery after the treatment. Bangkok is well-connected to cities across the globe so it will be easy to reach and get a flight ticket at a low cost.
Known for its vibrant nightlife, the capital of Thailand has a lot to offer whether you're searching for an active or relaxing holiday. Numerous bars, restaurants, historical and cultural sites, and plenty of attractions outside Bangkok will surely make your trip unforgettable.
While planning your family in this mesmerizing city, we recommend you explore these amazing places with your loved one:
Oriental Spa at the Mandarin Oriental

The Grand Pearl is a mainstay in the Chao Phraya cruise

Exclusive dinner at Le Normandie

Lumpini Park, an urban oasis

The Moon Bar, on the rooftop of the Banyan Tree Hotel

Get the ultimate relaxation with a couples massage at Chi, The Spa, in the famed Shangri La Hotel

The Grand Palace

Chiang Mai's Sunday Night Walking Street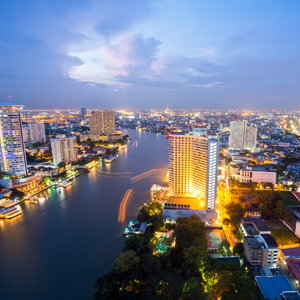 Bangkok at night
---
Get FREE CONSULTATION for IVF with Gender Selection in Bangkok, Thailand Today!
Choosing the specific sex for your child can be successful through IVF gender selection in Bangkok. Want to know more about IVF gender selection treatment and Bangkok as a tourist place?
Get in touch with our Customer Care Team to find out more and receive your free quote!
---