Beyond IVF
In-Vitro Fertilization in Thailand Bangkok at Beyond IVF
Beyond IVF 500 Rama2 Road Bangmod Jomthong Bangkok, Thailand 10150, Bangkok, Thailand

Specialty:

Fertility Treatment, Infertility/IVF

Focus Area:

Fertility Treatment in Bangkok Thailand | ICSI | IUI | Egg Freezing | Antenatal Care | IVF | Beyond IVF
Beyond IVF Profile Overview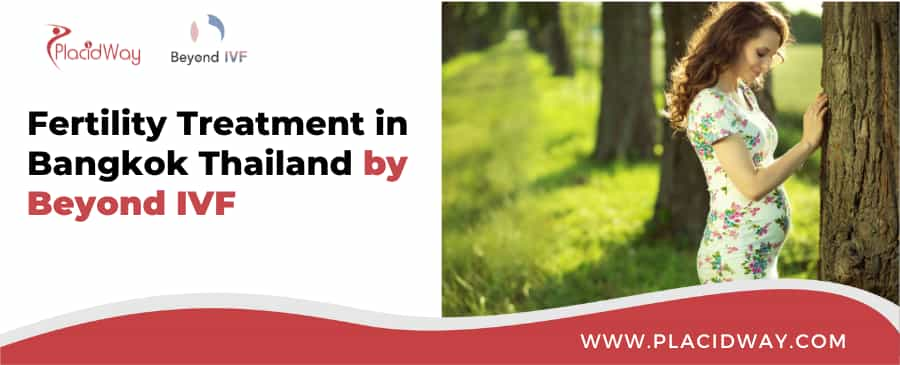 Top-Rated Hospital for Fertility Treatment in Bangkok Thailand with 37 Years of Experience
About Beyond IVF
Beyond IVF is the best clinic for Fertility Treatment in Bangkok Thailand. Contact PlacidWay today to get ICSI, IVF and Egg Freezing from top rated center. Beyond IVF, located in Bangkok Thailand, is a top-rated hospital for fertility treatment. With 37 years of experience, we have helped countless couples conceive and have healthy babies.
Our clinic offers a wide range of fertility treatments, including in vitro fertilization (IVF), intrauterine insemination (IUI), and egg freezing. Beyond IVF also has a world-renowned surrogacy program, which has helped many couples have children who otherwise would not have been able to conceive.
Beyond IVF is committed to providing the best possible care to its patients. The hospital has a state-of-the-art facility, and its staff is composed of experienced, caring professionals. Beyond IVF also offers a wide range of support services, including counseling and financial assistance, to help couples through the fertility treatment process.
If you are considering fertility treatment, Beyond IVF is an excellent choice. The hospital's experience, success rates, and commitment to patient care make it one of the best fertility hospitals in the world.
Clinic Name: Beyond IVF
Procedure: Fertility Treatment / IVF
Cost: $545 - $6709
Location: Bangkok, Thailand
Doctor: Dr. Ton, Dr. Poonsak Suchanavanich
Here are several advantages of selecting IVF Treatment in Bangkok at Beyond IVF:
Check below for information about list of procedures available at Fertility Treatment in Thailand by Beyond IVF:
IUI treatment is a fertility procedure in which sperm are injected into the uterus. This type of treatment can be beneficial for couples who have trouble conceiving. IUI can also help to increase the success rates of other fertility treatments.
In vitro fertilization (IVF) is a fertility treatment in which eggs are removed from a woman's ovaries and fertilized with sperm in a laboratory. The resulting embryos are then implanted in the woman's uterus.
ICSI treatment involves injecting a single sperm directly into an egg. This technique can be used when there is a low sperm count or when the sperm are abnormally shaped. ICSI can also be used in cases where fertilization has failed in previous IVF cycles.
Egg freezing is a method of fertility preservation whereby eggs are extracted from the ovaries and frozen for later use. The process usually involves hormone stimulation to mature multiple follicles, followed by egg retrieval via needle aspiration under ultrasound guidance. The eggs are then frozen using either slow cooling or vitrification methods.
Antenatal Care
Antenatal care is defined as "the care and attention a woman receives during pregnancy." It usually includes regular checkups, tests, and educational opportunities to help ensure a healthy pregnancy.
Cervical Cancer Test
The Cervical Cancer Test is a screening test used to detect the presence of the human papillomavirus (HPV). It can also be used to find changes in the cells of the cervix that may lead to cancer. The test is simple, and it only takes a few minutes.
Beyond IVF offers a variety of treatments at different price points to fit your needs. With our experienced team, we can help you find the best option for your situation. Check below table for more information about the Price for Fertility Treatment in Bangkok at Beyond IVF:
| | |
| --- | --- |
| Procedure | Cost |
| ICSI | $6,709 |
| IUI | $545 |
| Egg Freezing | $2,451 |
Note: If you're considering fertility treatment, you may be wondering how much it will cost. The cost of fertility treatment can vary depending on several factors, such as the type of procedure, the location, and the doctor.

Check below for information about Highly Skilled Doctor for Fertility Treatment in Thailand:
Doctor Name: Dr. Ton, Dr. Poonsak Suchanavanich
Bachelor of Medicine from the Faculty of Medicine Ramaribadi Hospital Mahidol University, Bangkok, 1993

Certificate showing knowledge-expertise in the practice of medicine Department of Obstetrics and Gynecology from the Faculty of Medicine Ramathibodi Hospital

Specialist in Medical Reproductive Technology of Thailand

Training visit in ART at Boston IVF Institute, Maryland
Are you considering IVF in Bangkok, Thailand? PlacidWay can help you learn more about your options and make the best decision for your situation. Schedule a consultation with us today to get started!

---
---