Full Facelift Surgery in San Jose, Costa Rica by Dr. Leonardo
Package price starting from:
$10000
Treatment:
Cosmetic/Plastic Surgery, Neck Lift, Eyelid Surgery, Face Lift
Location:
Centro Médico Nacer, frente Hospital Nuevo de Heredia Heredia Heredia, Costa Rica
Focus Area:
Full Facelift Surgery in San Jose, Costa Rica | Dr. Leonardo Canossa | Ryhtidectomy
---
Best Package for Ryhtidectomy in San Jose, Costa Rica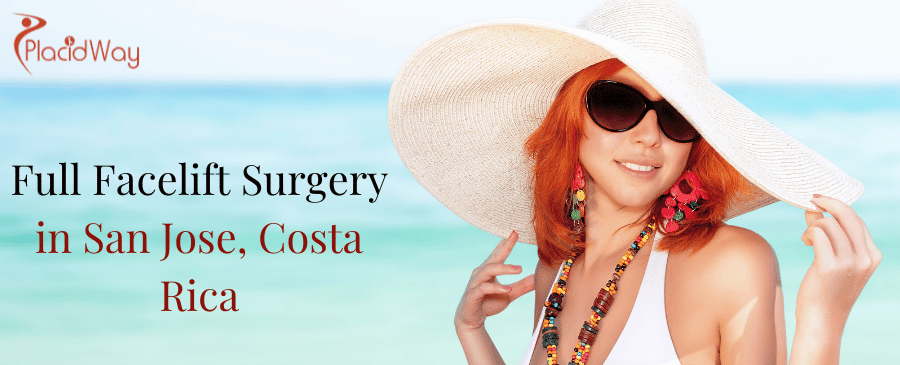 All-Inclusive Full Facelift Package in

San Jose, Costa Rica
Want to regain a youthful look on your face? An affordable package for a full facelift in San Jose, Costa Rica can help reduce aging signs because it treats the Upper, Middle, and Lower thirds of your face, upper and lower eyelids, and neck liposuction.
You would have to stay in Costa Rica for at least two weeks which will help you recover from the surgery in the tropical environment of this stunning destination.
Package Price: $10,000
Clinic: Dr. Leonardo Canossa
Location: San Jose, Costa Rica 
Dr. Leonardo Canossa clinic highlights:
More than +1000 satisfied patients

Internationally trained doctors

Best cosmetic surgery procedure in San Jose

Faster recovery in the warm climate of Costa Rica

Excellent medical team

Affordable costs of plastic surgery
A Facelift is a cosmetic procedure that improves your physical appearance and self-esteem. This procedure tightens your muscles, improves the contours of your face, improves your jawline aesthetically, and repairs loose skin.
It is a minimally invasive intervention that handles facial wrinkles and sagging, a consequence of aging. Thanks to facial lift surgery, excess skin is eliminated, muscles and tissues are strengthened, and as a result, you get a younger appearance.
The 

Cost of

 Full Facelift Surgery Package in San Jose, Costa Rica
The Full Facelift in San Jose, Costa Rica, costs $10,000 and includes eyelid surgery and neck lift at once. Compared to North America, San Jose is a more affordable option.
Note: For more information about the final price, make sure to contact the clinic directly. The price may vary depending on your condition and the complexity of the surgery.

Benefits

 of the Full Facelift Surgery
Face rejuvenation

Younger Appearance

Improved face contours

Delays aging of the skin

Strengthening facial muscles

Better self-confidence
Rhytidectomy Package in San Jose Inclusions
Face Lift treating Upper, Middle, and Lower thirds

Upper and lower eyelids

Neck liposuction 
Rhytidectomy Package in San Jose Exclusions
Best Plastic 

Surgeon

 

in

 San Jose, CR for Facelift
Dr. Canossa is one of the best facelift surgeons in San Jose, providing affordable and effective plastic surgery to local and international patients. He always works with a Head and Neck Surgeon as a team to give the best results to his patients.
Experiences and Specializations:
General Surgery.Plastic,

Aesthetic and reconstructive surgery 
Languages: Spanish, English
Why Choose

 Rhytidectomy in San Jose?
Having your facelift surgery in San Jose will help you benefit in terms of a younger look and tightened facial skin, an exciting vacation, cost savings, and quicker recovery time. Americans and Canadians can take a short flight into San Jose and indulge in effective cosmetic procedures and numerous interesting places to explore. 
Here are some of the most attractive spots you can visit in San Jose during your facelift surgery:
Arenal Volcano,

Manuel Antonio National park,

Numerous pristine beaches on the Caribbean Sea and the Pacific Ocean.
FAQs about Facelift Surgery in San Jose
What is the recovery time for a facelift in San Jose?
Recovery time after a facelift in San Jose is around two weeks. You can recover faster in the warm climate of the tropical Costa Rica environment. However, following your doctor's instructions is vital to ensure proper healing.
Is it safe to have a facelift in San Jose?
Facelifts are considered safe when performed by experienced and qualified surgeons. In San Jose, you'll receive quality medical care followed by rigorous international standards. In addition, Costa Rica is generally a safe country for tourism and plastic surgery treatment.
How long do facelifts last?
Results from a facelift will last about 10 years. The skin on your face will continue to age after a facelift, which is why the results aren't permanent.
What is a good age to get a facelift?
A facelift best works for people between 40 and 60 when signs of aging begin to become prevalent. Deep lines, wrinkles, fine lines, and sagging skin result from aging and can be best repaired via surgical methods rather than non-surgical ones.
Book Affordable Package for a Full Facelift in San Jose, Costa Rica Today!
Get your all-inclusive package for a Full Facelift surgery in San Jose at the top-rated plastic surgery clinic! Experienced plastic surgeon Dr. Leonardo Canossa will help you look younger and feel confident again. Contact us for more details!

Related Experiences:
Facelift in Costa Rica
Eyelid Surgery in Istanbul, Turkey
Eyelid Surgery in Turkey
Facelift in Croatia
Facelift in Turkey
Facelift in Guadalajara, Mexico
---