Kobinia Med Stem Cell Therapy for Multiple Sclerosis in Vienna, Austria
Package price starting from:
$12862
Treatment:
Stem Cell Therapy, Stem Cell Treatment for Multiple Sclerosis
Focus Area:
Kobinia Med | Vienna | Austria | Stem Cell Therapy for Multiple Sclerosis
---
Multiple Sclerosis Regenerative Medicine in Vienna, Austria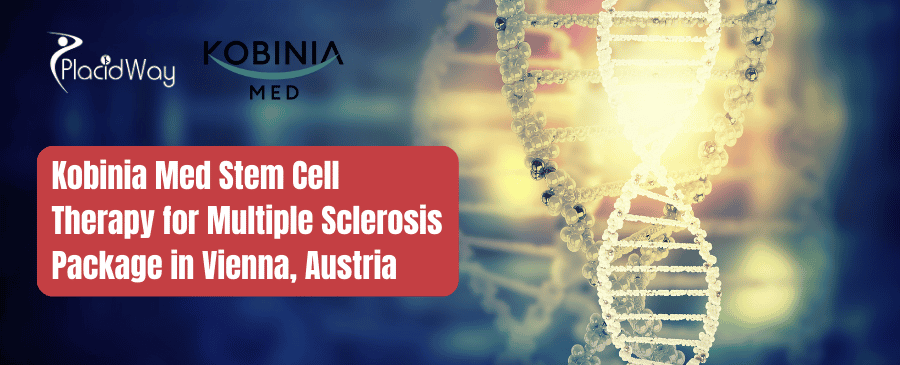 Experience the numerous benefits of Stem Cell Therapy in Austria, offered by the esteemed Kobinia Med. With over 20 years of experience treating patients from around the globe, including world-class elite athletes, we bring a wealth of expertise to our innovative therapies. In addition to our medical proficiency, we also provide top-notch travel and accommodation services, ensuring a seamless and comfortable experience for our patients.
Our institute is supported by the Austrian Society for Regenerative Medicine. Our experts are professors in international renowned universities that contribute to the scientific knowledge in regenerative medicine. Check our packages detail below to learn more.
You can get stem cell therapy for multiple sclerosis in Vienna, Austria by KOBINIA MED with the price starts at 12,000 Euro or $12,862. Check our price list table below to learn more:
| | |
| --- | --- |
| City, Country | Price in USD |
| | |
| | |
| | |
Note: price may change and vary depends on complexity of procedures and patient conditions. Click FREE QUOTE button below to learn more:

We are thrilled to present a groundbreaking medical package that offers hope and potential relief for individuals battling Multiple Sclerosis (MS). Our esteemed clinic, located in the vibrant city of Vienna, Austria, is at the forefront of revolutionary stem cell therapies, providing a ray of light for patients seeking innovative treatment options.
About Multiple Sclerosis (MS)
Multiple Sclerosis is a chronic autoimmune disease that affects the central nervous system, causing various debilitating symptoms such as fatigue, muscle weakness, balance issues, and cognitive impaKobinia Medent. Traditional treatments often focus on managing symptoms rather than addressing the underlying cause, leaving patients with limited options for long-term improvement.
The Promise of Stem Cell Treatment
Stem cell therapy holds tremendous promise in the field of regenerative medicine, offering a revolutionary approach to treating multiple sclerosis. By utilizing the regenerative potential of stem cells, we aim to repair damaged tissues, modulate the immune response, and promote neuroregeneration, all in a safe and minimally invasive manner.
Stem cells can be able to repair the patient's immune system.

Stem cells are able to transform and replace cells that have previously been damaged or destroyed.

New treatment researched in hundreds of specialized clinics and research centres worldwide.
Our Comprehensive Treatment Package
We take great pride in offering a comprehensive and personalized stem cell treatment package designed specifically for individuals living with Multiple Sclerosis. When you choose our clinic in Vienna, Austria, you can expect:
Expert Medical Team: Our clinic boasts a team of highly skilled physicians, researchers, and healthcare professionals who specialize in stem cell therapy and neurology. With their vast expertise and dedication, you can rest assured that you are in the best hands throughout your treatment journey.
Cutting-Edge Facilities: Our state-of-the-art clinic in Vienna is equipped with the latest medical advancements, ensuring a safe and comfortable environment for your stem cell treatment. We adhere to the highest standards of quality and maintain strict protocols to guarantee optimal patient care.
Personalized Treatment Plan: We understand that each patient's needs and goals are unique. Our medical experts will conduct a thorough evaluation of your condition, medical history, and lifestyle factors to develop a personalized treatment plan tailored to your specific requirements. This individualized approach maximizes the potential for positive outcomes.
Comprehensive Medical Assessment: Prior to your stem cell treatment, our team will perform a comprehensive medical assessment, including detailed diagnostic tests and imaging studies. This assessment allows us to gain a deeper understanding of your condition and determine the most appropriate course of action.
Cutting-Edge Stem Cell Therapy: We employ advanced stem cell therapy techniques, utilizing ethically sourced and extensively screened stem cells. Our minimally invasive procedures aim to harness the regenerative capabilities of stem cells to repair damaged tissues, modulate immune responses, and promote neurological recovery.
Post-Treatment Care and Rehabilitation: Our commitment to your well-being extends beyond the treatment itself. We offer comprehensive post-treatment care and rehabilitation programs to support your recovery journey. Our multidisciplinary team will provide guidance on lifestyle modifications, physical therapy, and ongoing medical follow-ups to optimize your long-term outcomes.
4 days of treatment

Accommodation: 3 nights for 2 persons

Hotel-clinic-hotel transfer
Plane tickets

Meals

Patients' personal expenses.
A team of doctors specialized in Regenerative Medicine treatments, combining years of training and research

The center utilizes autologous adult stem cells only, not danger of rejection, adverse reactions to chemical substance used in the process of stem cell culturing

State-of-the-art infrastructure and quality management

Highest standard of sterility

Customized care and experience with stem cell therapies

Provides clear information, (summaries of a collection of published papers to help the patient understand the therapy).
Dr. Georg Kobinia MD is an accomplished medical professional with expertise in regenerative medicine, specializing in stem cell therapy. Alongside his specialization, he has a strong background in general surgery and cardio, vascular, and thoracic surgery. Dr. Kobinia obtained his medical education at the prestigious Medical University of Vienna, where he honed his skills and knowledge in the field.
In addition, he furthered his academic pursuits at Harvard University and Massachussetts General Hospital in Boston, earning a postdoctoral lecture qualification in 1983. With his extensive education and experience, Dr. Kobinia is committed to providing innovative and effective treatments to his patients, particularly in the realm of regenerative medicine and stem cell therapy.
Best MS Regenerative Medicine Specialist in Vienna, Austria

 

Medical University of Vienna

Harvard University, Massachussetts General Hospital, Boston, postdoctoral lecture qualification, 1983

International Surgery Experience: Bulgaria, Romania, Iran, Kazakhstan, Serbia, Croatia, England
Q1: What is stem cell therapy for multiple sclerosis?
A1: Stem cell therapy for multiple sclerosis involves the use of stem cells to repair and regenerate damaged nerve cells in individuals with multiple sclerosis (MS). The therapy aims to halt or slow down the progression of the disease and improve the symptoms.
Q2: How does stem cell therapy for multiple sclerosis work?
A2: Stem cell therapy for multiple sclerosis typically involves collecting stem cells from the patient's own body (autologous transplantation) or using donated stem cells (allogeneic transplantation). The stem cells are then processed and reintroduced into the patient's body, where they can differentiate into various types of cells, potentially repairing damaged nerve tissues and modulating the immune system.
Q3: How long do the potential benefits of stem cell therapy for multiple sclerosis last?
A3: The duration of the potential benefits from stem cell therapy for multiple sclerosis can vary among individuals. While some patients have reported long-term improvements, the longevity of these benefits is influenced by factors such as disease progression, individual response to treatment, and the specific type of stem cell therapy used. Further research is needed to determine the long-term effectiveness and durability of the benefits associated with stem cell therapy for multiple sclerosis.
Q4: Are there any risks or side effects associated with stem cell therapy for multiple sclerosis?
A4: Like any medical procedure, stem cell therapy for multiple sclerosis carries certain risks. Potential risks include infection, bleeding, allergic reactions, and in rare cases, graft failure or organ damage. It is important to discuss these risks with your healthcare provider before considering stem cell therapy. Additionally, since this therapy may not be widely available or regulated, it is crucial to choose reputable clinics and experienced medical professionals for the procedure.
If you are seeking a pioneering solution for your Multiple Sclerosis, our stem cell treatment package in Vienna, Austria, offers a beacon of hope. By embracing the regenerative potential of stem cells, we strive to restore function, alleviate symptoms, and enhance your overall quality of life.
Contact us today to learn more about our stem cell treatment package and take the first step towards reclaiming control over your health and well-being. Together, let's embark on a transformative journey towards a brighter future.
Don't give up! Find out everything about the stem cell therapy for multiple sclerosis available at Kobinia Med! Get in touch with us!

Disclaimer: Stem Cell Therapy is still an experimental treatment. Any information related to stem cell therapy provided in this website is for educational purposes only. It is not intended to replace a consultation with a licensed physician nor be construed as medical advice or any emergency health need you may be expecting.
Related Experiences:
Multiple Sclerosis Stem Cells Treatment in Europe
Guide to Stem Cell Treatment for MS in India
Regenerative Medicine for Multiple Sclerosis in United States
Stem Cell Therapy for Multiple Sclerosis in Mexico
Stem Cell Therapy for Parkinson's disease in Austria
Stem Cell Therapy for Anti-Aging in Austria
---