Gastric Sleeve Surgery in Turkey - Affordable Cost $4,000
Package price starting from:
$4000
Treatment:
Obesity/Bariatric Surgery, Sleeve Gastrectomy
Focus Area:
Gastric Sleeve in Turkey | Weight Loss Surgery Clinics | Obesity Treatment | Bariatric Surgeons | Vertical Sleeve Gastrectomy | Turkey
---
Affordable Vertical Sleeve Gastrectomy in Turkey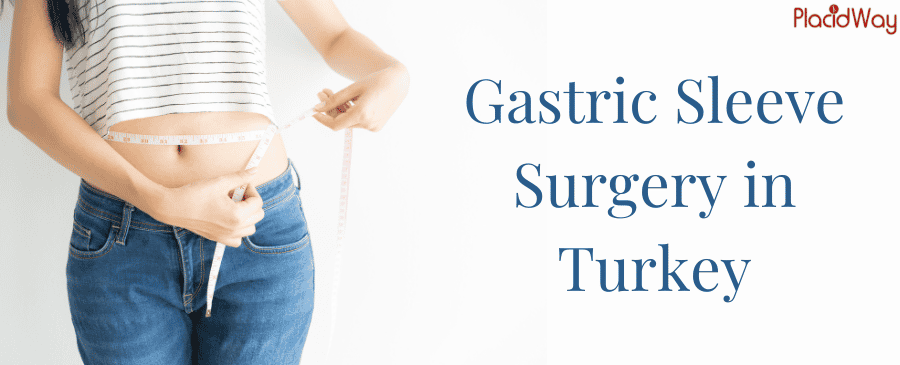 As medical tourism continues to surge, Turkey has emerged as a leading destination for individuals seeking high-quality yet cost-effective healthcare. One such sought-after procedure is Gastric Sleeve Surgery, an increasingly popular solution for sustainable weight loss. Turkey's state-of-the-art facilities, coupled with expert surgical teams, offer Gastric Sleeve Surgery at affordable prices, significantly lower than in many Western countries. The perfect blend of advanced healthcare services, renowned bariatric surgeons, and enticing cost savings make Turkey an attractive option for those considering Gastric Sleeve Surgery.
Gastric sleeve surgery is a type of weight-loss surgery that involves removing a portion of the stomach. This surgery is also known as vertical sleeve gastrectomy (VSG). Gastric sleeve surgery helps you lose weight by reducing the amount of food you can eat and by changing your hormones.
Gastric sleeve surgery is usually done laparoscopically, which means that special instruments are used to create small incisions in your abdomen. The surgeon then inserts a small camera, called a laparoscope, into your abdomen so they can see your stomach. Gastric sleeve surgery is usually done as an outpatient procedure, which means you won't need to stay in the hospital overnight.
Gastric Sleeve Treatment details:
Price: The procedure is economically priced at $4,000

Eligibility Criteria: Candidates must have a BMI exceeding 35

Procedure Time: The surgery is completed in just one hour

Surgical Intervention: Yes, this is a surgical procedure

Stitch Type: We use dissolvable stitches for seamless healing

Anesthesia: The procedure is carried out under general anesthesia

Number of Incisions: Five incisions are typically made

Hospital Credentials: The clinic proudly holds ISO accreditation

Recovery Duration: Patients usually require a recovery period of 7 days

Accommodation: We provide comfortable accommodation for a 7-day period following the procedure.
Considerable Reduction in Excess Weight: The procedure facilitates substantial and sustained weight loss, helping you maintain a healthier body weight in the long term.

No Foreign Objects: Unlike some other procedures, weight loss surgery does not involve the permanent insertion of any foreign materials into your body, making it a more natural approach to weight loss.

Alleviation of Obesity-related Health Conditions: The surgery can significantly reduce, and in some cases, completely eliminate, health complications arising from obesity.

Brief Hospitalization: Typically, the procedure requires only a short hospital stay, enabling you to resume your normal life more quickly.

Enhanced Quality of Life: By promoting better health and well-being, weight loss surgery contributes to an overall improvement in your quality of life.
Gastric Sleeve Surgery Cost in Turkey
The Cost of Gastric Sleeve Surgery in Turkey ranges between $4,000 to $5,000m, with the exact price dependent on a variety of factors including the specific hospital, the surgeon's expertise, and any additional medical services required. Despite these variables, what remains constant is the significant cost-saving advantage Turkey offers in comparison to Western countries like the UK and USA.
Opting for weight loss surgery in Turkey can result in approximately 70% savings in comparison to the costs typically associated with the same procedure in the aforementioned countries. This enormous cost differential is made possible due to the economical pricing structure of Turkish healthcare, without compromising on the quality of the procedure or the care provided.
In essence, this affordability factor, coupled with excellent healthcare services and world-class surgeons, renders Turkey a preferred destination for patients across the globe seeking Gastric Sleeve Surgery.

How is the Vertical Sleeve Gastrectomy Performed?
The Vertical Sleeve Gastrectomy (VSG) procedure is a type of weight loss surgery that involves removal of a large portion of the stomach. The stomach is a sac-like organ that stores and breaks down food before it enters the intestines. VSG reduces the size of the stomach by 60-80%, which limits the amount of food that can be consumed and leads to weight loss.
This operation is performed laparoscopically, which means that several small incisions are made in the abdomen and a tiny camera is inserted to guide the surgeon. The surgeon then uses a stapling device to remove a large section of the stomach, shaped like a tube or sleeve.
The remaining stomach is about the size and shape of a banana. The smaller stomach size results in feeling fuller faster and eating less. Most patients lose 60-70% of their excess body weight within one to two years after surgery. Additionally, this surgery has been shown to improve or resolve many obesity-related health conditions, such as type 2 diabetes, hypertension, sleep apnea, and GERD.
Weight Loss Surgery Reviews in Turkey at our Partner Clinics
To gain a comprehensive understanding of the quality and success of weight loss surgeries in Turkey, we encourage you to explore the testimonials from our clients who underwent these procedures at our partner hospitals. These reviews provide valuable insights about the patients' experiences, from the initial consultation, through the surgery itself, to post-operative care. They highlight the professionalism, skill, and compassion of the staff, and their dedication to patient satisfaction and wellbeing. Each review is a testament to the excellence and affordability of weight loss surgeries in Turkey, offering a transparent window into what you can expect from your journey.
Meet Professional Bariatric Surgeons in Turkey for Gastric Sleeve Procedure
Bariatric surgery stands as a transformative and successful solution for individuals grappling with obesity. For those contemplating this life-altering procedure, Turkey emerges as a prime choice. The country boasts an array of skilled and seasoned surgeons specializing in a variety of procedures, including the gastric sleeve surgery. So, if you're considering bariatric surgery, positioning Turkish Gastric Sleeve Surgeons at the top of your options list would be a wise decision.
Turkey is rapidly becoming a recognized hotspot in the realm of medical tourism, particularly for high-quality yet economically viable Gastric Sleeve surgery. This makes it a highly desirable destination for those considering the procedure.
Safety and Success: Turkey is known for its safe and effective Bariatric surgeries, resulting in a high degree of patient satisfaction.

Cutting-edge Techniques: Turkish medical practitioners stay abreast of the latest methodologies in the field, ensuring that their patients receive the most modern treatments.

Expert Medical Staff: The highly trained and proficient staff in Turkish hospitals are dedicated to providing excellent care.

State-of-the-art Equipment: The hospitals in Turkey are well-equipped with the latest technology, ensuring optimal outcomes for patients.
FAQs About Gastric Sleeve in Turkey
Gastric sleeve surgery is becoming an increasingly popular option for those looking to lose weight and improve their overall health. If you're considering Gastric Sleeve surgery, you may have a lot of questions. Here are some of the most frequently asked questions about Gastric Sleeve in Turkey:
As Gastric Sleeve surgery grows in popularity as a viable option for weight loss and overall health improvement, it's natural to have a plethora of questions if you're contemplating the procedure. Below, we address some of the most common queries about Gastric Sleeve in Turkey:
What exactly is Gastric Sleeve Surgery?
Gastric Sleeve surgery is a form of bariatric surgery designed to promote weight loss. The process entails the surgical removal of a substantial part of the stomach, resulting in a sleeve-like shape. This significantly constrains your food intake capacity, thereby inducing weight loss.
How much does a Gastric Sleeve Procedure cost in Turkey?
In comparison to other countries, Turkey offers the Gastric Sleeve procedure at a much more affordable price point, typically around $4,000. This is significantly less than the average cost one would encounter elsewhere.
What is the success rate of Gastric Sleeve Surgery?
The success rate of Gastric Sleeve surgery is quite impressive. Generally, patients are able to lose approximately 50-60% of their excess body weight within the first year following the surgery, demonstrating the efficacy of this procedure.
Book Now Gastric Sleeve Surgery in Turkey
Should you be contemplating Gastric Sleeve surgery, Turkey stands out as a fantastic choice for this procedure. With its seasoned and certified surgical professionals, Turkey offers a highly competitive pricing structure for Gastric Sleeve surgeries. This effective weight-loss solution in Turkey promises swift and secure results. If you're ready to take the next step towards booking your Gastric Sleeve surgery in Turkey, don't hesitate to either click on the button below or reach out to us at +1-888-296-6664. We're readily available to address all your inquiries and assist in scheduling your Gastric Sleeve surgery in Turkey.

Related Experiences:
Gastric Sleeve Surgery in Turkey 2023
Gastric Sleeve in Izmir Turkey
Choose Affordable Gastric Sleeve in India for Your Weight Loss
Gastric Sleeve in Latin America
Gastric Sleeve in Poland
Gastric Sleeve Surgery in Istanbul, Turkey
---