Gastric Bypass Surgery in Istanbul Turkey at Optimed Hospital
Package price starting from:
$3500
Treatment:
Obesity/Bariatric Surgery, Sleeve Gastrectomy
Location:
Alipasa, Kilic Ali Pasa Venue No:36, 59850 Corlu/Tekirdag, Turkey
Focus Area:
Gastric Bypass Surgery in Istanbul Turkey | Weight Loss Treatment Package | Optimed International Hospital
---
All-Inclusive Package for Gastric Bypass in Istanbul, Turkey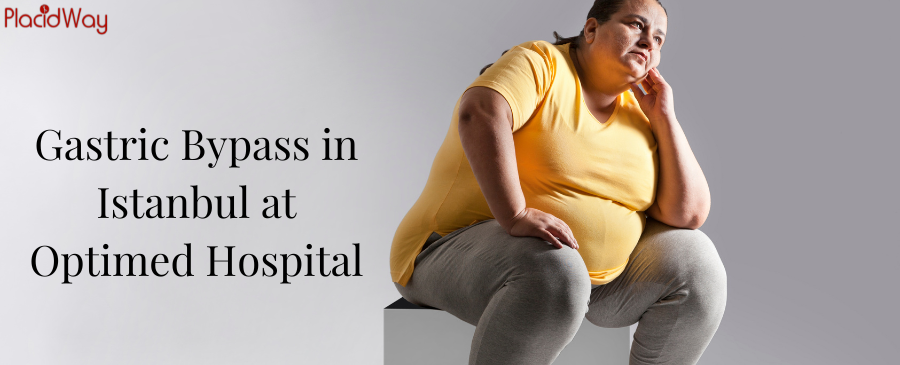 Looking for an affordable and effective solution to lose weight permanently? Then choose the gastric bypass surgery in Istanbul, Turkey by Optimed International Hospital. Get top weight loss surgery in Istanbul at only $2,700!
Private International Optimed Hospital was established in 2007 to provide patients with safe and top-quality medical care. Optimed uses top-notch equipment and the latest technology in performing various surgeries such as bariatric surgery.
Table of Content
• Cost  • Procedure  • Advantages  
• Inclusions • Exclusions  • Doctors
• Why Istanbul  • FAQs  • How to Book
What is Gastric Bypass Surgery?
Gastric Bypass is bariatric surgery used to treat obese patients and help them lose weight permanently. Today, gastric bypass is usually performed using a Roux-en-Y and laparoscopic method.
A surgeon creates a small pouch from the stomach and connects the newly created pouch directly to the small intestine. After gastric bypass, the food you eat goes into this small pouch and then directly into the small intestine bypassing most of your stomach.
The cost of gastric bypass surgery in Istanbul Turkey is around $2,700 at Optimed Hosptial. Compared to the US and the UK prices, Istanbul is up to 70% less expensive for WLS.
| | |
| --- | --- |
| Locations | Cost in USD |
| Istanbul | $2,700 |
| United States | $25,000 |
| United Kingdom | $12,800 |
Note: Price can be different or change depending on the complexity of the procedure. Please follow the Price Policy in Optimed or contact the Customer Representative.

Gastric Bypass Package Inclusion
Scheduling medical appointments

Arranging hotel accommodation

Transfers from the airport to the hospital or to your hotel

Transfer from the hospital or your hotel to the airport

Assisting with hospital admissions and physicians

Providing translator

Ensuring that you understand the instructions from physicians

Preoperative preparation examinations and tests

Obtaining and delivering copies of medical reports after consultations

Hospitalizing of our patient and one accompanying person

Room service for our patient and for the accompanying person as breakfast, lunch and dinner

Covid-19 PCR test for traveling
Gastric Bypass Package Exclusions
Payment Options: Cash, Credit Card, or Wire Transfer.
Note: The clinic may ask you for a money deposit once you decide to receive the surgery.
Here you can find information about bariatric surgeons in Istanbul at Optimed Hospital:
Op. Dr. Onur Kesler, Board-certified bariatric surgeon
Graduated From Faculty of Medicine, 2003.

Speaks Turkish and English

Experience: 20+ years
​Op. Dr. Isa Kaman, Board-certified bariatric surgeon
Graduated From Faculty of Medicine, 2002.

Speaks Turkish and English

Experience: 20+ years
Istanbul is popular among medical tourists due to its state-of-the-art clinics, professional doctors, and beautiful attractions. While here for bariatric surgery, set some time aside to explore the city and its top tourist places such as
Aya Sofia Mosque,

Topkapi Palace,

Grand Bazaar, 

Bosphorus cruise.
A diet plan after gastric bypass surgery varies depending on your specific condition. Your doctor will let you know what food you should eat and what to avoid after the surgery.
Usually, a liquid diet is required up to 15 days after a gastric bypass procedure. This is followed by a step-by-step strategy to help you reintroduce solid foods. After 3 months period, you should be able to resume normal eating habits.
Gastric bypass is generally a safe procedure done in very obese patients. However, your doctor will inform you if you are the candidate for this surgery after the examination. Therefore, consult with your doctor to know what to expect.
You can expect to lose about 70% or more of your excess weight within two years. You can have long-lasting results if you maintain new healthy lifestyle habits advised by your doctor. However, every patient is different and many factors are included in the success of gastric bypass procedure.
Start your journey to weight loss today and get an all-inclusive package for Gastric Bypass in Istanbul, Turkey at Optimed International Hospital. Experience long-term positive results and boost your confidence after effective WLS. Click the button below to get more information:

Related Experiences:
Gastric Sleeve in Izmir Turkey
Gastric Sleeve Surgery in Istanbul
Gastric Sleeve in Cancun, Mexico
Gastric Sleeve Surgery in Reynosa - Lose Weight in Mexico
Gastric Sleeve Surgery in Tijuana Mexico - Improve Your Quality of Life
Choose Affordable Gastric Sleeve in India for Your Weight Loss
---
Obesity/Bariatric-Surgery Related Packages
Obesity/Bariatric-Surgery Related Experiences