Best All-on-4 Dental Implants Package in Croatia
Package price starting from:
$8450
Treatment:
Dentistry, All on 4 Dental Implants
Focus Area:
All-on-4 Dental Implants in Croatia | Cost of All on Four Tooth Replacement Surgery | Affordable Cosmetic Dentistry | Top Dental Care | Best Quality Dental Work |
---
Affordable All on Four Dental Implants in Croatia for Multiple Missing Tooth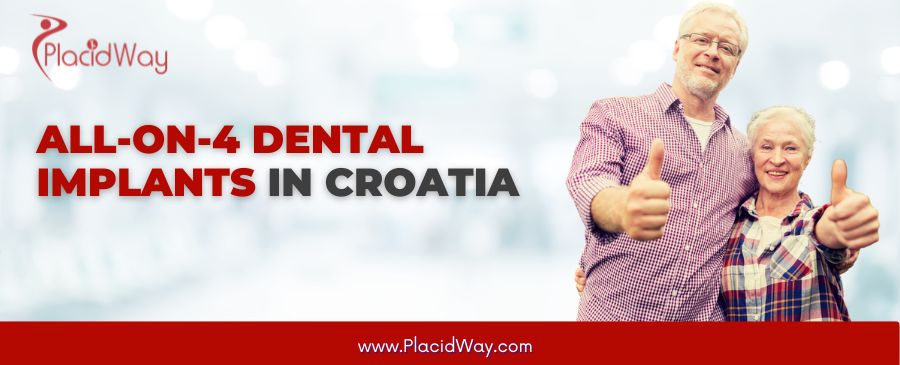 Get Your Smile Back with All on Four Tooth Implants in Croatia 
Are you worried about losing your teeth? There is nothing to worry about, as you can get all your teeth back to their best through All on 4 dental implant procedure. A dental implant does not only bring back the lost smile on your face, but it also helps you to open yourself up confidently. Now, it is possible to avail of a cost-effective all-on-4 dental implants in Croatia.
Croatia is the home of several world-class healthcare institutions and finding a premier dental clinic will not be a tough task for you. The best city for dental work in Croatia is Zagreb, the north-western capital of Croatia has emerged as a hub of several modern dental clinics, where you can easily get qualified and experienced dentists offering All on 4 dental implants.
Cost in Croatia: The average cost for all 4 dental implant solutions in Croatia is around $8450. In the table below you can also check the prices for all-on-four in USA and Canada. 
| | |
| --- | --- |
| Country | All on 4 Implants Cost |
| USA | $24,000 |
| Canada | $29,000 |
| Croatia | $8,450 |
After comparing the prices. you see how much you can save on all on 4 dental implants in Croatia. Almost more then 60% savings from America and Canada which is very cost-effective.
The estimated package price for All on 4 dental implants treatment in Croatia may vary. The package price is determined by some associated factors such as:
The number of teeth the patient wants to be implanted

Age of the patient

The Orthodontic structure of the teeth

The condition of the jaw and teeth

Quality of materials used in the process
To ascertain the position of your teeth, the specialist at the clinic would prescribe some imaging tests including the x-ray. Following that the specialist may prefer to hold a telephonic conversion with the patient and explain the details of the dental implant surgery.
World-class healthcare facilities

Best-in-the-industry treatment at the affordable price

Improved facial expression

Better speech

Boost confidence

Long-lasting dental care solutions

Improved oral health

Get qualified and experienced dentists

Note: Final prices are determined after physical evaluation and laboratory reports analysis.
Length of Stay: 5-10 Days
Pre and post-operative consultations

All hospital fees with night stay

All medical fees including the fees for the doctor, orthodontist, anesthesiologist, and nursing staff

Post-surgery garment

Pre and post-operative consultations
Hotel or recovery house

Preoperative lab work

Airfare
Pre-Operation Test Chart for Dental Implantation Surgery:
Blood tests for hepatitis, HIV

Blood clotting tests

Dental imaging like x-ray

Teeth scaling or cleaning

Dental set up model testing

Implant testing
Note: The laboratory tests are done at least 7-10 days before the procedure. The particular tests are prescribed after a complete physical evaluation of the patient.
Payment Options: Cash, credit card, wire transfer
Note:  The clinic may require a money deposit once a patient decides to receive the treatment.
Complexity Level: Medium
For anyone considering dental work in Croatia, there are a few things to keep in mind. First, it is important to find a reputable clinic that has experience with this procedure. Second, be sure to get a detailed quote that includes all fees and taxes. And third, remember that the overall cost of treatment will vary depending on the number of implants needed and the complexity of the case. With these tips in mind, reaching Croatia for implants or any kind for dental surgery is a viable option for many people. By doing some research and planning ahead, patients can receive high-quality care at a fraction of the cost of treatment in other parts of World.
For more details on All Four Dental Implants in Croatia, click the button below:

Related Experiences:
All on 4 Dental Implants in Zagreb Croatia
All-on-Four Dental Implants in Croatia
All on 4 Dental Implants in Mexicali
All on 4 Implants in Cabo San Lucas
All on 4 Dental Implants in Dubai UAE
All-on-4 Dental Implants in Nuevo Progreso Mexico
---
Dentistry Related Packages
Dentistry Related Experiences