Package Details

Find Highly Affordable Package for Stem Cell Therapy for Knee in Tijuana, Mexico
The stem cell therapy for disabled knees is done through injections aimed to regrow the cartilage and avoid knee replacement, or at least postpone it for years. Using the patient's own cells, the therapy helps the healing process of degenerated or injured knees. The re-injected stem cells enhance the natural repair process of the affected knee..
Tijuana, Mexico has certified Stem Cell Therapy medical centers that have the world's best doctors, specialists and experts. These medical centers also have the latest technology and skillful staff who operate them.
Check out which are the best knee Stem Cell Therapy centers in Tijuana, Mexico that offer affordable packages to medical tourists.
Factors that Affect Package Price
You may find that the same provider is offering different package prices for Stem Cell Therapy for knee in Tijuana, Mexico. This happens due to relative factors such as:
Patient's medical history

Age of the patient

Seriousness of the patient

Hospital

Experience of the doctor
The doctor at the clinic would ask to go for laboratory tests to ascertain the problem and plan your treatment course of action. Based on that, the doctor may consult over the phone and explain about the plan of the procedure.
Benefits of Stem Cell Therapy for Knee in Tijuana, Mexico
Painless procedure

It's a viable option for patients who want to avoid of postpone knee replacement surgery

It doesn't involve a lengthy and painful recovery period

Low risks of tissue rejection

Quick return to regular activities

Complexity Level : High
Cost : The average cost of Stem Cell Therapy for knee in Tijuana, Mexico starts from $2,800-$3,300.
Note : Final prices are determined after physical evaluation and laboratory reports analysis.
Length to Stay : 7-10 Days
Note : The duration may vary depending upon the condition of patient and the chosen procedure of treatment
Inclusions:
Hospital charges

Doctor, nurse, anesthetist fees

Stem cell therapy injections

Pre/post operative consultations

Post operative garments
Exclusions:
Accommodation

Food

Air-fare

Local transport
List of Required Pre-Op Tests:
Blood test

Electrocardiogram

Chest X-ray

Coagulation

Urinalysis
Note : The laboratory tests are done at least 7-10 days prior to the procedure. The particular tests are prescribed after a complete physical evaluation of the patient.
Payment Options : Cash, credit card, wire transfer
Note : The center may require a money deposit once a patient decides to book the surgery.
How to Get There
Tijuana International Airport is the major connector between Tijuana and other cities from different parts of the world. Tijuana also has well-connected transports system to easily access different parts of the city.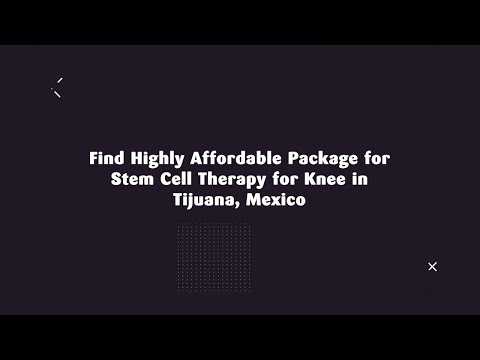 For more details on Stem Cell treatment for knee in Tijuana, Mexico, click the button below: